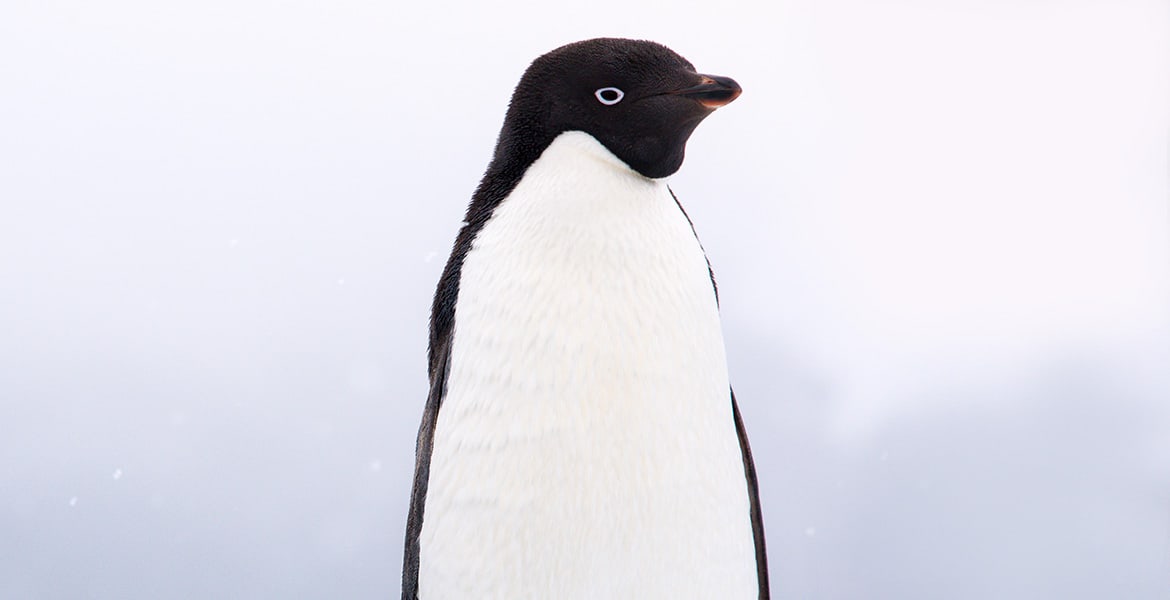 Why Antarctica?
We were mighty excited at the prospect of travelling to Antarctica. Planning our round-the-world trip we knew we would be away for Christmas and in place of a family holiday, we wanted to do something special. A trip to the Artic has appealed to us for some time, it would be such a unique environment with its wildlife, ice formations and sheer vastness. But we knew we would be far south… so travelling to Antarctica came into the picture, when would we ever get a better opportunity? Not going to lie, ticking off the last continent was also quite a draw!
There are two ways to travel Antarctica; by plane which is eye wateringly expensive and is somewhat limited, or a cruise ship. We opted for the ship, but were reluctant to join a cruise, so sought out an 'expedition' style ship, ours was called the 'Ushuaia'. Ushuaia came with on-board scientists and lectures, giving the ship a more intimate and educational feel. The smaller passenger numbers meant we would be guaranteed more landings and less people on shore to trip over!
The Drama of Getting to Ushuaia
19th – 20th Dec 2016
In the early morning of the 19th, my bladder woke me at 2am. Not only did I need to pee, I also received a text from the airline (Aerolineas) notifying me that our flights had been cancelled for that day. Brilliant! We were due to fly from Iguazu Falls > Buenos Aires > Ushuaia. Giving us a nice amount of time in Ushuaia to relax and do some laundry before travelling to Antarctica. Sadly for us, it wasn't meant to be.
Panic set in and when Aerolineas wouldn't pick up the phone, we manically rushed to the airport for 4:30am to see what could be salvaged. We were first in line for what felt like an eternity, when we were finally called forward we stood like lemmings, waiting to hear the outcome of our doomed flights. We were told we were on a waiting list for the next flight and to come back in 40mins for confirmation. That was a long 40mins! When we went back, all seemed well and after a well fought battle we were due on a flight later that day to Buenos Aires, then first thing in the morning we would fly to Ushuaia.
It was chaos in the airport that day, some passengers were forced to wait in line for over 8hrs with no information. Needless to say there were some justifiably very angry people and security had to be called after angry chants broke out several times. After many delays, we finally left Iguazu at 8pm, landing in Buenos Aires at 10pm. We were knackered so headed straight our extremely expensive last minute hotel and to bed, we needed energy for more of the same the next day!
Waking up the next day we anxiously checked the flight status, all was in order apart from one teeny tiny detail. I got our flight times wrong, the plane was due to fly 40mins earlier than we had anticipated. SHIT! Again, we rushed off to the airport. This time we were greeted with ridiculously huge queues of people waiting to get through security. Cue the heightened anxiety in me thinking we couldn't possibly have the time to make our flight!
Somewhat thankfully, the security debacle was affecting everyone and all planes were delayed as a result. We didn't have a single opportunity to sit down and were ushered straight through onto the plane. I have never cut catching a flight so fine!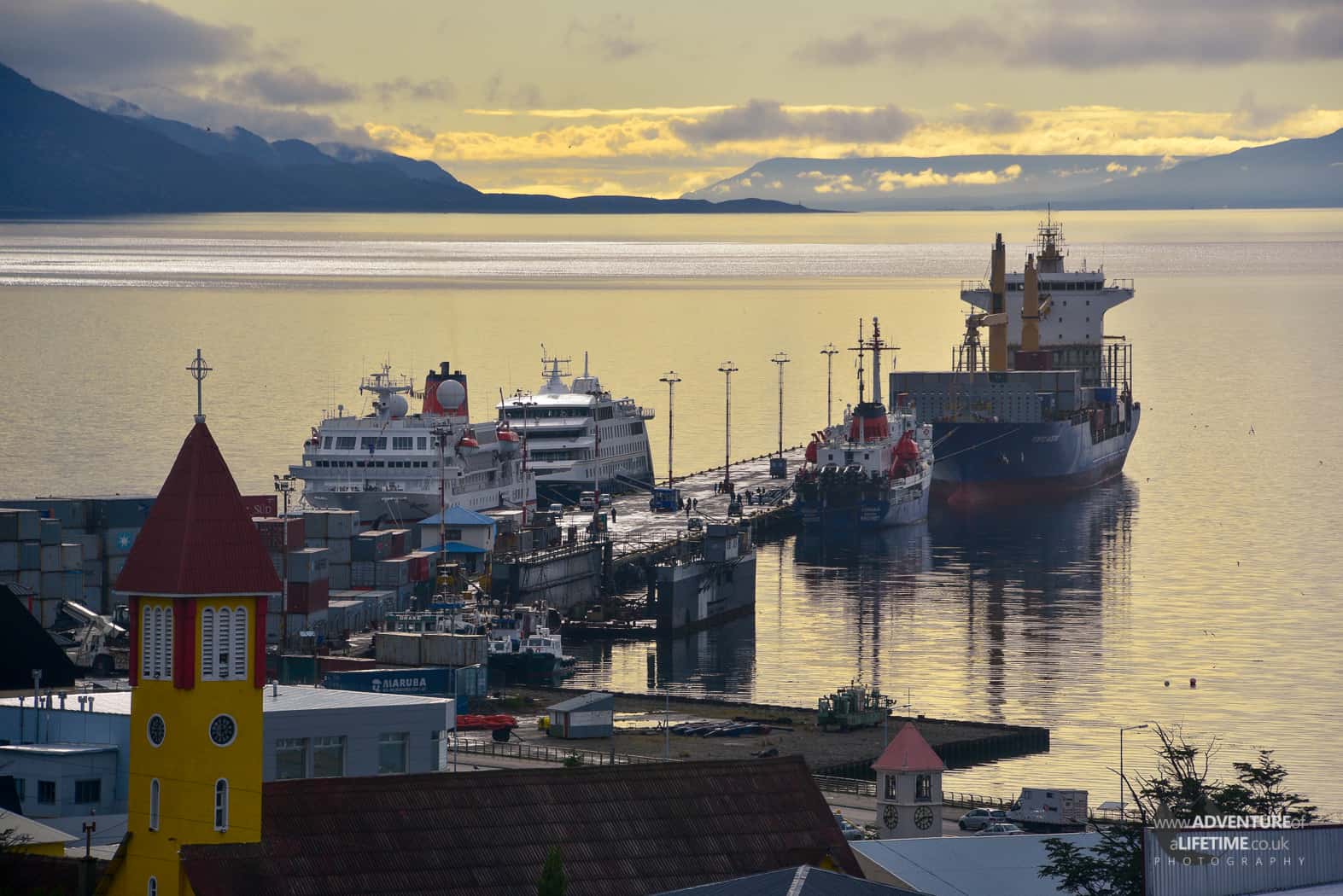 Day One – Ushuaia through the Beagle Channel
21st Dec 2016
We left our beautiful alpine-esque hotel and made our way down to the pier. It was time to board the Ushuaia and begin our travels to Antarctica! We boarded the ship only to discover our room had been upgraded. Hurrah, our luck had turned! We were completely expecting bunk beds and a shared bathroom, oh no… we now have the luxury of two single beds, two cupboards and our very own bathroom. Not too shabby for the Aldridge's.
There's an interesting bunch of people on board, not what I was expecting. Honestly I'm pleasantly surprised because I was worried it would be quite poncey! There were a fair few families with teenage children, a group of students from Michigan University, some older couples and quite a few from the UK. I'm hoping this mix means we're in for a decent Christmas celebration!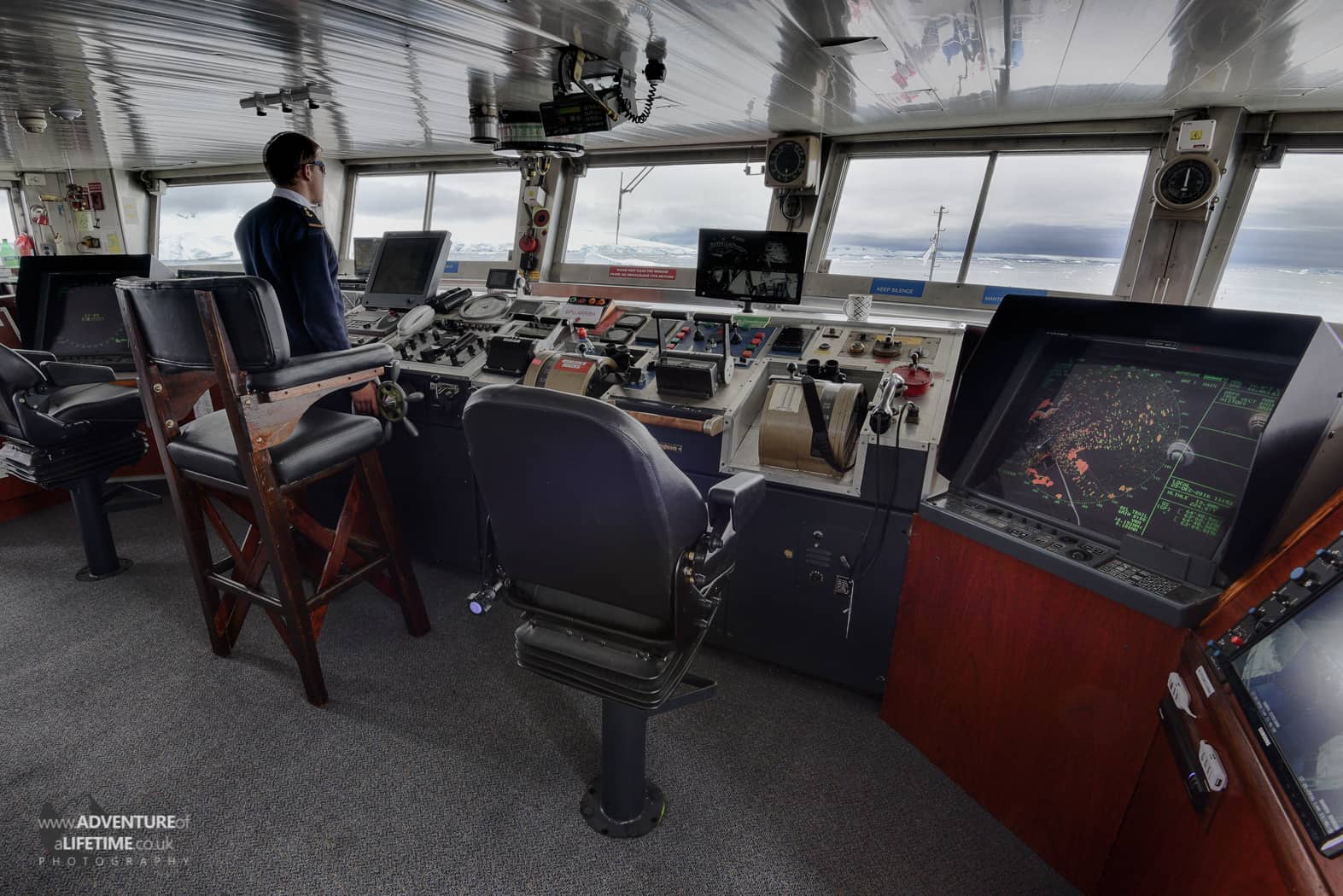 Day Two – Drakes Passage
22st Dec 2016
A full day at sea, seeing nothing but the water. Seasickness well and truly kicked in today for most aboard. We survived breakfast and a couple of lectures, but mid-way through lunch we both looked up at each other and bolted for the door. After that we graciously accepted we were ill, popped some pills and tried to sleep it off! The seas felt rough but looking outside, it was nothing! This was in fact one of the smoothest crossings of Drake's Passage the expedition leader had known. God help us on the way back if it's any worse!
On a more positive note, we saw our first Albatross (as well as other bird life) and it properly snowed big snowflakes today, so, it's beginning to feel more like Christmas!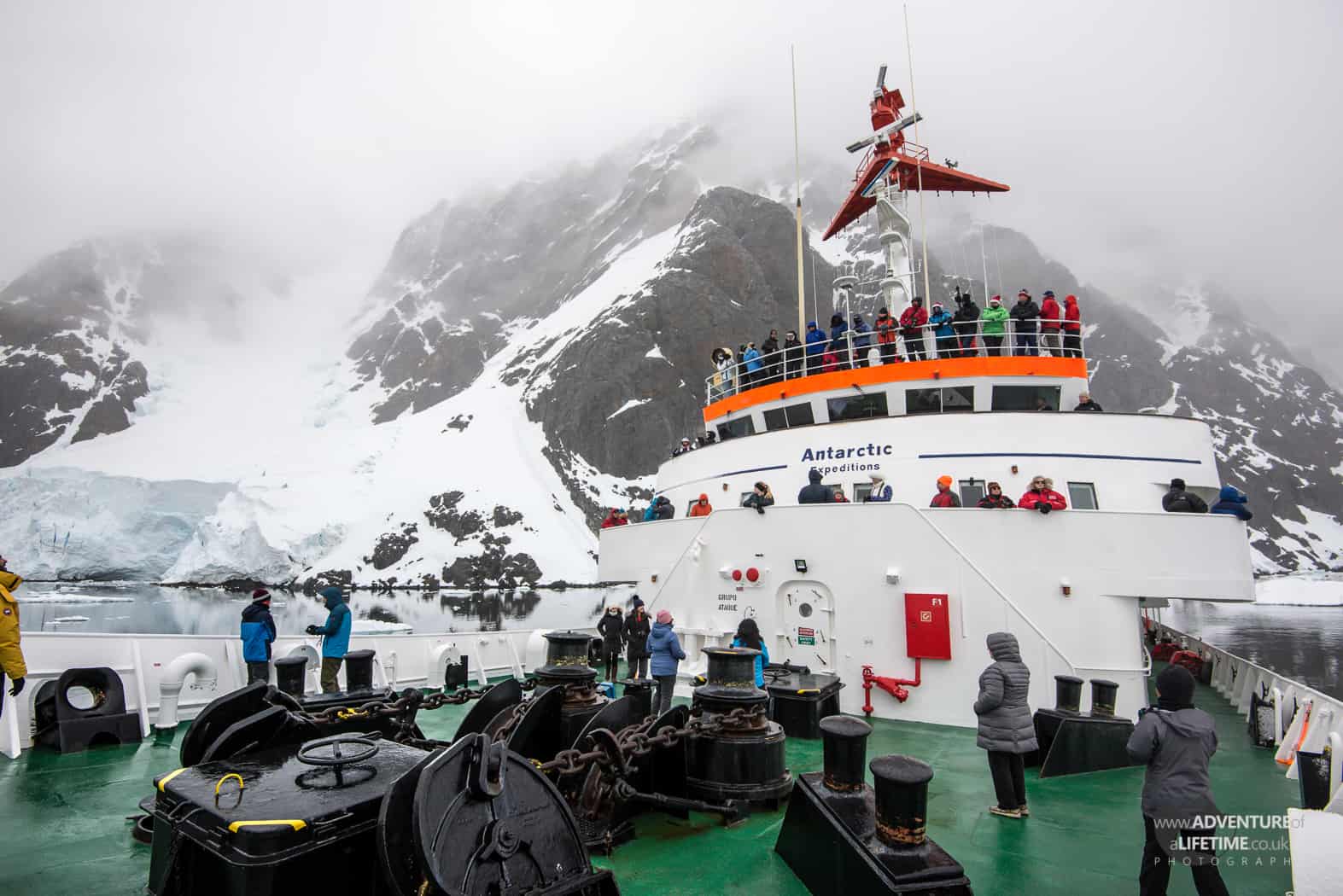 Day Three – The Aitcho Islands
23rd Dec 2016
The seasickness isn't as bad today, thankfully and we've caught our first glimpse of land which is a welcome relief. From the boat we've seen pods of both Fin and Humpback Whales, more Albatross and penguins swimming – they're so funny and tiny, it looks like they're going nowhere fast! Saying that, we're going so slowly they'll easily beat us to land!
This afternoon we made it onto land!! The Aitcho Islands (Barrientos Is) are a small cluster of islands and part of the South Shetland Islands, so technically we've ticked off the last continent! We saw some elephant seals chillaxing by the beach, hundreds of penguins, some with chicks already and others collecting/stealing rocks for their partners nest. Penguins move so funny with they're waddling ways! It looks like they struggle so much on land.
Sadly we couldn't walk far, only a short circuit. I found this to be quite restrictive as I thought we'd be able to have a bit more free rein, but perhaps that is still to come. On land we got some nice photos, with a beautiful backdrop of ice and jaggy hills, this terrain looks incredible! It reminds us of somewhere in Scotland but we can't think where, perhaps North West. It's bizarre to think where we are on the globe, so far from Scotland and yet these islands somehow remind us of home in a penguin(ly) sort of way.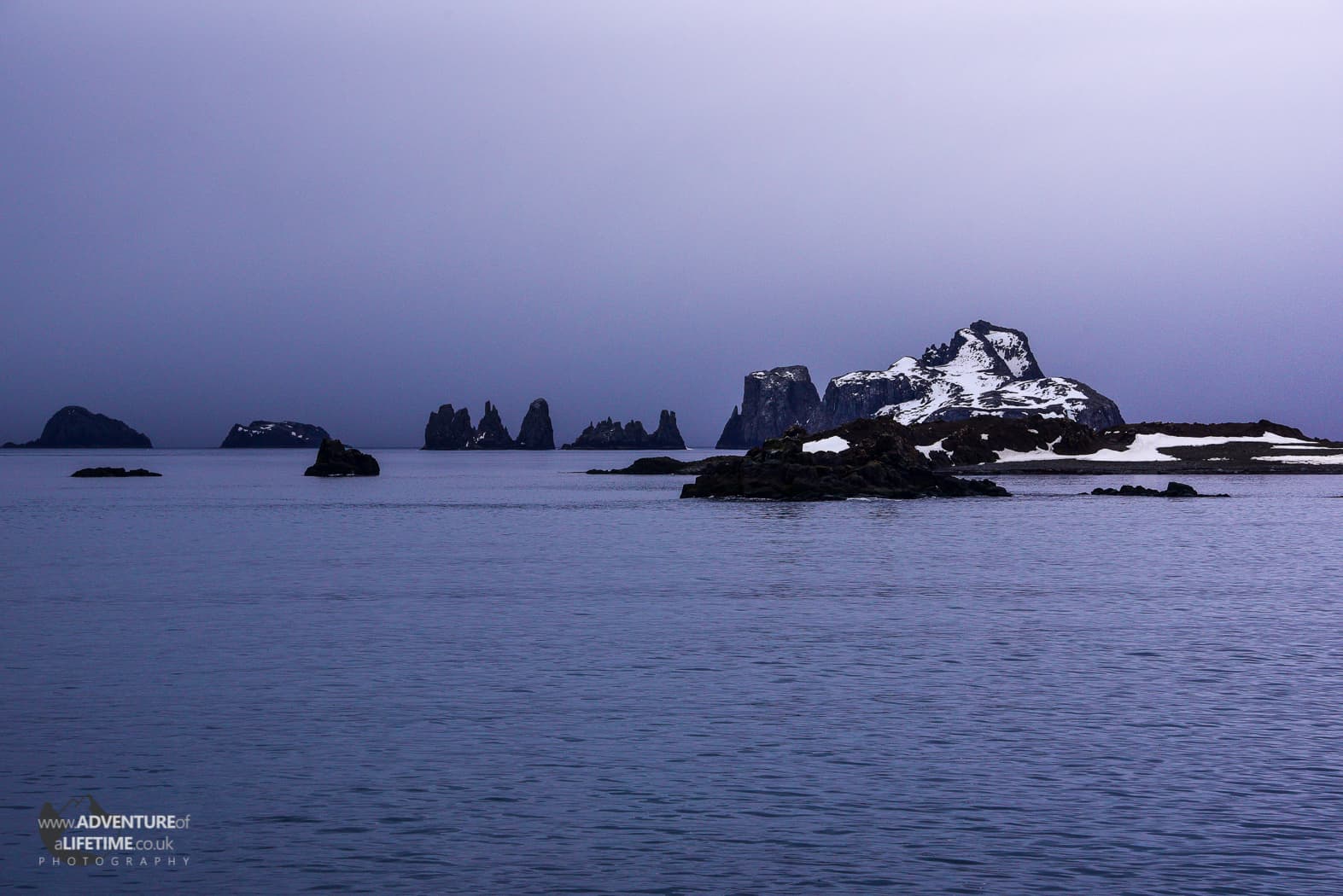 Day Four – Hydrurga Island and the Errera Channel
24th Dec 2016
It's Christmas Eve and we had a snow landing this morning on a small island called Hydrurga, it's all very exciting and now really beginning to feel like the Antarctic! It was a fairly short walk but it's so nice to get off the boat. We saw lots of compacted ice in beautiful colour layers of blues and glistening whites, icebergs littered the bay and the snow covered mountains topped it off. The views are pretty incredible out there. This morning's spotting included; Weddell and Crabeater Seals, lots of Chinstrap and Gentoo Penguins and Shags.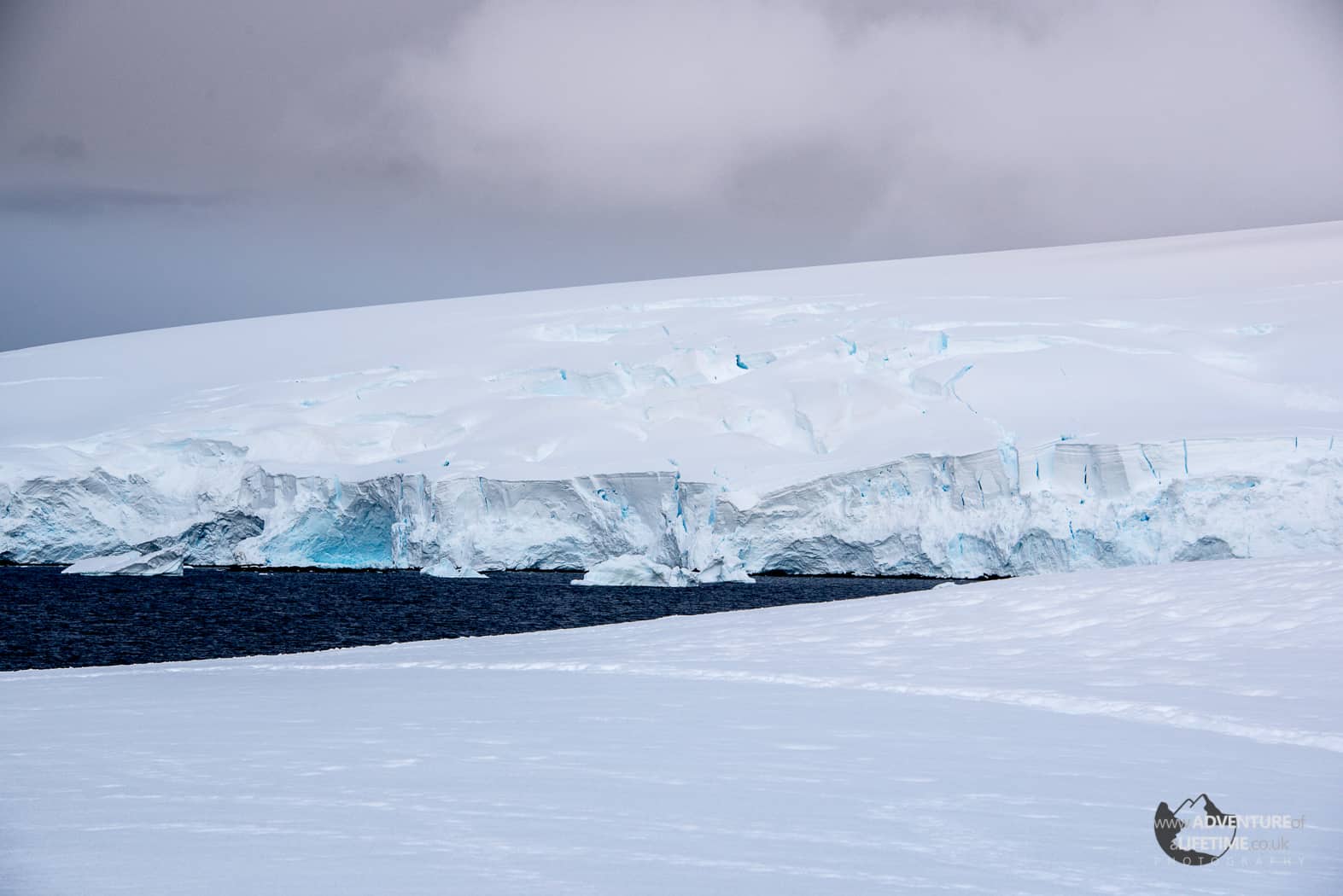 The Zodiac cruise in the afternoon blew away everything we'd seen to date, unbelievable! We got up close and personal with loads of Humpback Whales as they were feeding in the Errera Channel. This was such a beautiful thing to experience. The Humpbacks are so majestic and graceful, plus they're so huge – wonderfully impressive. On the way back to the ship we saw an Adélie penguin (quite rare for these parts I'm told) just chilling out on an iceberg, they're very handsome wee chaps. The water here looks so different, it's so dark in parts, light in others with a kind of oily look but mainly it's perfectly still and ominous looking. I'm going to need a bit more convincing before committing to do an 'Antarctic Plunge' as this water does not look enticing!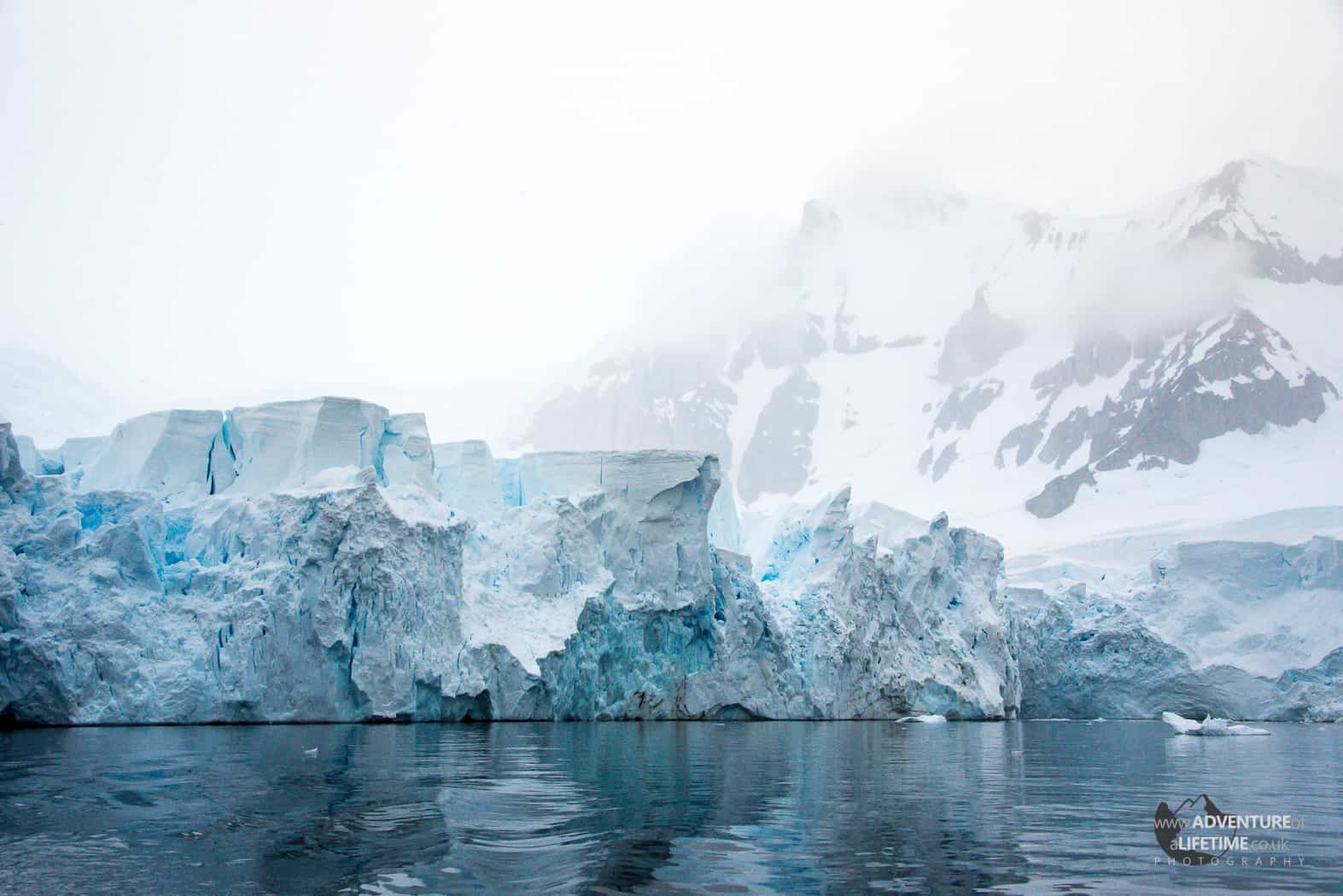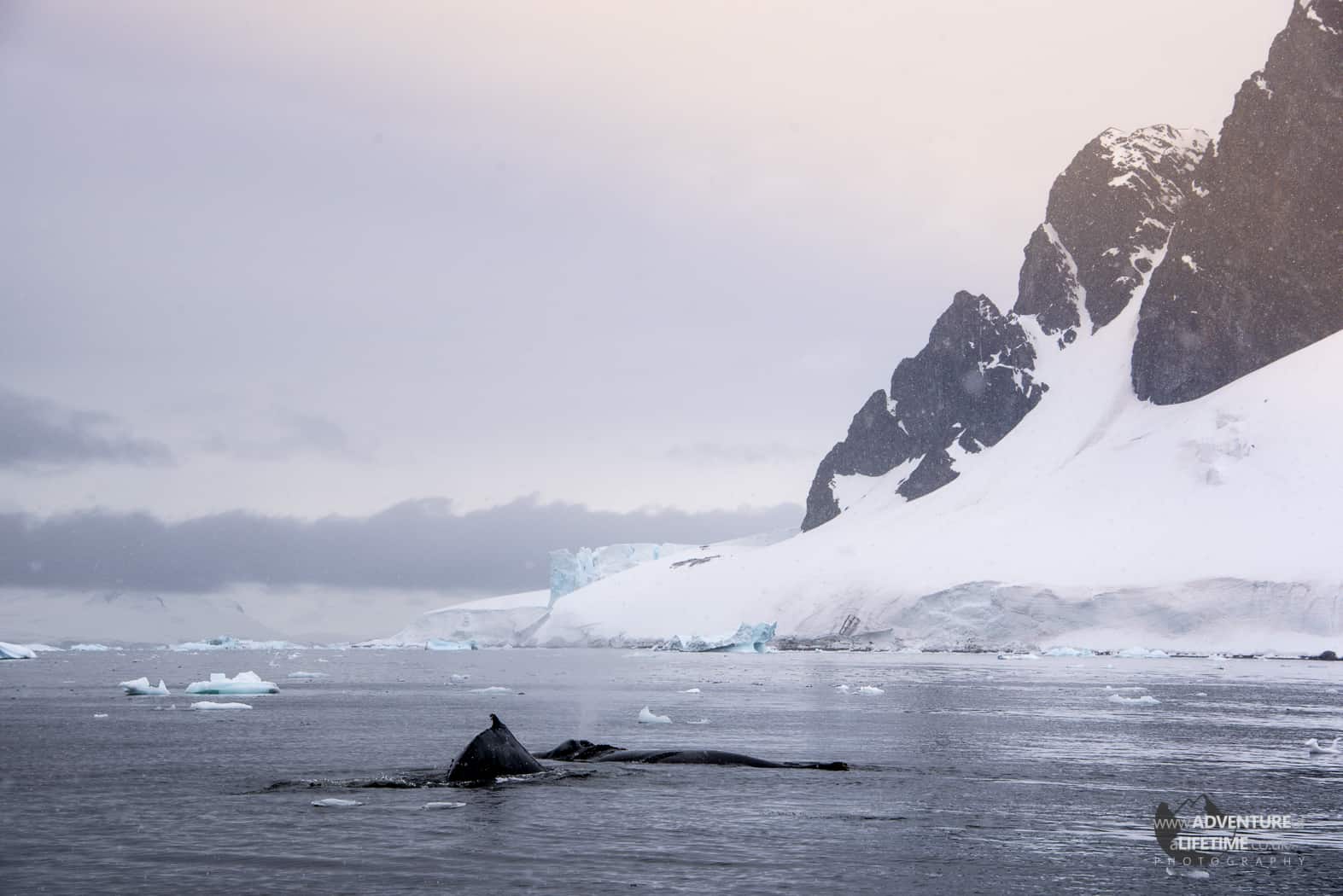 Day Five – Lemaire Channel, Andvord Bay and Neko Harbour
25th Dec 2016
Good morning and Merry Christmas! Today's plan was to try and make our way through the Lemaire Channel and scope things out there. So far this year most ships have struggled to get through due to the ice pack, we tried but sadly we were one of them. It wasn't meant to be and so we turned around, but the scenery of the snow covered mountains and calm waters were simply spectacular. To compensate we took the Zodiacs out into Andvord Bay to explore the icebergs and search for seals.
The grand finale of the day was Neko Harbour. We were officially stepping foot onto the continent! What a beautiful continent it is, this was hands down the absolute highlight so far. Michael & I strode ahead to ensure we got uninterrupted views over the spectacular scenery and in doing so we got some seriously epic views.
We got to the top of one hill and below us was pristine untouched white snow all the way to the shore. I took full advantage and rolled my way down! At the bottom by the shore we trekked through deep snow to get better views of the penguins and seals. We spent a long time sitting, watching and listening to the glaciers crack, groan and waiting for a big bit to break off. Occasionally a chunk would crash into the still waters below with an almighty crack. Definitely worth the wait to experience that.
To top off Christmas Day we spent the evening in true British style, playing Harry Potter Trivial Pursuit and eating a Terry's Chocolate Orange. Spot on, I'd say.
Day Six – Paradise Bay
26th Dec 2016
On Boxing Day we made a visit to Brown Station in Paradise Bay. An absolutely beautiful place. This is our first day of sunshine and the world looks even more incredible. On the land we hiked up to a viewpoint and gazed out over the bay. In the background the snow-capped mountains interrupt the horizon while in the foreground an iceberg lagoon sits perfectly still… Stunning!
After taking in the spectacular views from above, it was time to go on the water and explore these icebergs and glaciers up close. We got a bit too close to some of the icebergs, almost within touching distance (our driver got in trouble), but witnessing the glistening, creaking layers of compacted ice from over the centuries was well worth it and so pleased he did it. The colours were unreal with their deep blues and bright white layers. They are some seriously beautiful and tremendously unique ice formations that have been carved by the wind. We heard so much ice cracking as it melted in the sunshine and refroze deeper inside the glacier. It was only a matter of time before it collapses into the water. We spent a lot of time just watching…
Glacier hunting in Antarctica, they seem to be everywhere! Such a beautiful place. #Antarctica #Glacier #Sun #theta360 - Spherical Image - RICOH THETA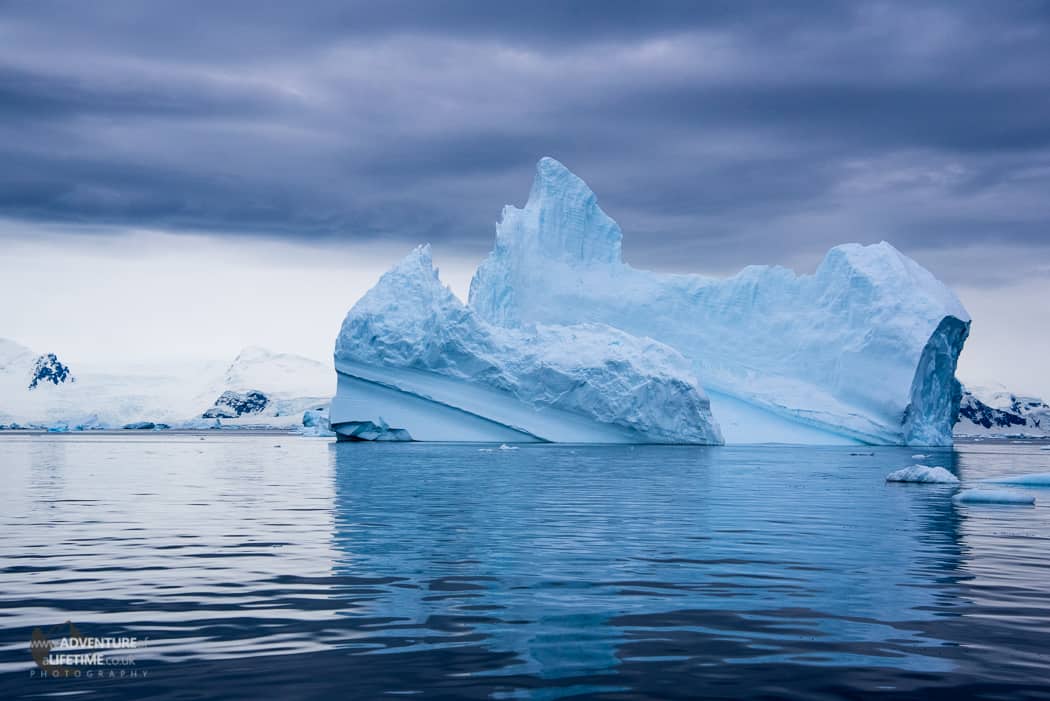 Our 2nd landing of the day was to the Chilean base called Videla Station. Here we saw lots of penguins and even more penguin poop. To be honest, this felt like a bit of a filler stop, the Chilean base isn't much to look at and the smell is something else! We killed time by watching penguins steal each-others rocks for their nests. They're a proper tag-team! One penguin would sit on the nest and their partner would waddle off to collect a rock from an unsuspecting, defenceless nesting penguin with no partner to protect them. It's all very stressful, those mean penguins!
Day Seven – Port Lockroy and Bancroft Bay
27th Dec 2016
Today we visited Port Lockroy and the famous Antarctic Post Office! The British base of Port Lockroy couldn't be more different from the Chilean base yesterday. The British base is very small with only a handful of solid, bunker looking buildings, complete with solar panels, but no running water. Together with the Post Office there is also accommodation for the four volunteers that run the base, a storage shed and a museum. The museum was a fascinating place where they'd kept the rooms as intact as possible since the 1950s. Complete with original raunchy artwork in the bedrooms and a kitchen full of tinned food.
It felt good to be somewhere British and you can't get much more British than visiting a Post Office! We bought and wrote our postcards, then mailed them off from the bottom of the world. Michael bought himself the obligatory fridge magnet… Ironically, made in the UK!
Across the water from Port Lockroy there is a sizable colony of Gentoo Penguins and Cormorants as well as some chubby seals. We've been seeing a lot of penguins this trip and they keep getting friendlier, sadly I've not managed a selfie with one. Also found in the area were whale bones, with vertebrae as chunky as tree trunks…
That afternoon we headed out in a Zodiac to Bancroft Bay and had a whale of a time! Seriously, there were these gigantic whales feeding all around our little boat. We'd managed to get on the boat with a driver called Steve; he'd quickly gained a reputation for finding the best sights and as a photographer himself he knew exactly where to put the boat for the best views. There were only 6 of us on the boat and we were able to get pretty darn close to the whales, so close we could smell their fishy breath! This was truly a special experience.
Day Eight – Deception Island and Yankee Harbour
28th Dec 2016
Our last day on solid land took us to Whalers Station on Deception Island. This island is basically a giant volcano crater, which could blow any day! Before entering the water filled crater, the crew have to look ahead for signs of wildlife. If wildlife are present, it's probably safe to enter, if all the wildlife have gone, something bad is likely to happen!
As we travelled Antarctica, the vast quantity of whaling that had been carried out in the area became apparent. The whale numbers are still recovering, but just looking at the old stations, the number of whales that must have been processed to fill each huge drum was disgusting to think about. It is truly sickening to think what our past holds.
It was here at Deception Island that we took the challenge of doing a Polar Plunge! In many ways it could be described as 'quite pleasant', due to the volcanic actively the sand is very pleasantly warm. So walking out, your body is deceived into thinking it's in a nice warm bath! Warm bath it was not! It was bloody cold, or a "tad chilly" as I seemed to describe it in on the video! We just had to go in without thinking about it. I'm so pleased we did it, it would have been a huge regret had we not. How many times in our life are we going to have the opportunity to do this!?
Our last stop of the trip was Yankee Harbour. Here is another penguin colony but this stop was mainly a place for us to stretch our legs before being ship bound for two days! The downside to this cruise malarkey is we don't get much exercise. I guess we burn a lot of calories trying to stay warm, but we don't get to walk as much or as far as I would like.
Day Nine – Drake's Passage
29th Dec 2016
Drake's Passage, cue the seasickness. Poor Michael has a cold to top it all off. He can't sleep but I'm practically hibernating!
Day Ten – Drake's Passage and The Beagle Channel
30th Dec 2016
Drake's Passage, day two. The seasickness pills are working a treat. Last night was rough, or so I thought until talking to the crew today, who described it as a 2/3 on a scale of 1-10. But we were swaying and bouncing all over the place all night long. It really wasn't a pleasant experience but alas, could have been a lot worse. On the plus side, I saw two dolphin swimming in front of the ship this morning. The first dolphins I've seen in South America!
Day Eleven – Ushuaia
31st Dec 2016
Eat our last ship breakfast then back to the real world, which I suppose isn't so bad…
There were an interesting bunch of people on the ship. I have to say it was very nice and fascinating to be around such well-travelled people who have such a wealth of knowledge and experience. We certainly picked up a fair few tips for the rest of our trip thanks to them. It didn't seem to matter how much each person had in their bank account, some were obviously wealthier, but there was no obvious correlation between enjoyment and wealth which was lovely. It was evident that some people were enjoying themselves more than others, but overall, life is good down here!
Travelling Antarctica is hard to describe, it is incredible and nothing like anything we have ever witnessed. It is obviously an incredibly harsh environment, as is evident by the terrain, but it is so packed full of wildlife. Maybe this is primarily due to the lack of human presence, which does begin to make you wonder what the world was like before us humans stated getting in the way. Many of the photos we took might look serial and potentially overly edited, but the truth is that none of them have had much editing at all, just tweaking the whites, blacks etc. This is how Antarctica really looks… Such a beautiful place and we feel so lucky to have been able to see it!
Packing for Antarctica
The only thing we struggled with on the trip, was packing for such cold weather. It would have been lovely to have had ski pants and jacket, we would have been sorted and we were certainly quite envious of those on the ship who had done just that! When we packed in the UK we knew this trip was on the cards so we tried to be clever in what we chose, hoping much of our clothes would have multiple uses. But there were times when we were pretty much wearing all of our clothes just to stay warm, even though we were blessed with unusually mild conditions! I couldn't for the life of me keep my feet warm. Thankfully Michael had bought me an extra pair of socks as a Christmas present!


What we Packed
Running Tights
Hill Walking Trousers (summer ones!)
Waterproof Trousers (Michael only)
Long-sleeve Base Layer
Fleece Jumper
Puffer Jacket
Goretex Waterproof Jacket
2x Buff
Woolly Hat
Gloves
Sunglasses
Welly Boots (provided by the ship)
Regular Day Clothes


What we should have Packed
Ski Clothing
Jacket (this would be perfect, no need for anything bigger)
Trousers (Pants)
Gloves
Socks
Goggles and sunglasses
Buff & Hat
Mid Layers
Thermals
Welly Warmers
Welly Boots (provided by the ship)
More information from our trip
What we saw, our daily itinerary, pics from the voyage etc