Our Central America adventure came to be after learning about Costa Rica and the rich and diverse wildlife to be found there. We looked at the map and thought if we were going to go to Costa Rica, we may as well go a little further and visit the whole region! We managed to wangled 8.5 weeks between our United States and South American travel plans, so bit the bullet and decided to see it all.
Mexico
Our Central America adventure began as soon as we touched down into Mexico! We were immediately greeted at the airport with a great big smile from our scuba diving instructor, Aldo. We were staying with Aldo and his family for the week while I got PADI Open Water certified and Michael did his Advanced Diver Certification. I am now proud to say, I'm PADI certified! Hurrah! That was possibly the most fun test I've ever taken! The diving around Cancun is pretty special. In a bid to help restore the coral reef they have created the Underwater Museum. This consists of over 500 sculptures of people from the local area. All of the sculptures are fixed to the seabed and made from specialised materials used to promote coral life. It's incredible to see!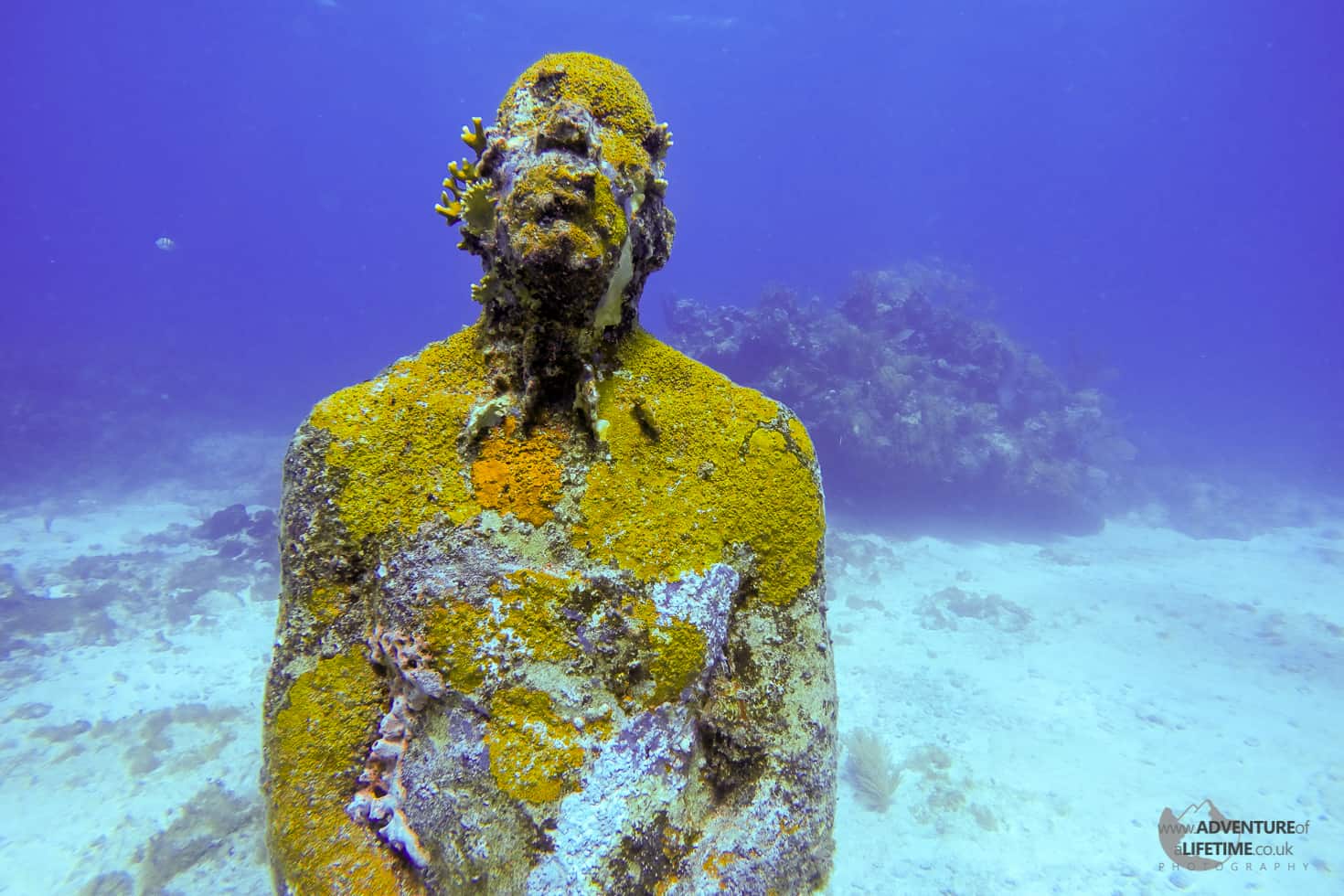 From Cancun we did a day trip to Chichen Itza, the Mayan ruin which is one of the wonders of the world. I find it incredible when thinking how this site came to be. The systems the Mayan's created to keep track of time and dates is so impressive. Then the structure of these ruins, they're perfect and with no machinery, it's astounding how they were ever built. Chichen Itza was mighty impressive but chock-a-block full of gringo tourists. It was virtually impossible to get a photo without a bus group photobombing or touts trying to sell the standard tourist tack, it subtracted from the magic a little!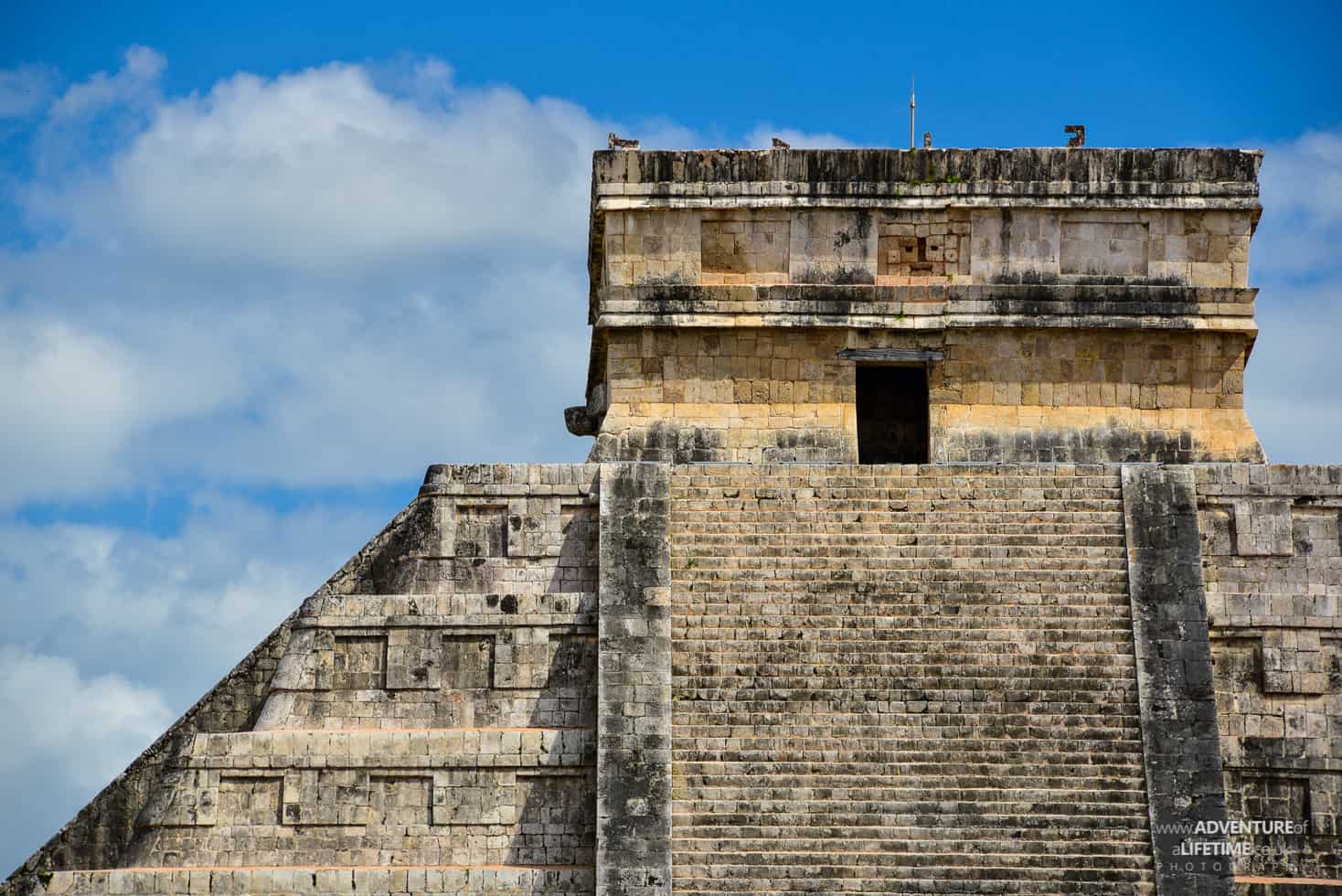 After Chichen Itza we snuck in a visit to one of the many Cenote's in the area. They're natural sink holes filled with fresh water, ideal for swimming and make for a great photo! Be warned, the water is pretty freezing! Fun fact, the Cenote that we visited was used as the original Red Bull Cliff Diving location. Rather them than me!
To break up the journey south to Belize, we decided to stay for a couple of nights in Playa del Carmen. It's a popular tourist destination and I'm not a huge fan of busy places. But with its beautiful beaches and main street of shops we found it incredibly pretty and fully embraced the ease of it all. In Cancun we didn't really see the beach, and the beach here was stunning! It was quite easy to spend a couple of days lazing!
We don't feel as though we saw enough of Mexico to draw a conclusion about the country. But, from what we experienced, we felt it was a wonderful place with lovely people and awesome food. Definitely somewhere we would like to return in the future.
Belize
Next up in Central America was Belize. Belize is beautiful and hands down one of our favourite destinations. We started in Caye Caulker, which is the most incredible little Caribbean island just south of San Pedro. From there we did an amazing snorkelling trip and met two awesome Canadian ladies along the way! The snorkelling was the best, I have to rave about it! The company, Caveman Tours were fantastic. They're the type of company that will go out of their way to make sure you're happy. It's just so nice to see such a small company striving for the best.
The snorkelling… we snorkelled with manatees! I didn't even realise it was possibility. They're so big and gentle. One came up right in front of me to get air, before calmly swimming off into the distance! Simply beautiful. Other animals we snorkelled with and were equally impressive, included turtles, stingrays, moray eels and about 30 nurse sharks! The nurse sharks were having a feeding frenzy by the side of the boat and we were in the middle of it all, so much fun and not scary at all!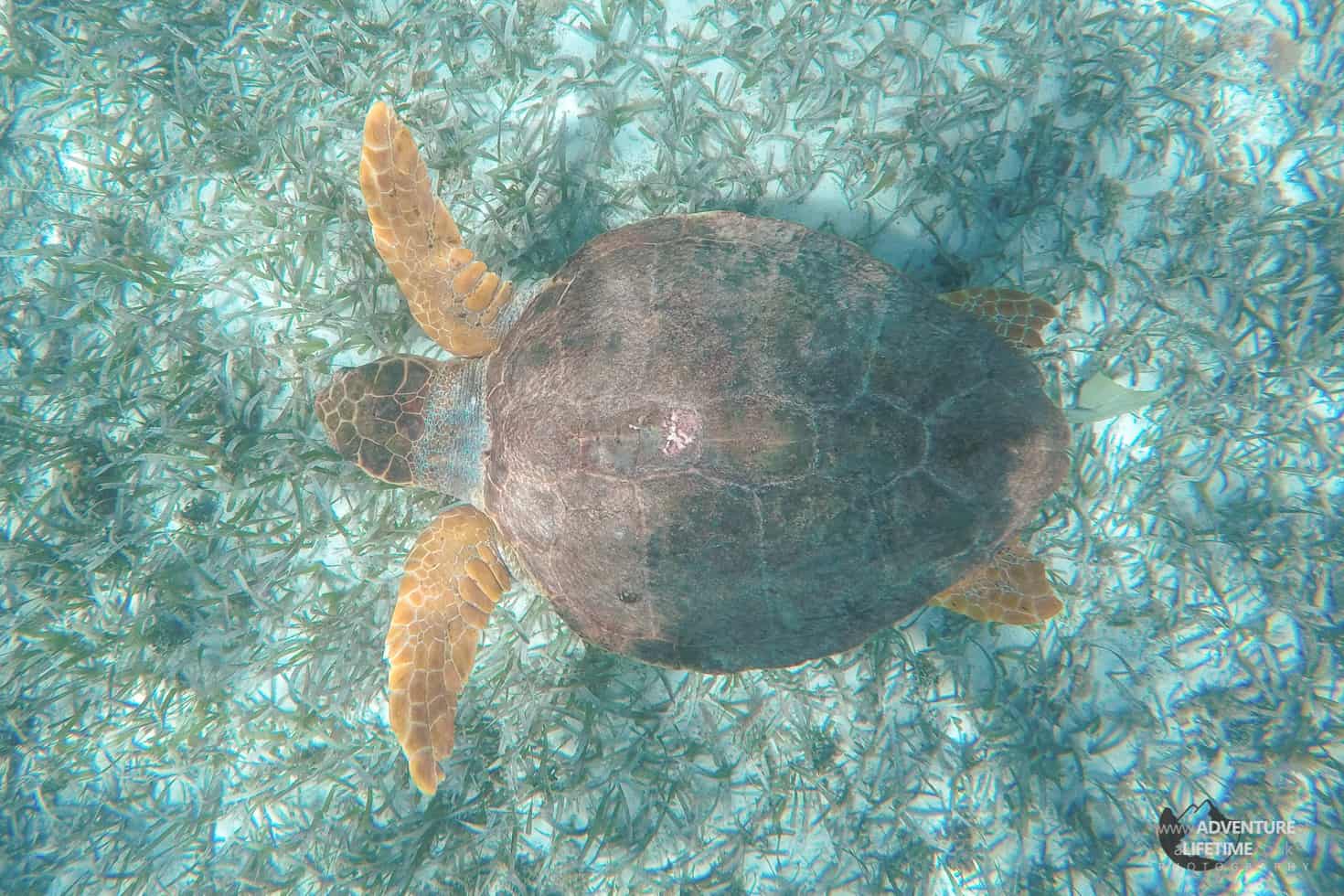 From Caye Caulker we travelled inland to San Ignacio. There we ventured into the ATM caves. The Actun Tunichil Muknal Caves are a cave system that the Mayans used for rituals. They're littered with ancient artefacts and human bones. To access the caves you need to hike through the jungle to the entrance, then swim your way in! You then spend several hours swimming, climbing and exploring. It was certainly an adventure and wasn't as claustrophobic as I imagined! Sadly no photos were taken as they have a no camera policy, after one delightful tourist dropped their camera onto a human skull and broke it…
Belize was an incredibly beautiful and friendly country that we wish we had more time to explore. The richness of the wildlife was amazing and rivalled that of anywhere else on our journeys. We would love to return in the future and do a sailing trip down the coast!
Guatemala
Guatemala is most people's favourite country through Central America and I think we can safely say it was ours too. We started in Flores where we visited the Mayan temple of Tikal. Tikal in my opinion is by far the superior of the Mayan ruins. Now Chichen Itza was good, but Tikal just blows it away. This should be the wonder of the world! The site is massive and for the most part you are free to explore it alone. There are so many temples, some still consumed by the jungle and easily lost, others cleared for us to appreciate. It is even possible to climb the steps to the top of some temples where the views looking over the forest are immense. Also, I keep being told that this is where they filmed a sequence in one of the original Star Wars movies…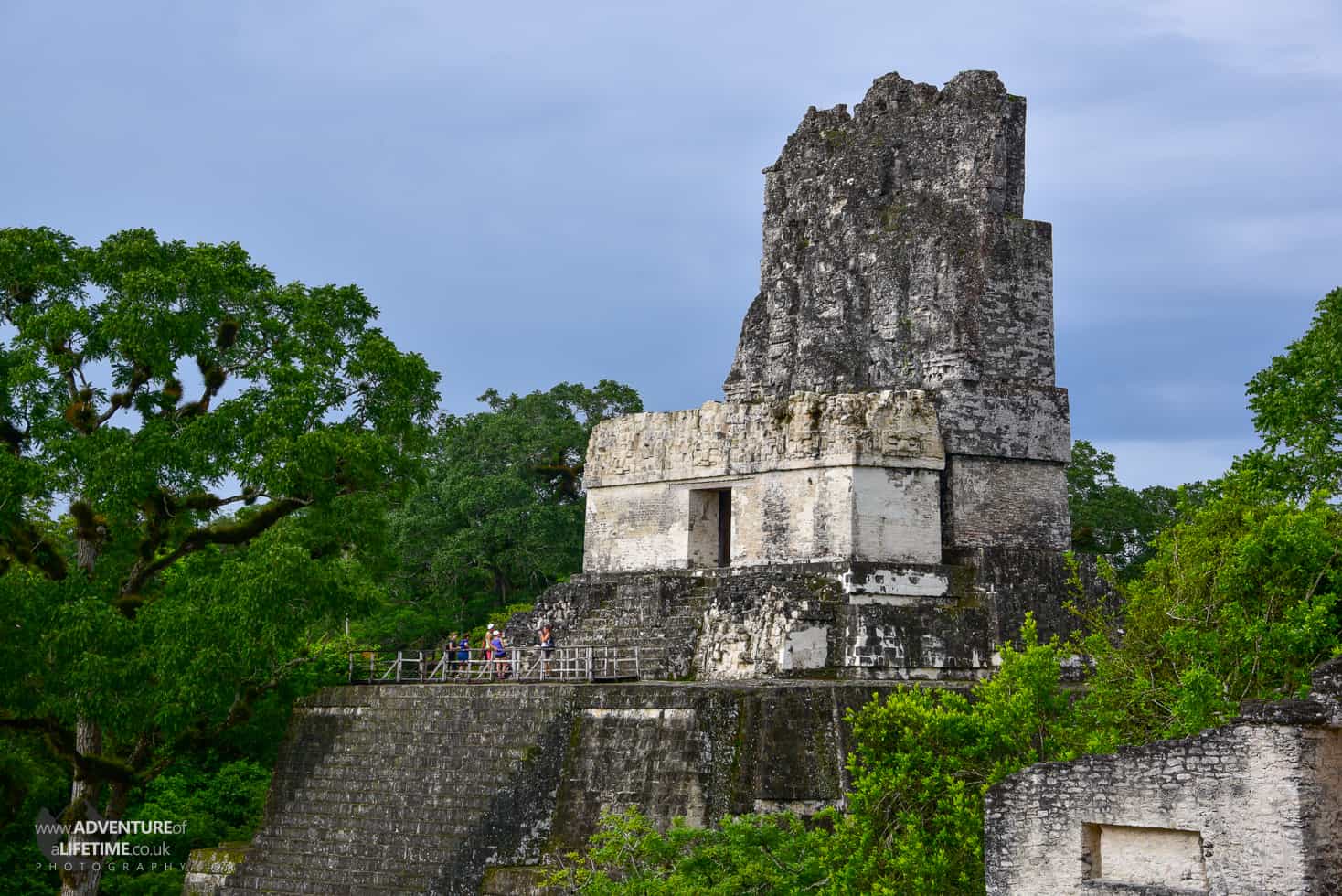 Off the bus from Flores and straight into the best coffee shop in Antigua! We'd spent 10 hours on a night bus and were due to start Spanish lessons as soon as we arrived. But first, coffee! Guate Java Roastery & Coffeehouse in Antigua is the place to go and I'm just so happy we stumbled upon it that morning! Such tasty Coffee 🙂 So off the bus, coffee in our system, it was time to tackle some Español! 3 days of intense brain usage later, I can safely say… "Lo siento, no hablo español".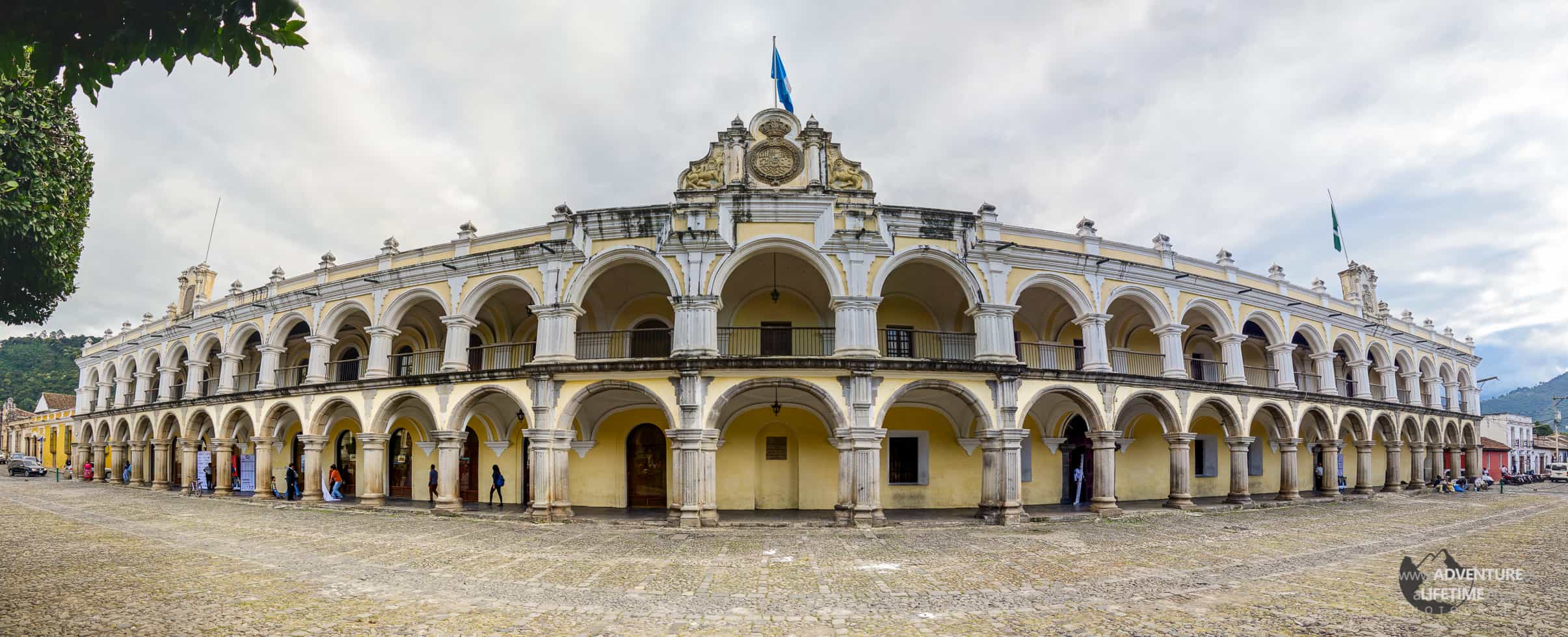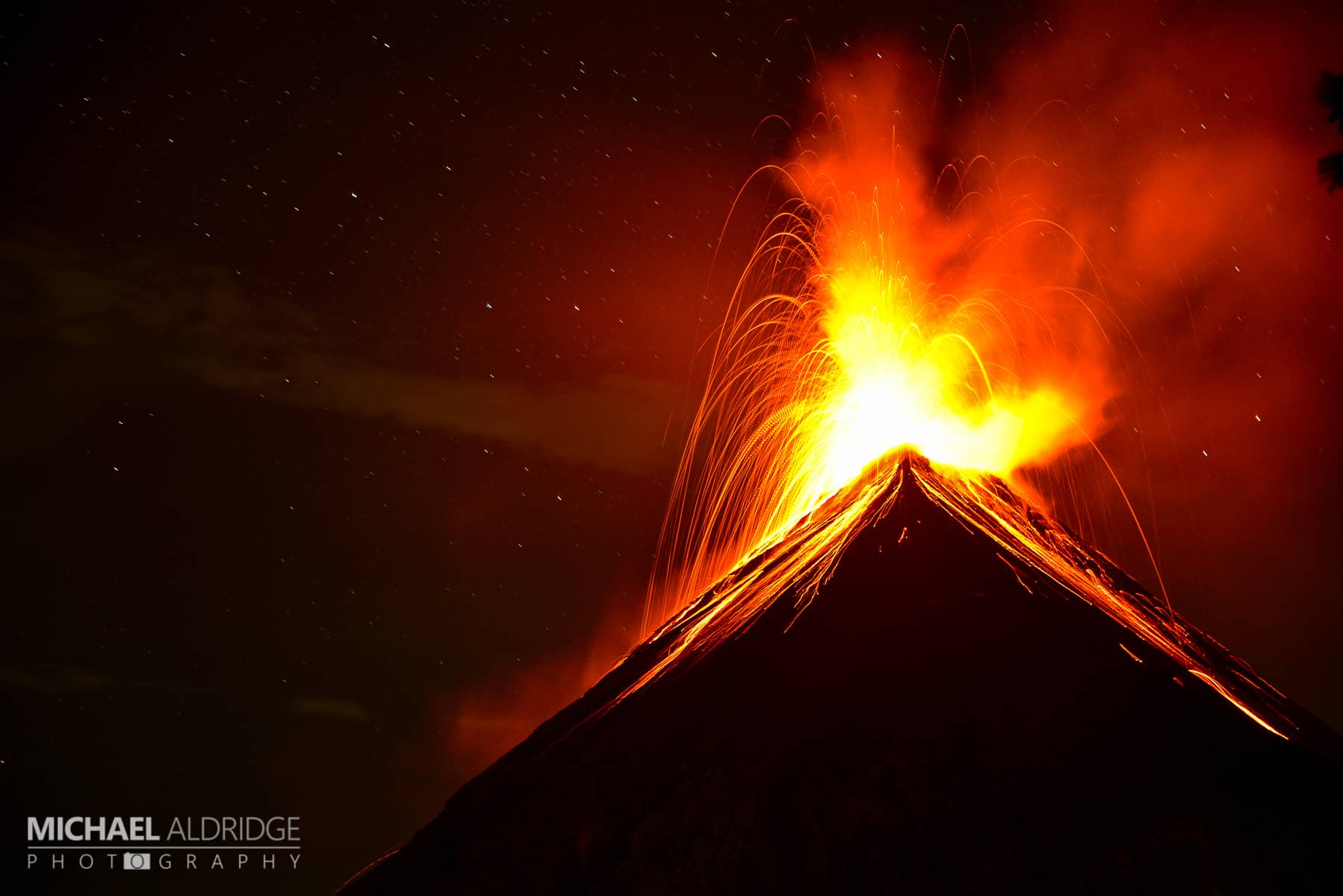 We entered Guatemala with some apprehension, given all you hear about it being unsafe and the crime statistics quoted all over the web. But, once in the country and on the tourist trail, we felt totally safe. Guatemala was incredible, everyone was so friendly towards us. In fact we found Antigua to be one of the hippest towns that we've travelled to in a long time! All over the country the sights were amazing and Guatemala turned out to be one of our favourite places in Central America.
Nicaragua
In Nicaragua we did the typical Gringo thing of Volcano Boarding on Cerro Negro outside Leon, this was described as one of those 'things to do before you die' activities! The hike was easy, the views amazing and we met an awesome couple on the trip (more Canadians!). But the boarding itself was… well it was alright! After a short drive across to Granada we took a trip out to watch the lava river of Volcano Masaya. This was awesome. For some reason lava doesn't have the same relationship with gravity as I was expecting! Lava seems to move in slow motion, it's totally bizarre.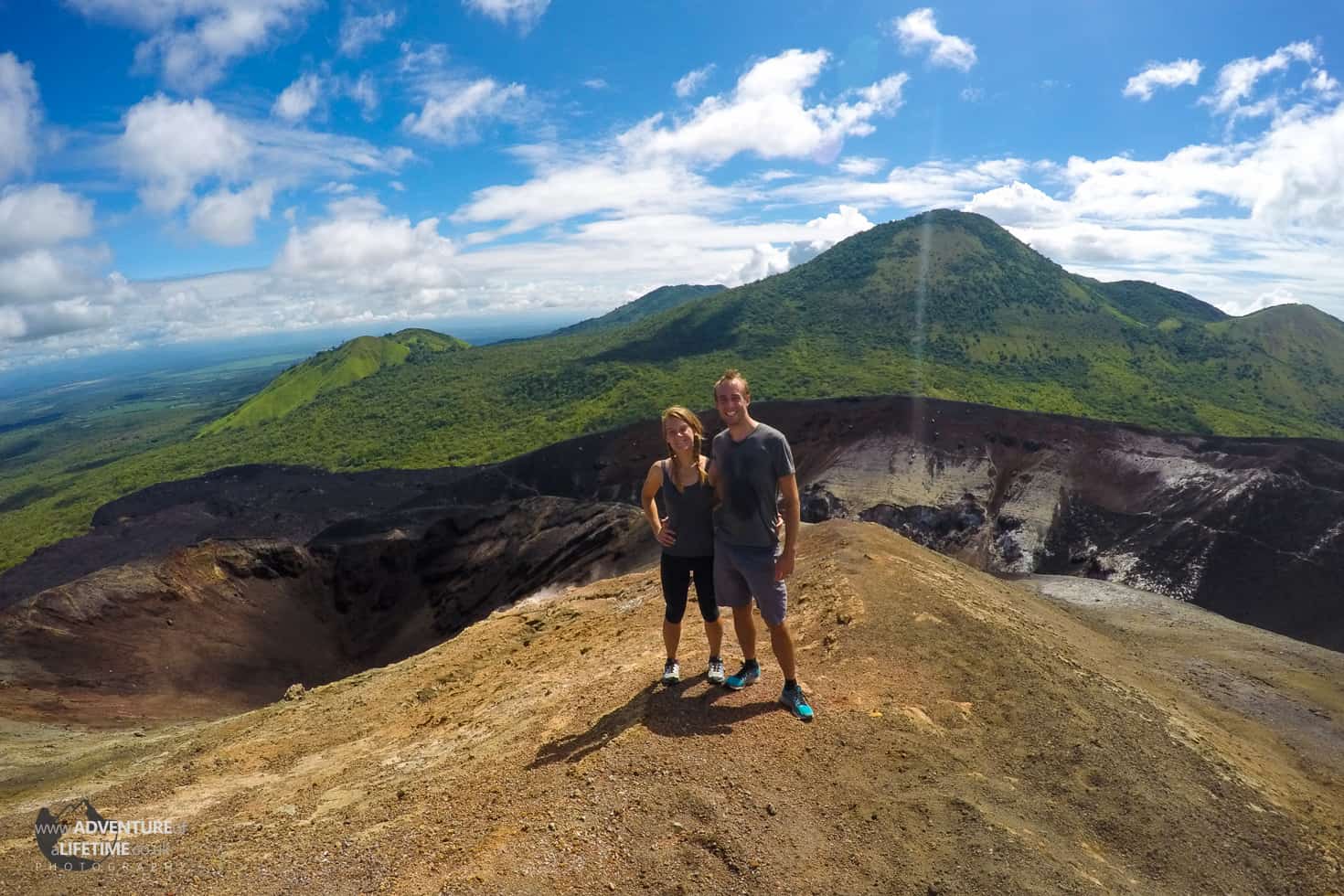 The cities of Leon and Granada didn't really do it for us in truth. In their own right they're lovely colonial cities, but I think coming from Antigua, they just didn't compare. They felt a little more seedy and we didn't find the people as friendly as the Guatemalan's. Also, the towns seemed to attract a very odd sort of backpacker, the bulk of the ones we encountered seemed very self-righteous and too cool to mix with the likes of us.
Ometepe Island was next on the list, we spent some time here getting work done and doing various admin tasks! It was a nice place to chill for a few days. We had to break up the mundane of working, so for one day we hired a motorbike and raced around the island! We stopped to do a little kayaking to spot some nature! Then in the afternoon we hit the natural pools and chilled there before catching sunset on the beach. I think the highlight of the day for both of us was the freedom of bombing about on our own motorbike. Although me and motorbikes don't mix… I had a shot at driving; I got going, narrowly missed a horse, dropped the bike and ended up jumping into a barbed wire fence… Thankfully Michael was quite happy being the designated driver after that!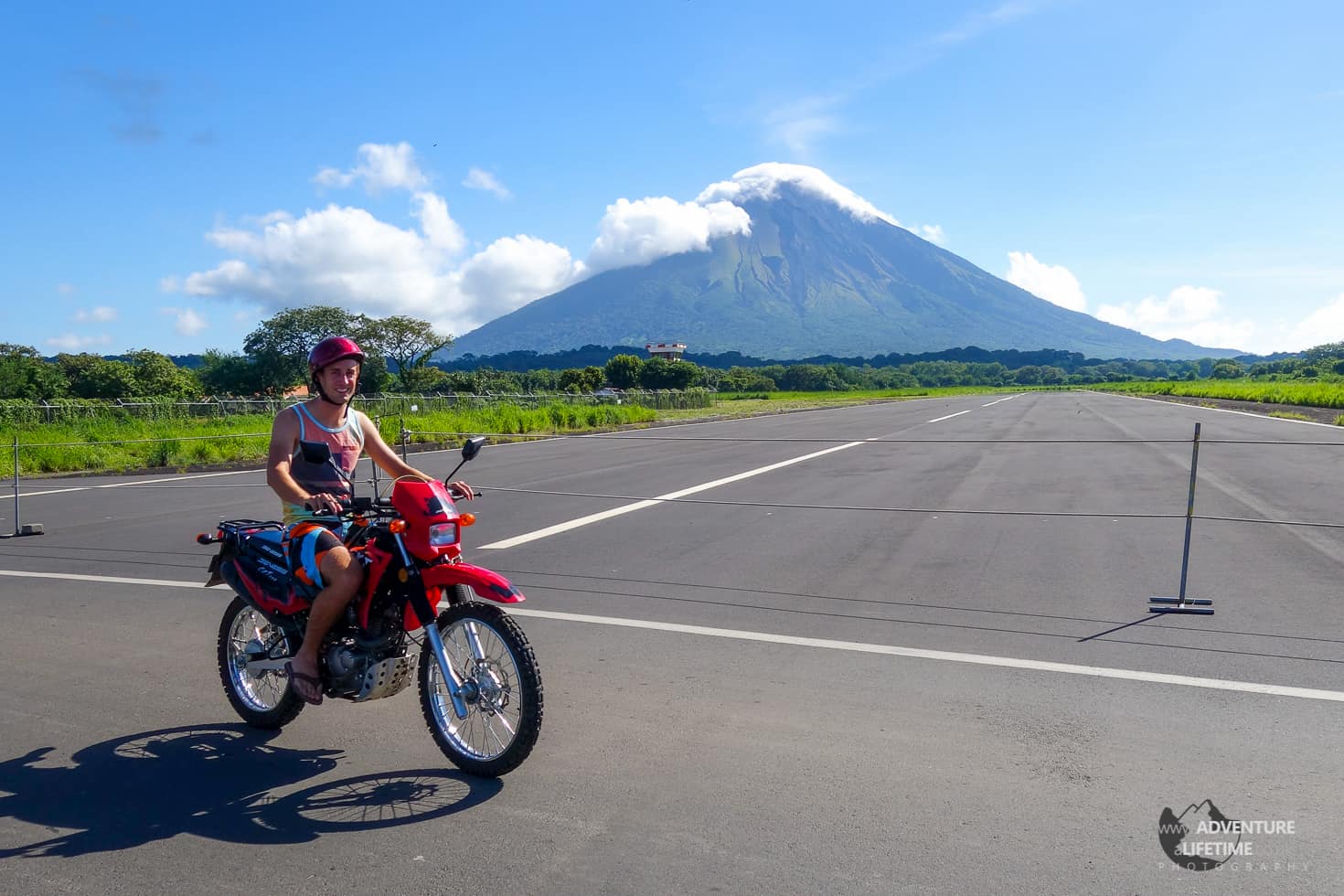 Sadly Nicaragua was our least favourite country. Overall we felt it wasn't good value and the sights weren't as good as the other destinations we'd visited. But what really put a downer on it, were the people. We didn't feel they were very welcoming or friendly in comparison to the rest of Central America.
El Salvador and Honduras
We bussed through El Salvador and Honduras, we'd heard mixed reviews about the two. From being the best place in Central America to 'there's not much there' and 'it's unsafe'. Given our tight timescale we gave them both a miss.
Costa Rica
We couldn't visit Central America with seeing Costa Rica. What a beautiful place to visit! We'd decided to hire a car so we weren't dictated by the busses for a while. It was a nice change of pace, but hiring a car there is a scam!! You read all the fine print before booking and all seems legit. That is until you get to the office and they whack on a mandatory insurance for quadruple the price. Then you go outside and see the beat up old Toyota they're trying to tell you is a quality new car!
It doesn't quite add up for me, sorry. If I'm paying more than US prices, I expect at least a comparable service! The car was in a terrible state of repair; with a duff gearbox, two punctured tyres (that cocked things up for us later) and a trunk that pops open randomly. All in all, don't use, Green Motion. They're total shite!
Rant over, we began our drive up to Monteverde, or The Cloud Forest as its better known. This was a long drive and on pretty sketchy roads for our little car with its questionable clutch! But we got there thanks to Michael's off road driving skills! From Monteverde we did some forest walks and tried to spot some nature! We did alight without a guide, saw ourselves lots of bugs, butterflies, hummingbirds and a long nosed four legged creature! Granted the night tour with a guide was considerably more fruitful! Within half an hour we'd seen an armadillo, a sloth, green viper, scorpion, a toucan and a kinkajou (very rare!).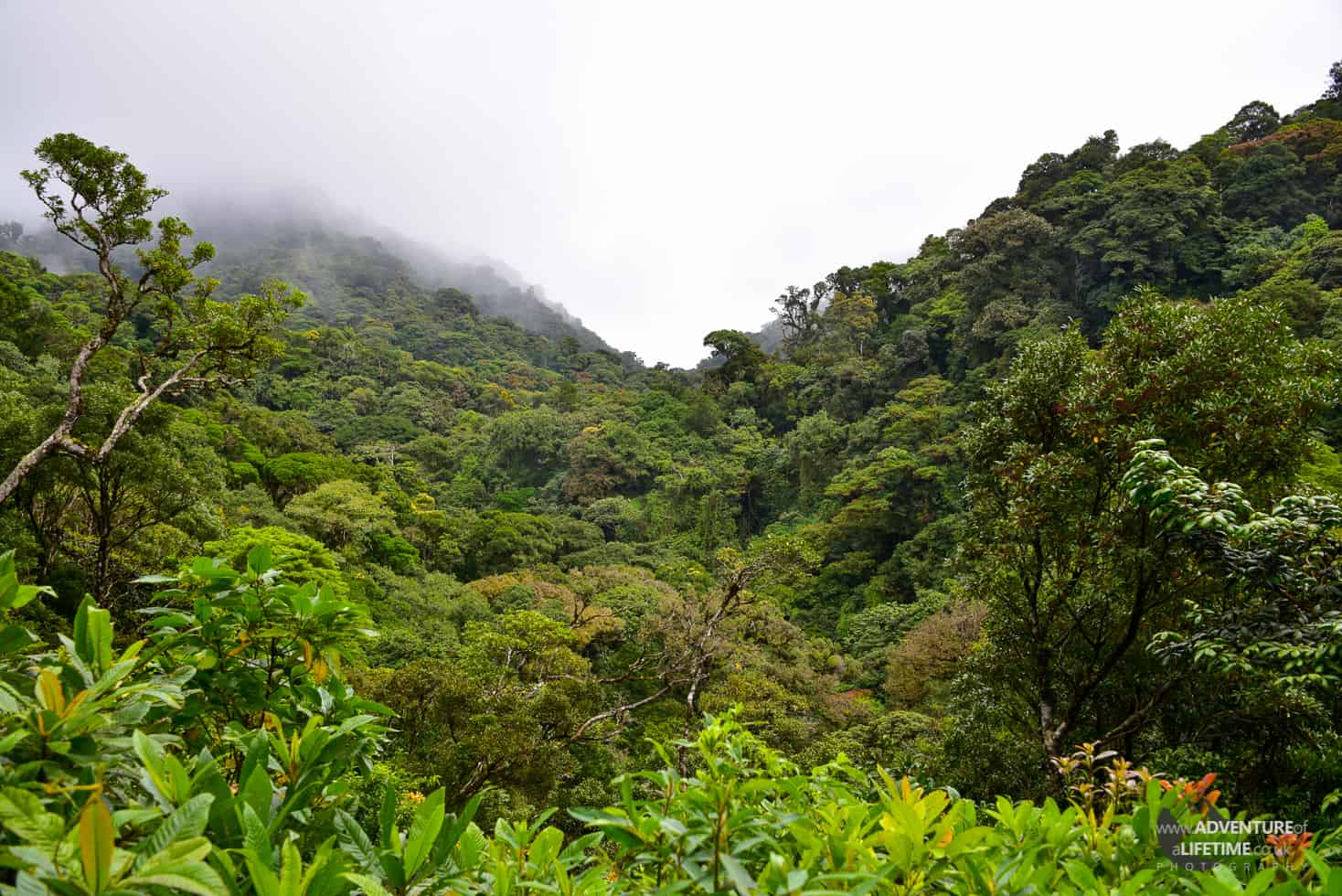 We couldn't go to Costa Rica without doing the zip lining everyone raves about. It was a good day; although for two rock climbers, it kinda felt very conveyor-belt-esque as we went in formation from one line to the next. But it was good fun and the views were something else, especially when we were 'supermanning' across the valley!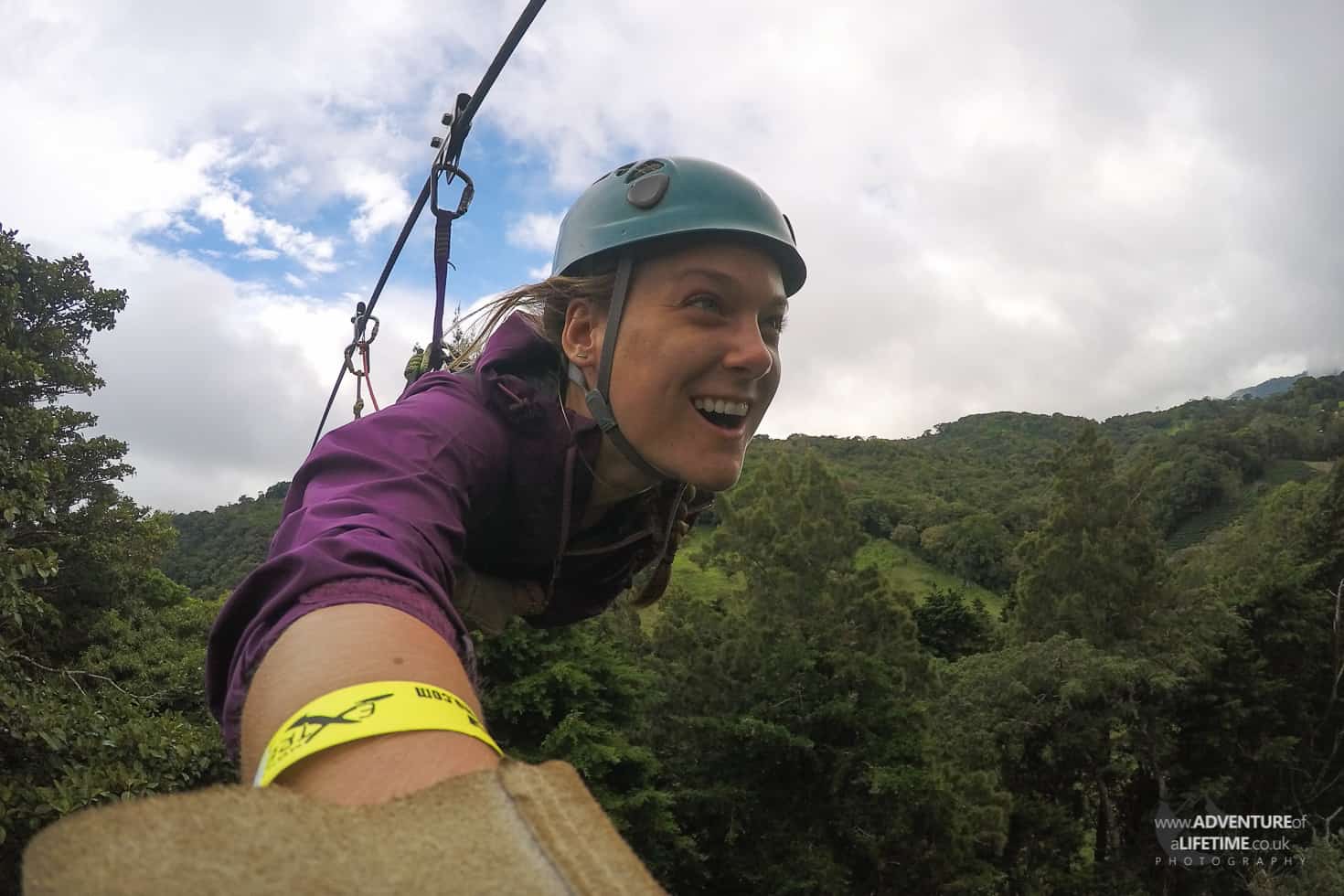 Out of the forest and to the beach, we'd been craving some beach time for a while so had high hopes for Samara. We had a bit of adventure getting there. Turns out Costa Rica doesn't really update their GPS maps, and as a result we ended up taking a very indirect and derelict road there. Despite finding later a perfect tarmac road on the way back. Samara is a lovely beach; I tried and failed at surfing, just couldn't get the hang of it. Michael on the other hand, had a cracking time the jammy sod! He's such a water baby.
We did a horse trek up into the forest to see some more wildlife, although we didn't spot animals, it was so much fun riding the horse on the beach at the end of the trek! Later on in the day we visited The Ara Project. 'Launched in 1982, the Ara Project is dedicated to saving Costa Rica's native macaws. The endangered Great Green Macaw and the Scarlet Macaw'. We learnt all about the project and got to see some birds fly in and feed at sunset. Such a good project, if only we had more time, we would have loved to have spent more time there volunteering.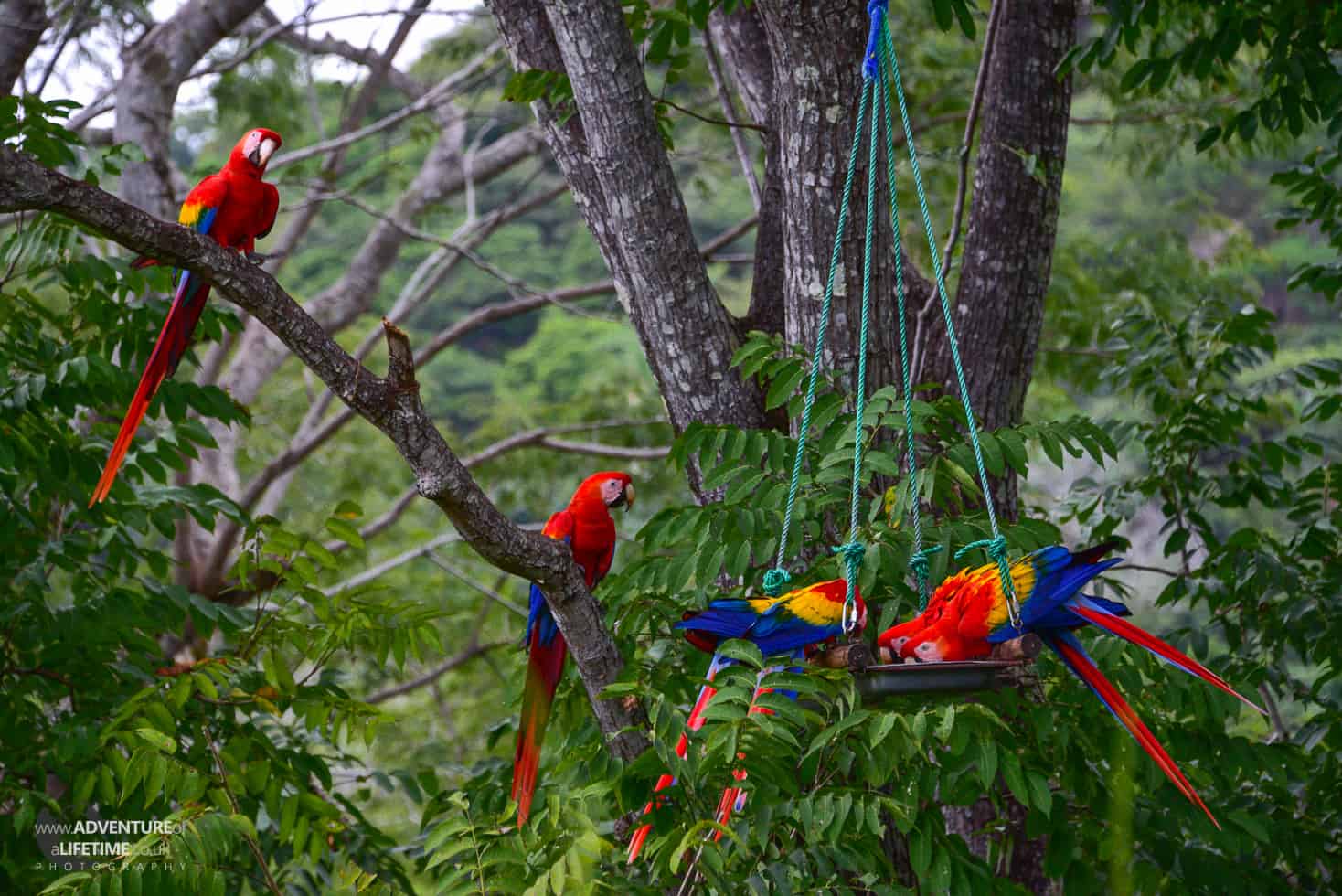 Our trip went a little downhill after Samara. We had an AirBnB booked in Turrialba, but we hadn't been given an address despite many requests! Also the weather was atrocious and what was meant to be a 4 hour drive turned into 10 hours. Long story short, despite the storm we got there in the end. We'd gone to Turrialba because this was meant to be one of the best places in the world to go white water rafting. But due to the torrential rain the night before, the main river was too dangerous to raft. Instead they were putting everyone down the tamer, kid friendly river. We hadn't driven for 10 hours to bob down a river! We wanted adrenaline! Sadly we drove back to San Jose on a bit of a downer. But Panama was next on the list and we had high hopes for that!
Costa Rica is a strange place to sum up… Yes it's beautiful and yes it's full of diverse wildlife with so many sites around the country. I know it sounds silly, but I think the Costa Rica marketing department do an amazing job and as a result it I think our expectations were more than we encountered. We left feeling a little underwhelmed and much poorer.
Panama
As soon as our bus drove over the border into Panama we noticed a few things change. For the first time in A LONG TIME we were driving on perfectly paved roads, we saw obvious road signs and there were even cats' eyes! This was good!
Our first stop was a lovely mountain town called Boquete. It had the most wonderful alpine feel about it and the best bakery I'd come across in forever! We spent the first day wandering the markets and treating ourselves to a few bits and pieces. Back at the Ara Project we met a lovely German lass who was interning there, we were chatting away and discovered we were all travelling to Panama at the same time, so decided to meet up. Together we hatched a plan to hike The Lost Waterfalls.
We hitchhiked to where we thought was the start of the trail, but once the car disappeared into the distance on a lonely road, it soon became apparent that we still had a long way to go. A good couple of hours later, we finally made it to the start of the trail and que the rain! As we hiked the trail, hurricane Otto battered the east coast of Panama and provided us, on the outskirts with a proper soaking. It was a fun trail and by the time we got back to the hostel, there wasn't a dry inch on us.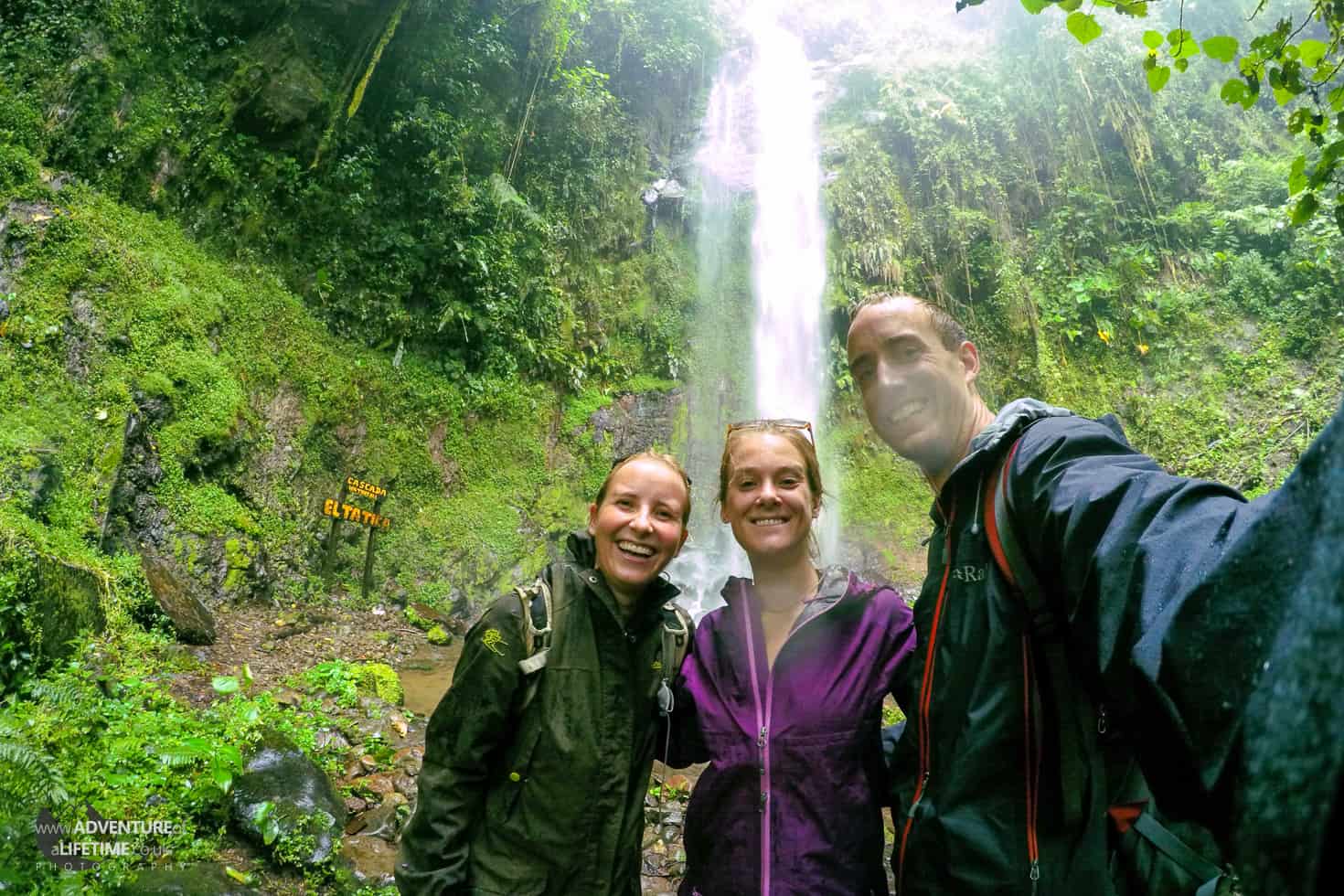 We needed the sunshine of a beach after all that and Bocas del Toro was the answer. The ferries the previous days had been cancelled due to the hurricane, so we were expecting debris all over the island. Thankfully, you wouldn't have known a storm had hit. There was no evidence and we were free to tan on beautiful Caribbean beaches to our hearts content! And tan we did! Our accommodation gave us free bike hire, so every day we would cycle out to a bit of beautiful deserted beach and play in the waves.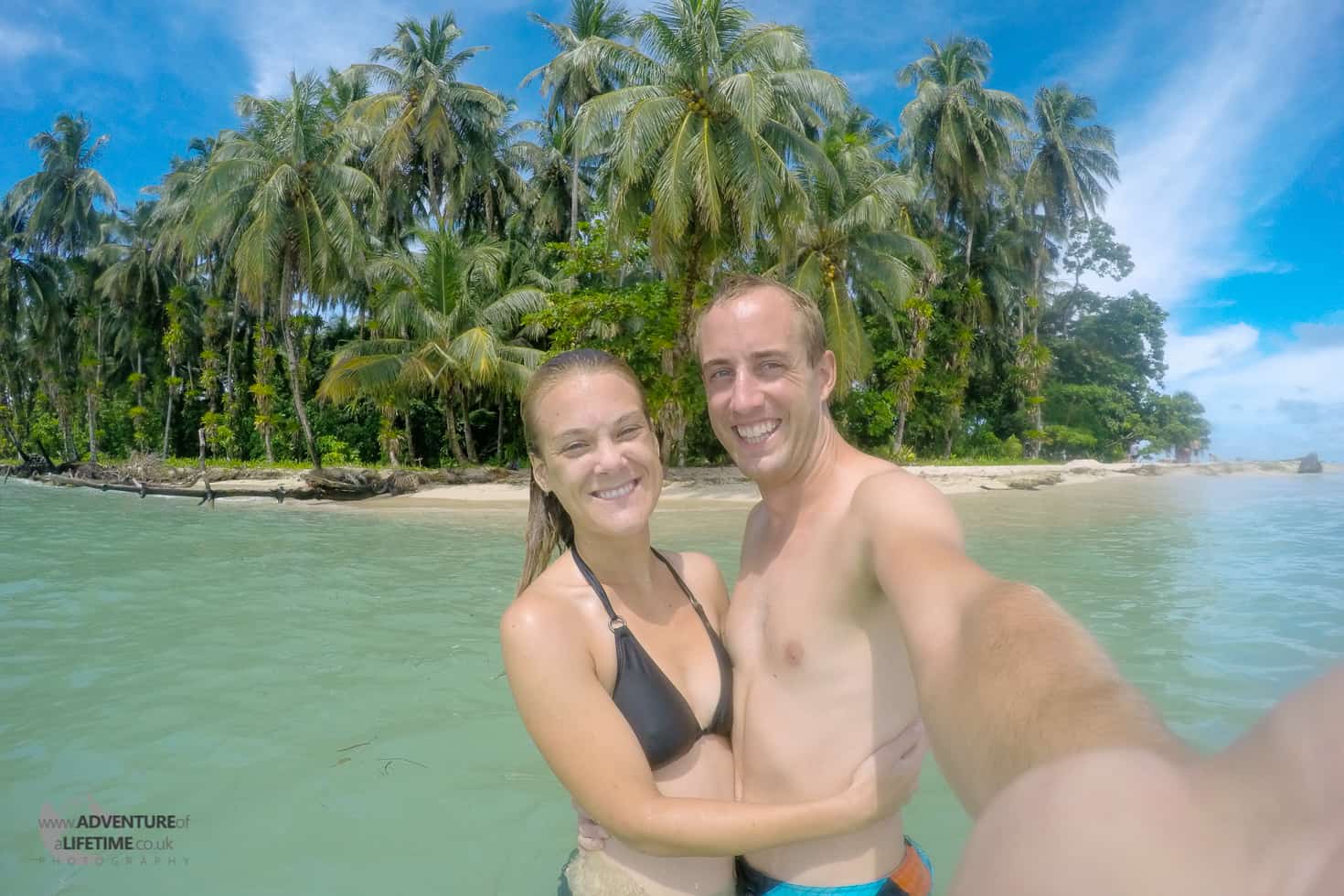 We wanted to do some snorkelling on the island and heard about a deep diving trip. We had never done this before, so we signed up. The 'deep dive' is essentially a bit of shaped Perspex that you hold onto while the boat tows you along underwater. The shaped Perspex allows you to dive and steer behind the boat and see things from a different perspective. Really fun to do something different! On the trip we also spent some time visiting the other islands looking for sloths in the trees. So many sloths once our eyes adjusted to them! This was lovely to see and a nice bit of nature to end Central America with.
Our final stop in Panama was Panama City and the canal! I loved the canal, I thought Michael would be the one to get super nerdy and want to watch it for hours. Nope, that was me! The ship goes in, the water goes up, and the ship goes out. It was like man made magic!
Panama was everything the marketing people told us Costa Rica would be and more! It was simply beautiful and the people were incredibly friendly. It was an easy country to visit with stacks of wildlife to see. Overall there were perhaps fewer sites to see than the other countries, but one our favourites none the less!
In truth we didn't know too much about Central America before venturing in. Despite its reputation for safety, we didn't have any trouble or concerns throughout our trip and getting about was easy. Overall we found the people to be very welcoming and warm towards us. There are some incredible natural sights, particularly around Guatemala and Belize that we would love to return to. Also, the Mayan ruins were incredible to witness and very different from temples elsewhere in the world. Central America is a very unique part of the world that we're so pleased we made the time to visit.
That was one fun adventure! Now lets see what's in store for us in South America!