"It's a dangerous business, Frodo, going out your door. You step onto the road, and if you don't keep your feet, there's no knowing where you might be swept off to."
J.R.R. Tolkien, The Lord of the Rings
It's fair to say we were really looking forward to reaching New Zealand. Yes, we were excited to see the home of the Hobbits, the wildlife, the people and the landscapes. But, having spent the last 5 months in Latin America, we were also travel fatigued and desperately craving some of the basics. For example, tap water that we can brush our teeth with, drink and have a shower without pursed lips. Being able to have more than a one sentence conversation with someone other than each other, good food and something once in a while actually being on time. We had high hopes that New Zealand would be a breath of fresh air and familiarity for the next leg of our trip. Bring on New Zealand's North Island!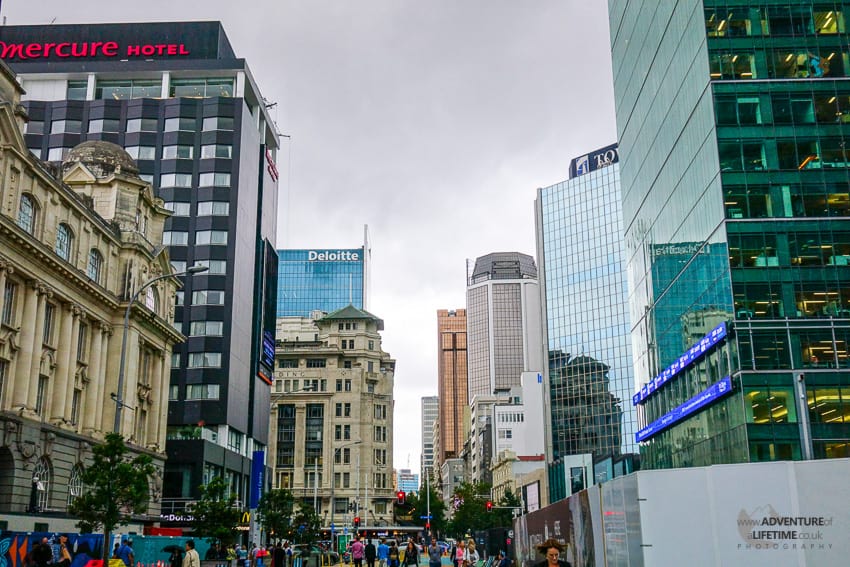 Auckland
We were looking forward to a couple of days in Auckland as a chance to recharge after the long-haul flight from South America. After checking into a somewhat shady AirBnB and went out to explore New Zealand's capital. We found Auckland itself to be a fairly unimpressive city, but it did have plenty of great places to eat! Exactly what we were looking for at the time. Food in South America had really taken its toll on us and we were more than ready to binge on some fresh vegetables, wholegrain foods and non-sugared breakfast cereals with real milk! Aahh bliss… All nourished and recharged we were ready to begin our New Zealand adventure!
Coromandel
Wildlife Park AirBnB
First up was our quirky AirBnB find! We were staying at an Animal Park, complete with mischievous goats, hilarious wide-eyed sheep, huge river eels, parrots and ducks that greeted us each morning as we ate breakfast on the porch. Feeding and photographing the animals was a really nice and relaxing way to spend our afternoons.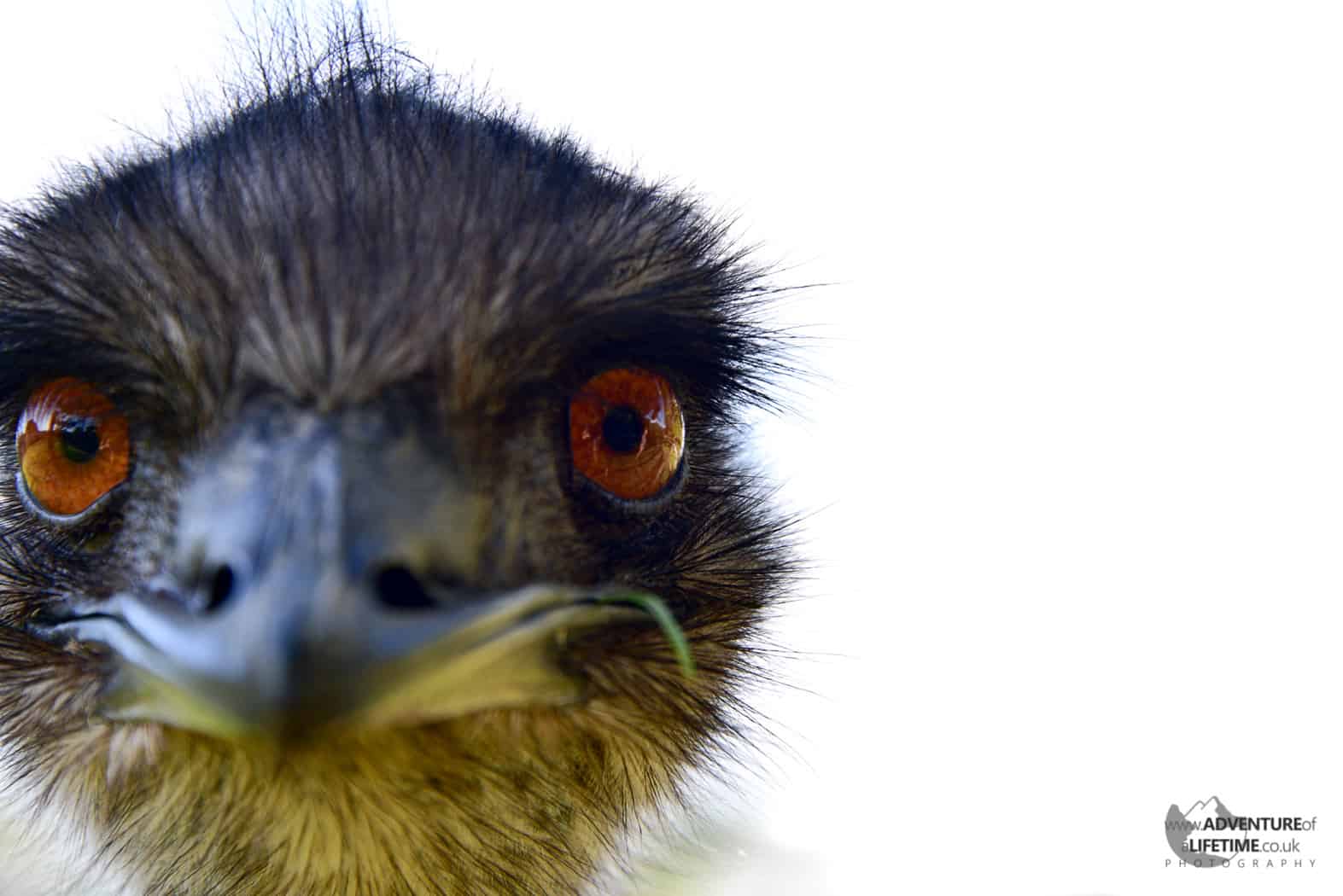 Hot Water Beach
The beach does what it says on the tin, it's a patch of beach in a volcanic area, resulting in piping hot water flowing under the sand to the ocean. The idea is to dig a hole and the water that filters up is mighty warm, just like a hot tub. We'd heard about this beach and its volcanic properties from various people along the way and knew we wanted to check it out. We nailed the timing that day, we woke up super early to catch the low tide and sunrise from our hot tub. Arriving just as another couple were leaving and offered us their pre-dug hole. Score! Really lucky since we hadn't realised just how hot the water was and digging by hand would have resulted in some very burnt hands.
As nice as the idea of a hot tub on the beach is, the reality is bloody roasting! Too hot to actually get into for a long while (Michael, poor boy, didn't know his limits and had burnt red feet for the next few days). We had to add a bit of ocean water to cool it down. Once settled in, we witnessed a most beautiful sunrise with the perfect light along the shore. Michael was in his element digging holes and creating defences from the ever approaching tide. Eventually the tide came in and we were defeated, alas, onto the next beach of the day!
Cathedral Cove
Cathedral Cove beach was really beautiful, because of our early start we seemed to get there at the perfect time of day when it was almost deserted. Waking up for sunrise really has its perks! It was a really warm, sunny day so we attempted a little swimming, although the world was warm, the water was a little on the chilly side. Fingers crossed for warmer waters in Australia!
Rotorua
Hobbiton
Onwards to Rotorua and first up was the long awaited trip to Hobbiton! A day in the life of a hobbit, to say we were excited was an understatement! The whole tour and experience was pretty awesome. We wandered around Bagend, deciding on which Hobbit-hole real-estate we'd purchase; drank cider at the Green Dragon whilst admiring the views over The Shire; we had an awesome time learning some trade secrets and a few behind the scenes tricks from the films… The only downside to the tour was the sheer number of people! But who can blame them, this is HOBBITON after all!!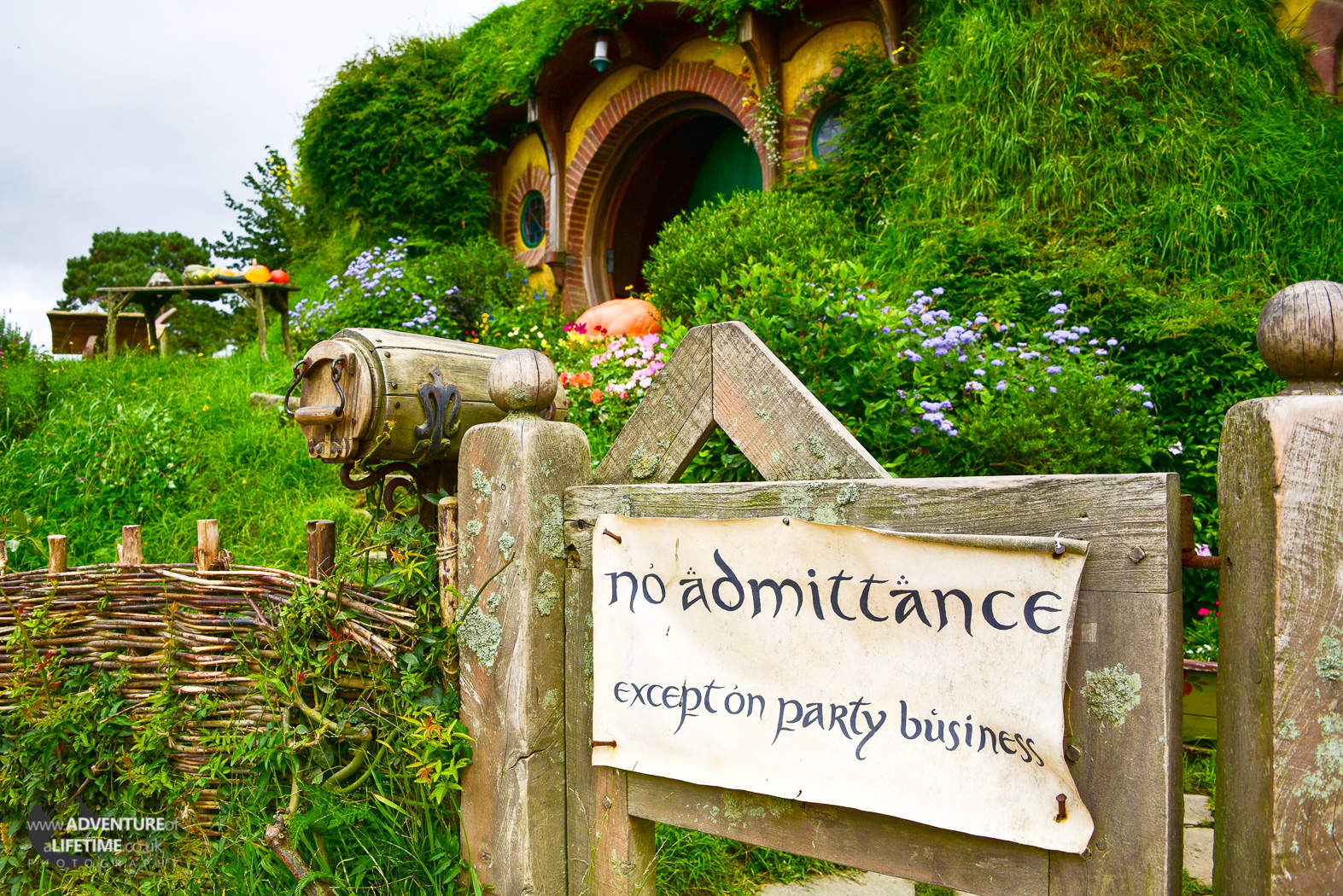 All in all, an awesome way to spend the day! It made us feel really excited to go home and re-watch ALL of the films. I certainly felt a new appreciation for the making of the films now knowing the amount of detail that went into each scene.
We've been working our way through the films again, its super cool to recognise parts of the set and know which Hobbit children are in fact Peter Jackson's kids! Having done the tour really puts a lot of the films into context and you really feel such a sense of appreciation in Peter Jackson's directing capability.
Rafting the Kaituna River
We were spending a few days in Rotorua and what better way to spend a day than to raft the 'highest commercial waterfall in the world'! We like our sports extreme, so felt a little disappointed when we drew the short straw and were teamed up with a 'soft' group of Korean girls who didn't speak much English, nor could swim!
In New Zealand there does seems to be a bit of an ongoing joke about Asian's and their desire to partake in water based activities, without being able to swim. This was one of those scenarios!
We survived the bulk of the rapids and next on the trip was surfing the surge that comes off one of the waterfalls. Basically, we all get very wet as the raft surfs the wave for as long as we can manage, it's all very fun! To achieve this, we need to shift out weight in the raft every now and then. Our guide shouts 'LEFT' or 'RIGHT' for us to all jump to that side of the raft.
When our guide shouted 'LEFT' this poor girl, who didn't speak much English and was already sitting on the left, jumps out of the raft. She just jumped out! She can't swim either, so is carried downstream, down rapids and all sorts! The poor guide couldn't believe it, he could barely contain himself as he told the other guides that "she jumped out the bloody boat, she just jumped". It took us all by such surprise! She was fine, if a little shaken. It certainly injected some extra entertainment into the trip…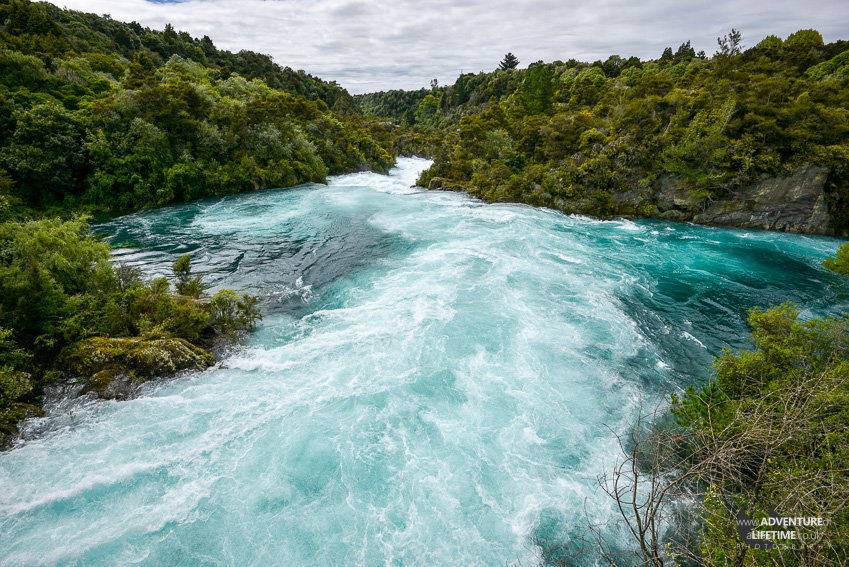 MTB Rotorua
We couldn't come all the way to Rotorua with its world famous mountain biking and not have a crack ourselves, could we!? Hell no!
For me it was the first time I'd ridden a full-suspension mountain bike that was actually the right size for me! Back home no one seems to stock bikes for midgets so I'm usually left having a shot on Michael's. Anyhow, here, I had a bike that fitted. And it was bloody awesome! It felt so good to be bombing it down the hillside and flying off drops left, right and centre. Flying off things before I'd even knew I'd hit them! I really think I'll need to look into getting a full-sus when we get home.
Annoyingly, just like Whistler in Canada, we were missing Crankworx again; this time by a mere two weeks. ONE day we'll catch it!
Maori Village Experience
No trip to New Zealand would be complete without a Maori experience of some kind! We went for a dinner, or a hangi at the Mitai Maori Village. We had a very interesting history/culture lesson from the tribe leader and later ate a delicious buffet style dinner.
Pictures speak much louder than words so I'll let Michael's photography from the evening do the talking.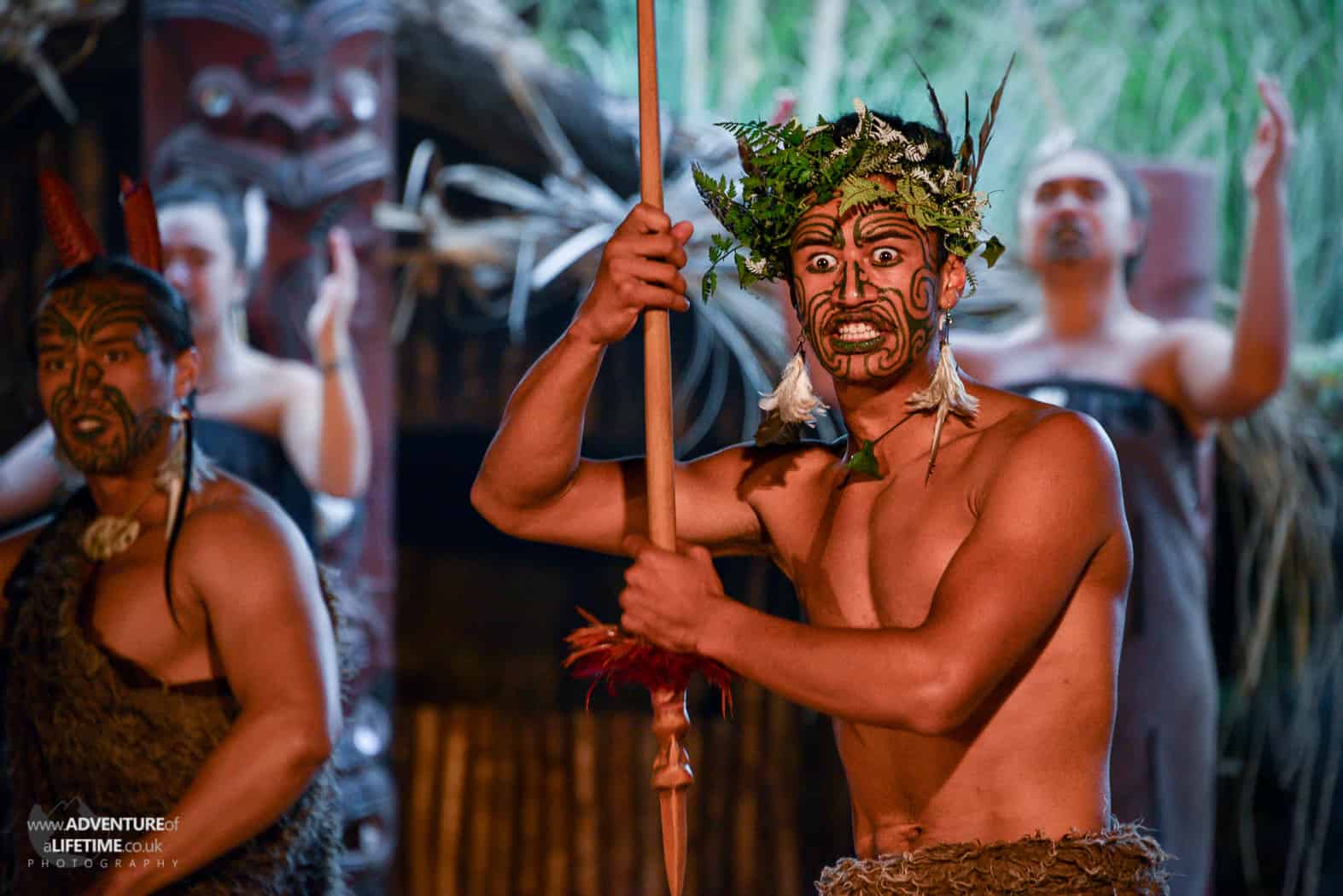 Lake Taupo
Geyser and Thermal Highway in the Piss Pouring Rain
New Zealand is pretty well famed for its thermal regions and these areas are everywhere on the North Island. We were on our way from Rotorua down to Lake Taupo when we decided to stop along the Thermal Highway to see Lady Knox Geyser blow.
Now, the thermal regions in New Zealand are much like Iceland's, but a little bit… well, naff in comparison. So this geyser, it erupts at 10:15 every day. Very punctual Michael and I thought… We, just like the rest of the tourists that day, huddled together in the piss pouring rain to watch this geyser erupt at precisely 10:15.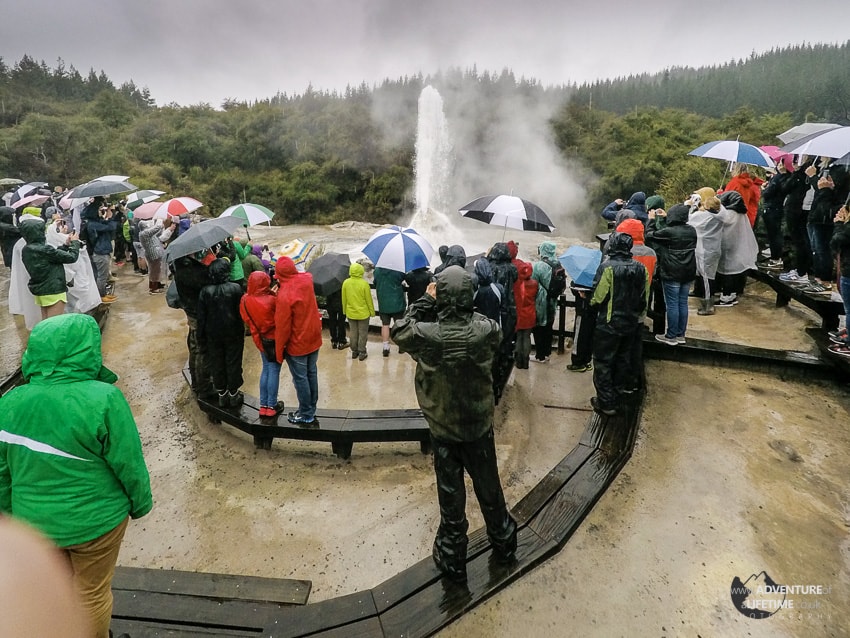 10:15 came, and so did a Park Ranger in his high-vis. He spoke to the crowd for a while about the geyser and the park, then proceeded to pour soap powder down the funnel of the geyser. Within minutes she's bubbling foam and eventually, BOOM, erupts a big soapy fountain! Aaahh, so that's why she erupts at 10:15 each day… Ahem, a bit of a cheat, but funny enough that we will forgive!
Prawn Fishing
This was a bit of a wild card, we were both pretty tired from all the driving but didn't want to waste the day. An afternoon of Prawn Fishing at Huka Prawn Park was clearly the answer! I think it was really meant for little kids, but, it was actually really good fun and we would totally do it again.
Prawns are trixy little buggers, you don't hook them or anything, they choose to pincer on and let go as they please. Therefore really tricky to catch! I, by magic I'm sure, managed to catch two beautiful little prawns while Michael (pro-fisher) caught none! By the time we called it a day, the park was closing and I took great pleasure in releasing Prawn 1 and Prawn 2 back into the waters to swim (be eaten) another day!
Waitamo
Glowworm Caves
Having read the guidebook, I'd decided that Blackwater Rafting was the best way to see the Glowworms of Waitamo Caves. Blackwater rafting is essentially floating through an underwater cave on a rubber ring, in the dark. Think caving with inflatables.
After our caving experience in Belize I didn't think I'd be going underground again anytime soon, but I couldn't let this experience pass by! The start is by far the worst part for me, walking and squeezing into the cave, watching daylight slowly disappear into darkness, urgh, it makes me feel sick thinking about it.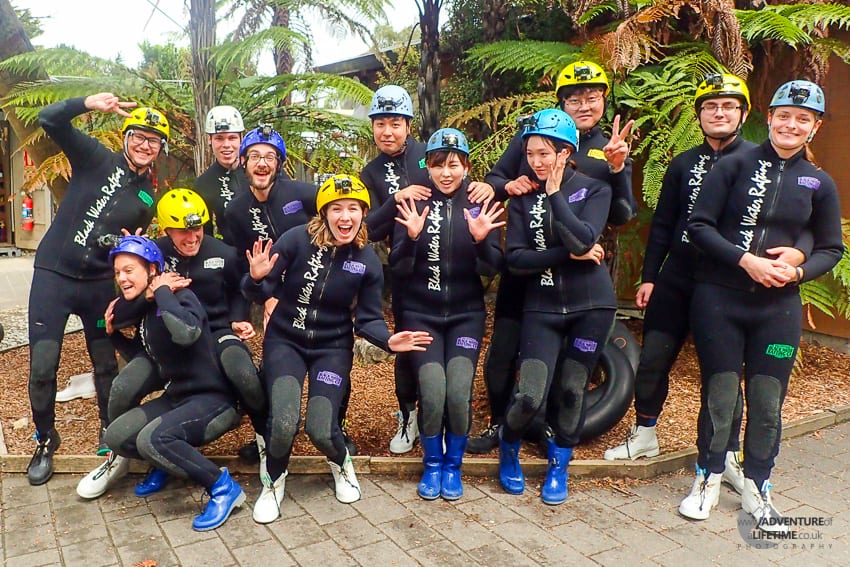 Once we were in the cave it was okay. We were with a really fun group and when you're jumping off underground waterfalls, you quickly forget you are deep underground! On a calm part of the river, we all joined up, creating a 'human caterpillar' of inflatable. Then the lights went out!
Looking up, the ceiling was lit up beautifully with thousands and thousands of tiny little lights. It was so pretty and mesmerising to watch. Just like a sky completely full of stars. We bobbed along in our human caterpillar formation for what felt like forever, just looking up, hypnotised by light.
Fun fact: Glowworms aren't all that cute, they're actually maggots. The light they create? They're burning their waste. They are quite simply, maggots with burning poo. Very beautiful though and definitely worth checking out!
Wellington
We then flew to Wellington where we met up with Heather and Ollie; friends we made during our time in Bolivia. It was great to see them again and for a short space of time and live in their beautiful home. It made a very comfortable change to being in a grungy backpacker hostel. Heather and Ollie had recently built their house. Having seen this and now understanding the process has convinced that one day we need to design and build our own place too!
Weta Workshop
Aaah, Weta Workshop! For those of you who don't know, Weta Studios are the props and digital studios used in the Lord of the Rings and Hobbit movies (and also MANY others). The standard of model making and attention to detail is just insane. We did a tour of the workshop space to get a better idea of what goes on behind the scenes.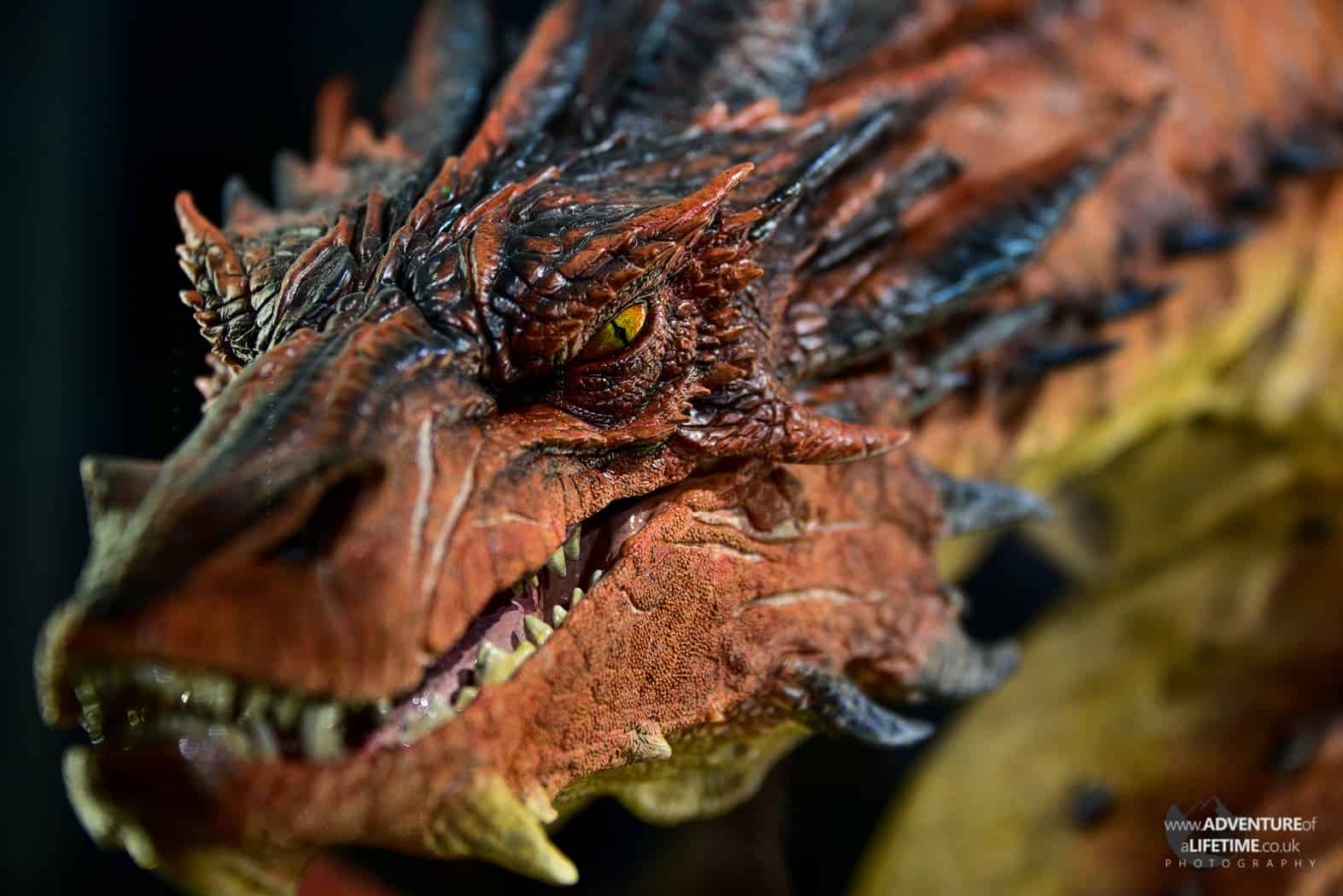 From the short tour it's abundantly clear to see just how talented the team at Weta are. Just in the small workshop space that we saw, there was a huge quantity of props on show. The detail in each prop was perfect, absolutely flawless. It makes you realise the work and craftsmanship that goes into each item.
It was a super geek out for the both of us, we were blown away by what we saw! Sadly, they have a no photography policy in the workshops so our photos are limited…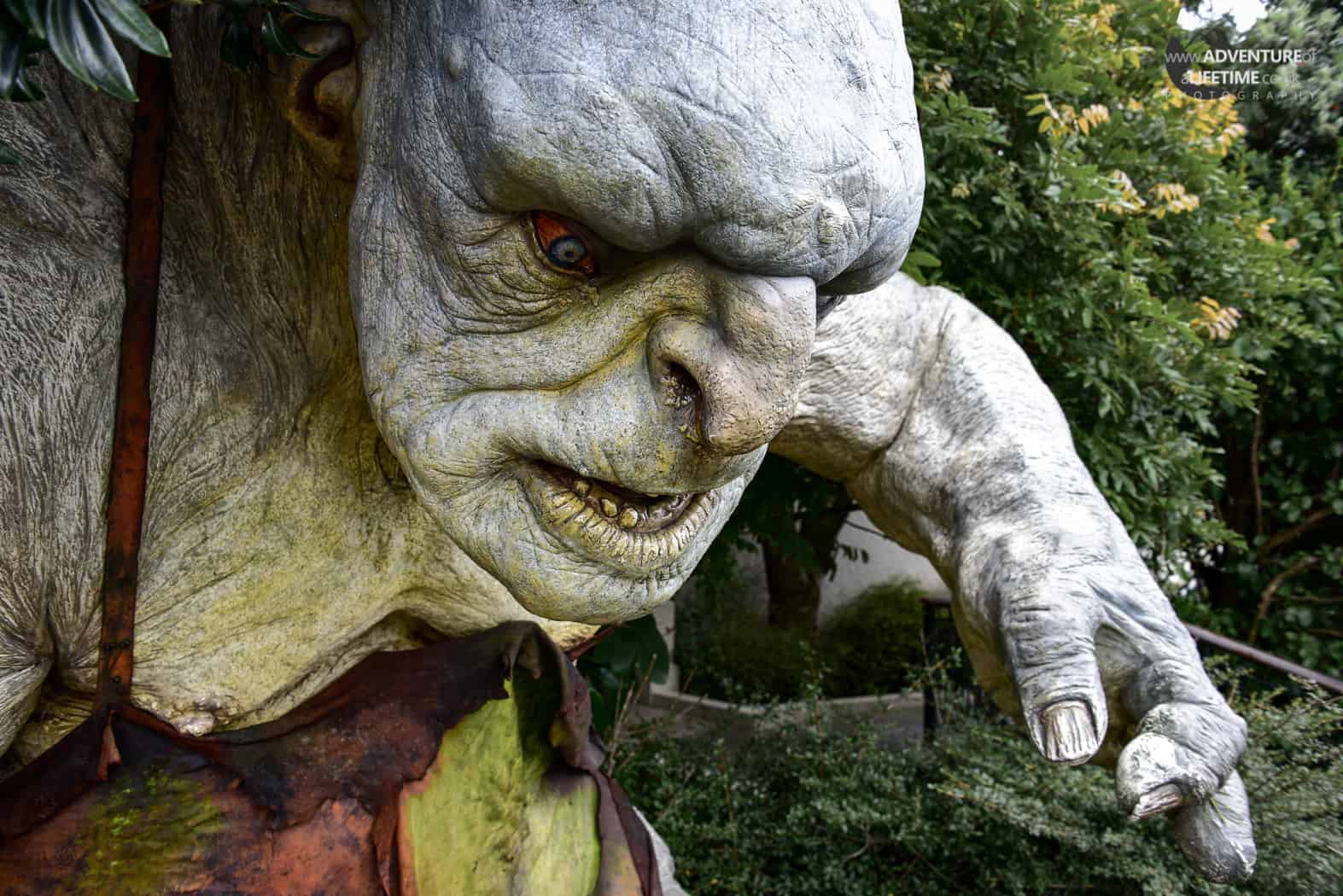 Te Papa – Gallipoli Exhibition
The Gallipoli exhibition at the Te Papa Museum in Wellington is hand on heart the most moving museum exhibition I have ever witnessed. The huge scale human models, made by Weta depict scenes from the Anzac war. They are incredibly lifelike and if it wasn't for the scale you'd swear they were real. They were so mesmerising with their lifelike details, but it was the scale that really put emphasises on the story. In our opinion, this exhibition sets a new standard in museum exhibitions. I truly hope that other museums take note and begin to use this technique of storytelling.