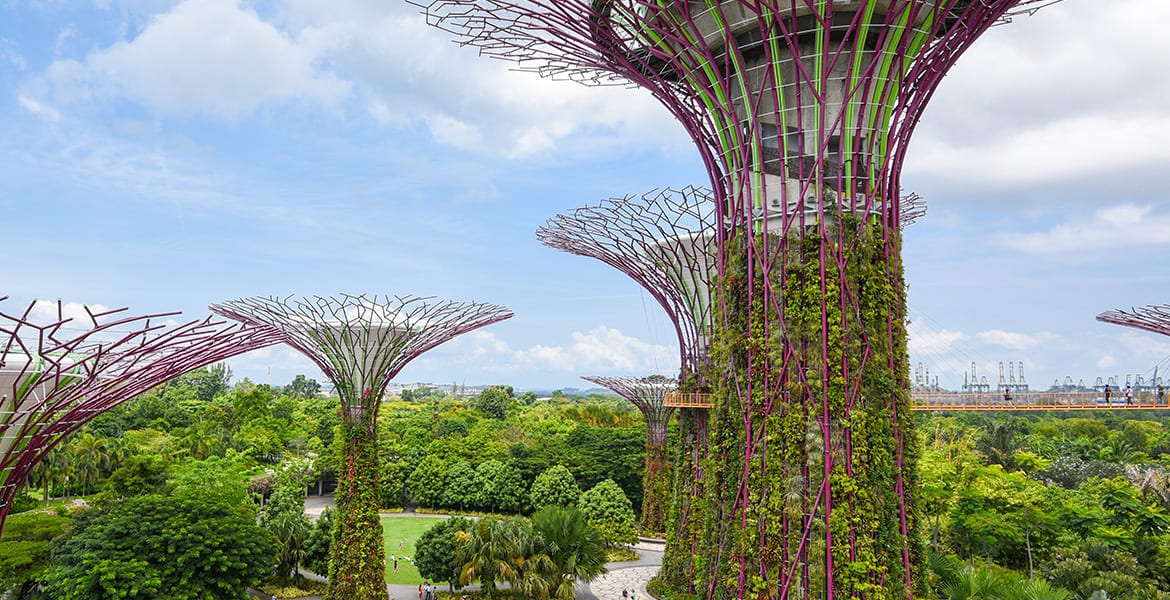 As we travelled around South East Asia, we had a few stop-over destinations (Singapore, Kuala Lumpur and Sentosa). They didn't quite warrant their own blog posts so we've combined them together. The following are our stop-over cities, and our impressions of them as we dart around. Coming from Thailand we land in Singapore…
Singapore
We are both firmly country folk as opposed to city lovers, however, arriving from Thailand we were looking forward to some of the First World comforts we felt Singapore had to offer. Driving into the city from the airport, we were welcomed with rows of flowers and trees that lined the motorway. Any sort of greenery is a big tick in my book.
But in all honestly, it's sad to say that we weren't fans of Singapore in general, although there we some spectacular elements. It is an expensive country, but our main issue came from the people, which contrasted so strongly with the friendly and considerate Thai people. I had a broken hand at this time, and far from people showing any concern, I found they would blindly and inconsiderately bash into me.
For the first time in a long while we noticed a lot of illness, there were people coughing and sneezing left, right and centre. Unsurprisingly, we got ill too.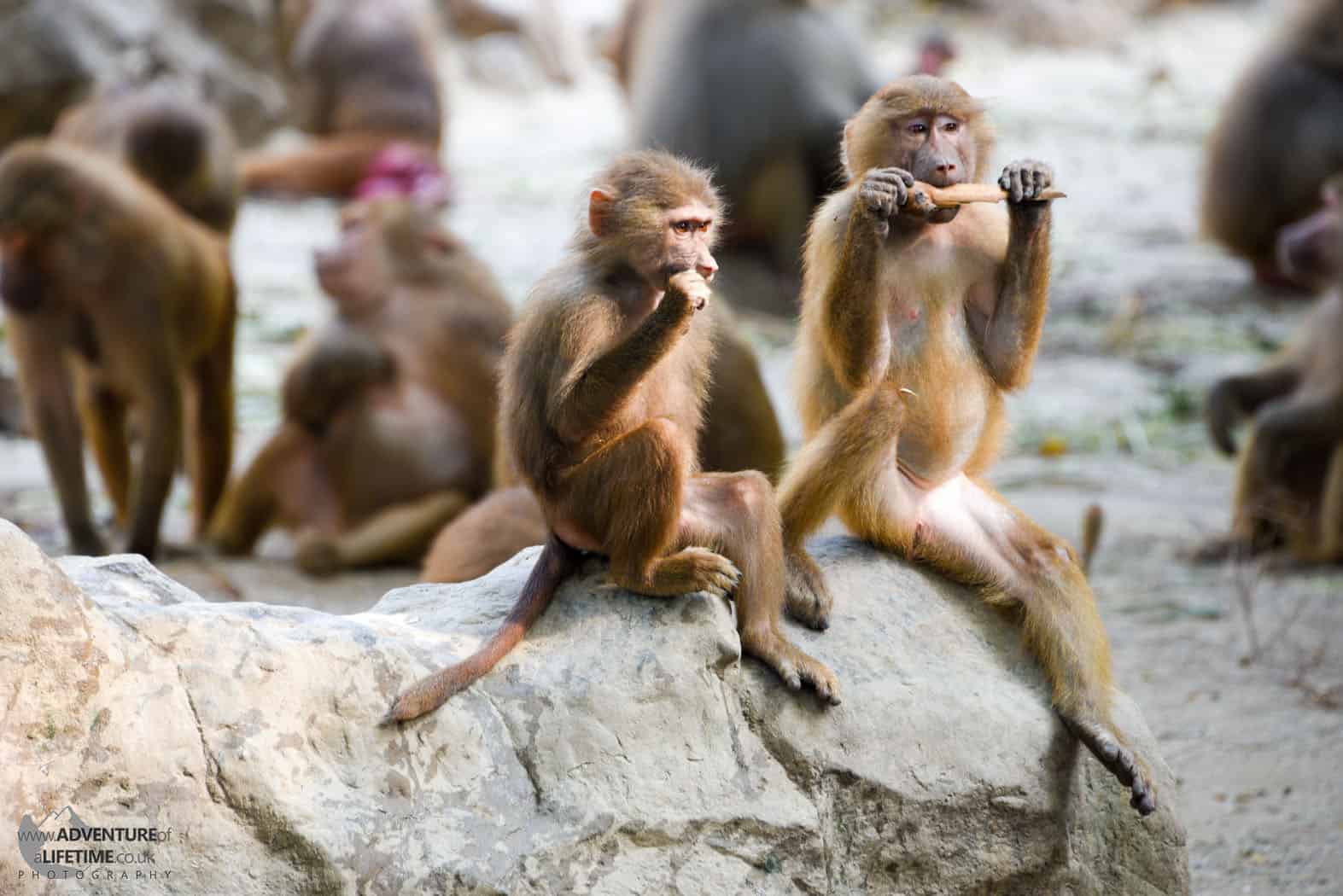 Singapore Zoo
We'd been deliberating for some time as to how we should celebrate our 2 year wedding anniversary. Given we had been eating out so much lately and seeing amazing sights, we found it tough choosing something different and special that we could do to celebrate. In the end we decided to up the accommodation budget for a couple of nights and have a day that didn't require any planning or stress. We went to the zoo!
Singapore Zoo is vast! It's a huge site, which I'm pleased to say means the animals have plenty of space to roam and aren't overcrowded. As recommended, in the evening we went on a Night Safari. There's only so many animals you can see in the dark, hence the lack of photos. But the thought of being able to see the nocturnal habits of animals is a nice one!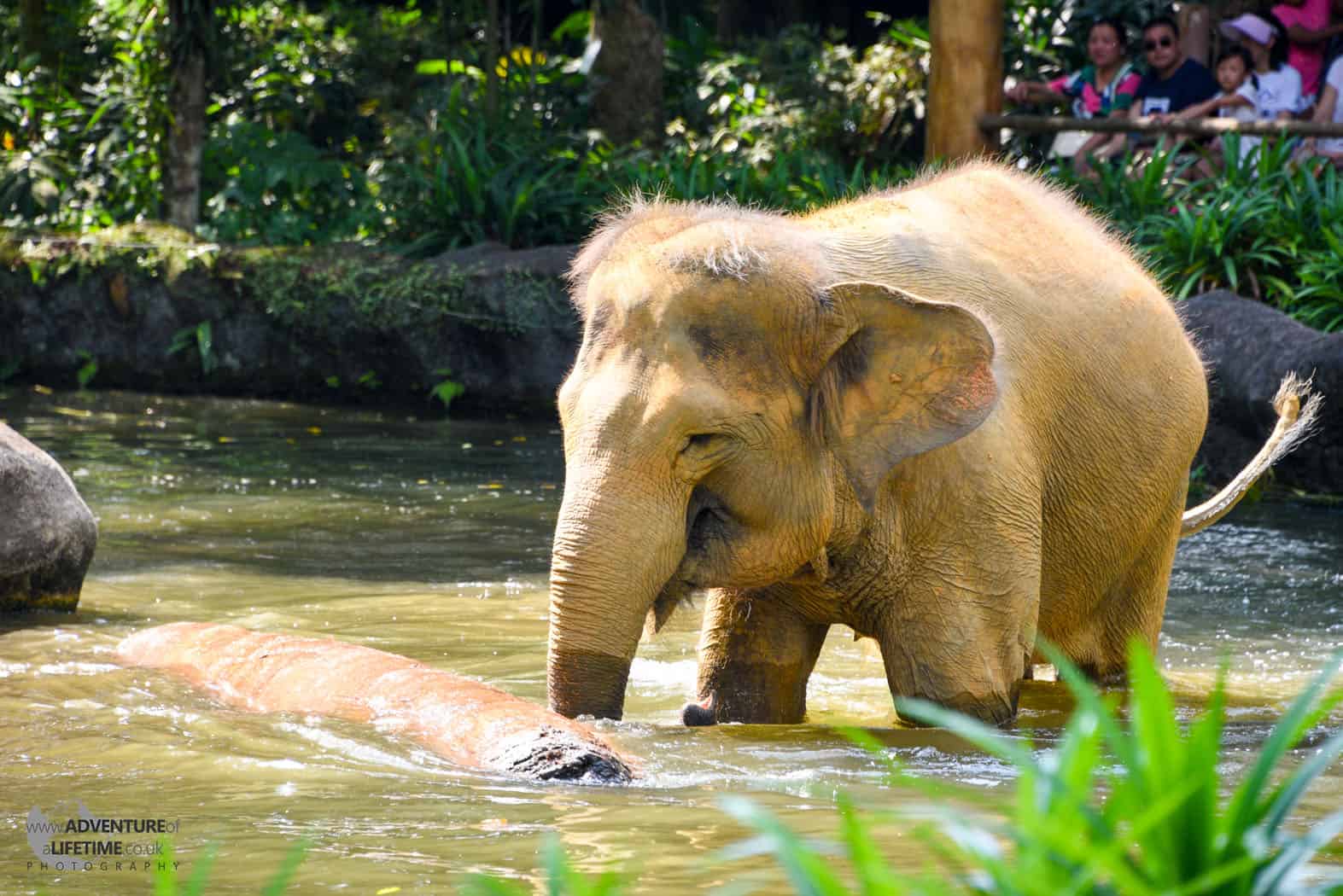 Gardens by the Bay
Possibly my highlight of Singapore! Spanning over 100 hectares, Gardens by the Bay is a nature park in the heart of Singapore. Within it is 'Supertree Grove'. Huge tree-like vertical gardens which have been designed with large canopies, providing shade by day and a beautiful display of mesmerising light and sound by night.
I found The Cloud Forest (a big greenhouse) particularly interesting. It is based on the biodiversity found in Costa Rica, where we visited last year. As much as I prefer the real deal, the weather in the greenhouse was considerably better than what we experienced in Costa Rica! Michael really appreciated the effort that went into the design of the building, both in its architecture and the story telling.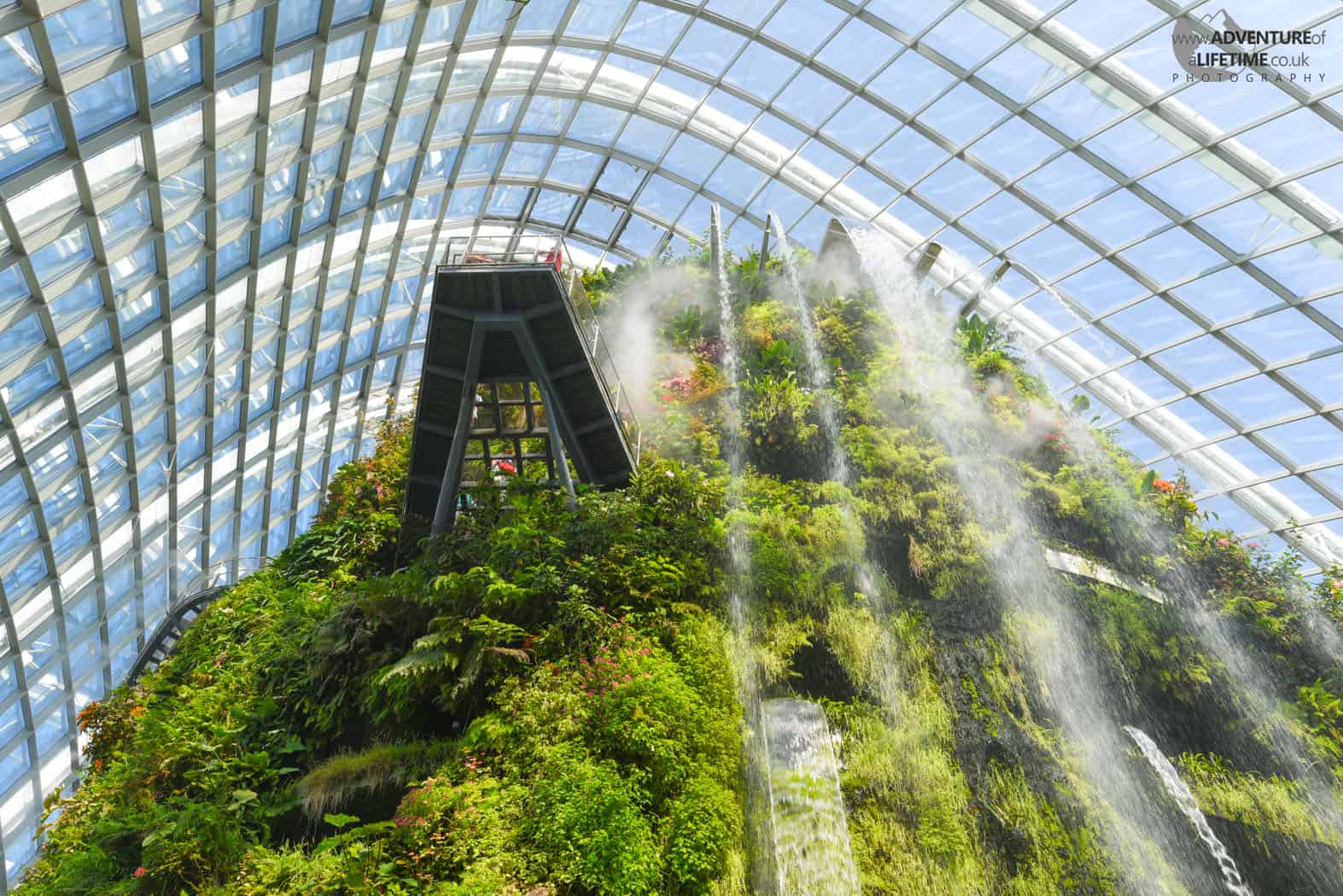 Nichole, a friend from California, fancied an adventure. So we invited her to come join us in Asia for a couple of weeks. She joined us in Singapore and on to our next destination in Indonesia. Welcome Nichole, it's nice to have another girl around!
Singapore Flyer
The Singapore Flyer (a big Ferris wheel) is iconic to the city landscape. We'd never been on any of the 'big city' wheels, but for whatever reason felt compelled while in Singers. We were lucky enough to get a pod all to ourselves. It was such a clear day and the views over the city were magnificent. Including, to Michael's delight, the F1 circuit which was being hosted there a week after we were due to leave.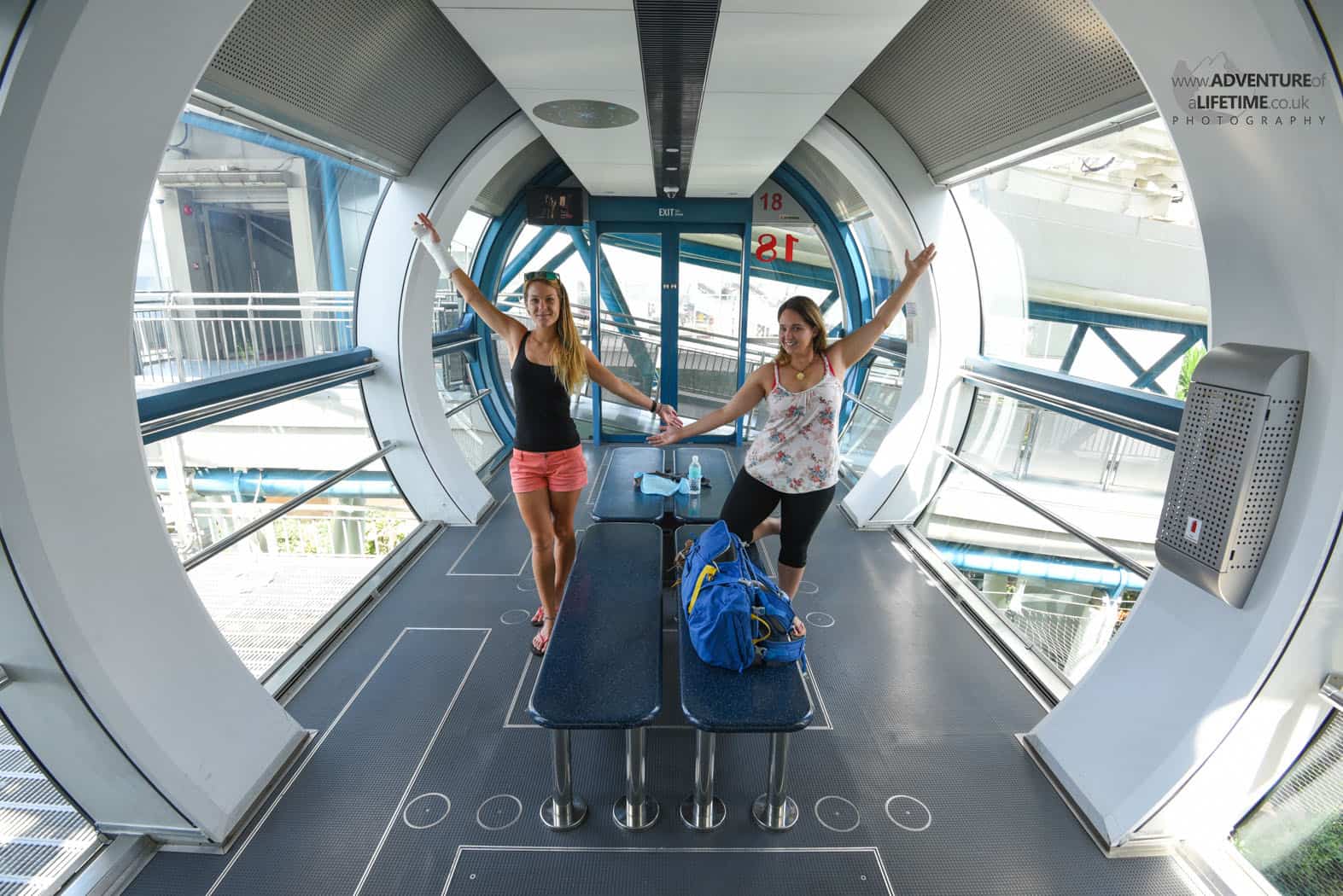 Kuala Lumpur
From Indonesia we flew to Kuala Lumpur. Just for a few days to reset our Indonesian visa before heading off again into Sumatra. We were very much tourists here and felt the novelty of being back in a city again after a month in rural Indonesia. KL is nice as far as cities go! I struggled with the humidity – but thankfully KL has LOTS of shopping malls to help you escape the heat!
Petronas Towers
The Petronas Towers are perhaps the most iconic of the KL landscape. Standing in at 451.9m they are the highest twin towers in the world. We were feeling too poor to go up, so instead we walked around in the sweltering heat, getting annoyed at one another (because we were too hot) and taking lots and lots of photos! Winning combination!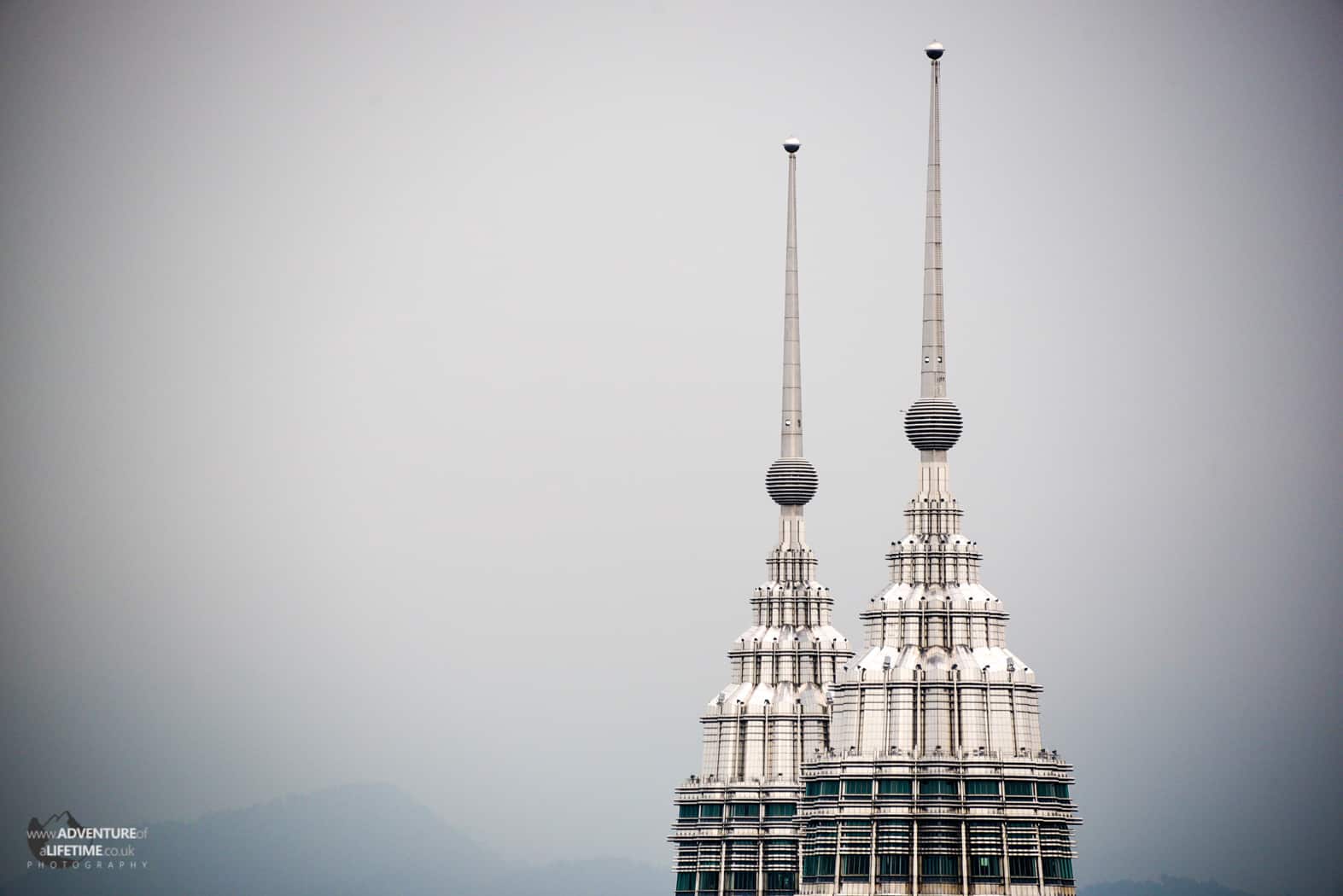 Kuala Lumpur Tower
Kuala Lumpur likes its tall buildings! A short but sweaty walk was the KL Tower. A measly 391m, this is the 7th tallest (correct August 2017) freestanding tower in the world. We joined the line and before we knew it we were standing on a glass-bottom platform looking down into the city. Yikes!
Batu Caves
One of the top things to do when in Kuala Lumpur is to visit the sacred Batu Caves. One of the most popular Hindu shrines outside India. You're welcomed at the entrance by a huge statue of a Hindu deity. Then to reach the cave you must climb a steep flight of 272 stairs. Once up there, you are rewarded with a stunning view over the city. And a not so impressive inside, as it's full of pigeon and monkey poo, tourist junk shops and construction material. But hey, there were monkeys to entertain us!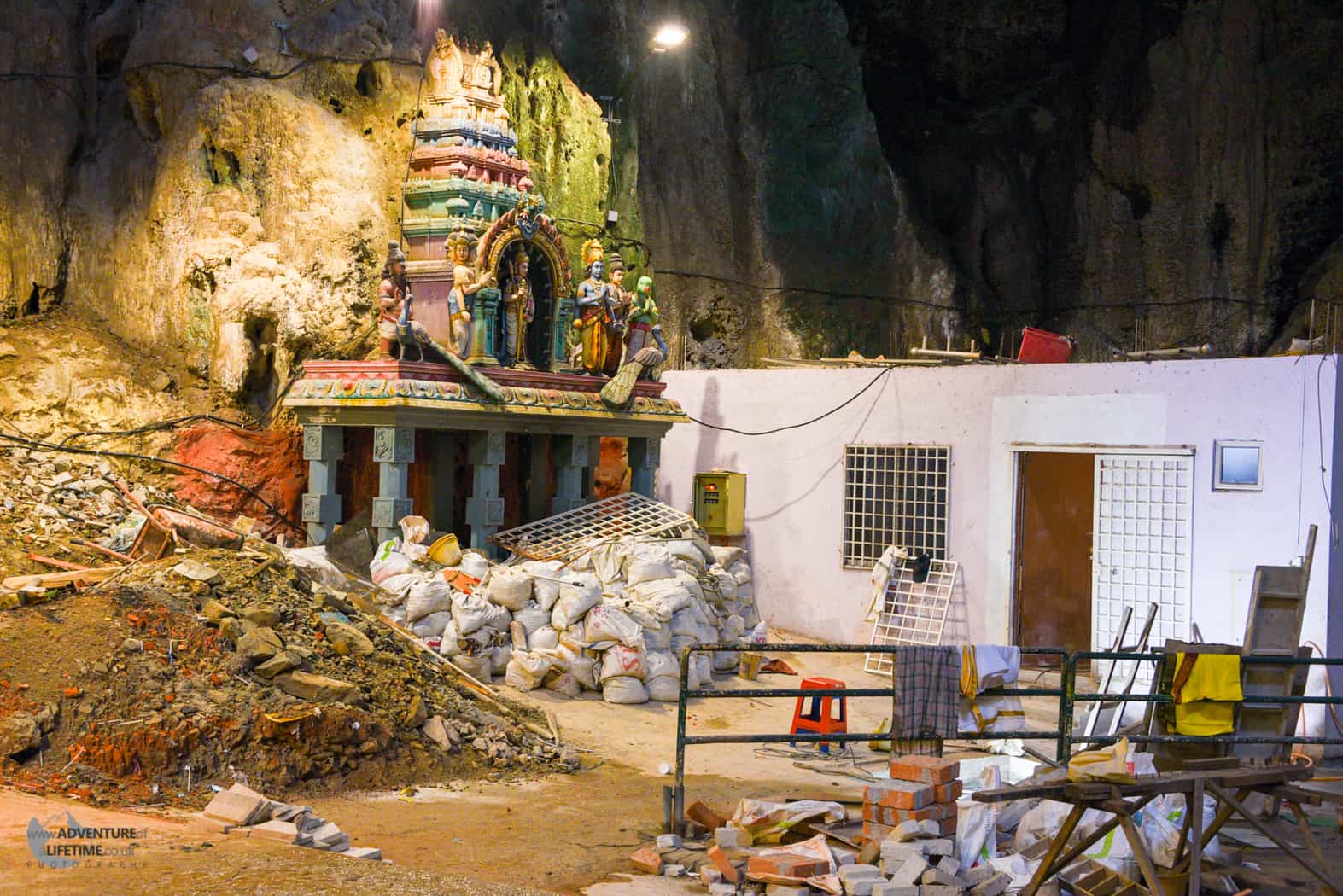 Next stop, the Jungles of Sumatra to look for Orangutans …
Sentosa
After an epic trip hiking through the Sumatran jungle, we needed to take it easy. We fancied a little mindless recovery time before having to return home from this mighty 14-month adventure. Sentosa fits the bill as it was on the flight path and easy to navigate!
Like the big kids we are, we spent our days making ourselves sick on the rides at Universal Studios. Playing at the waterpark, confusing ourselves at the Trick Eye Museum. And for Michael's appreciation, taking in one last Aquarium.
Time to go home, Scotland here we come…