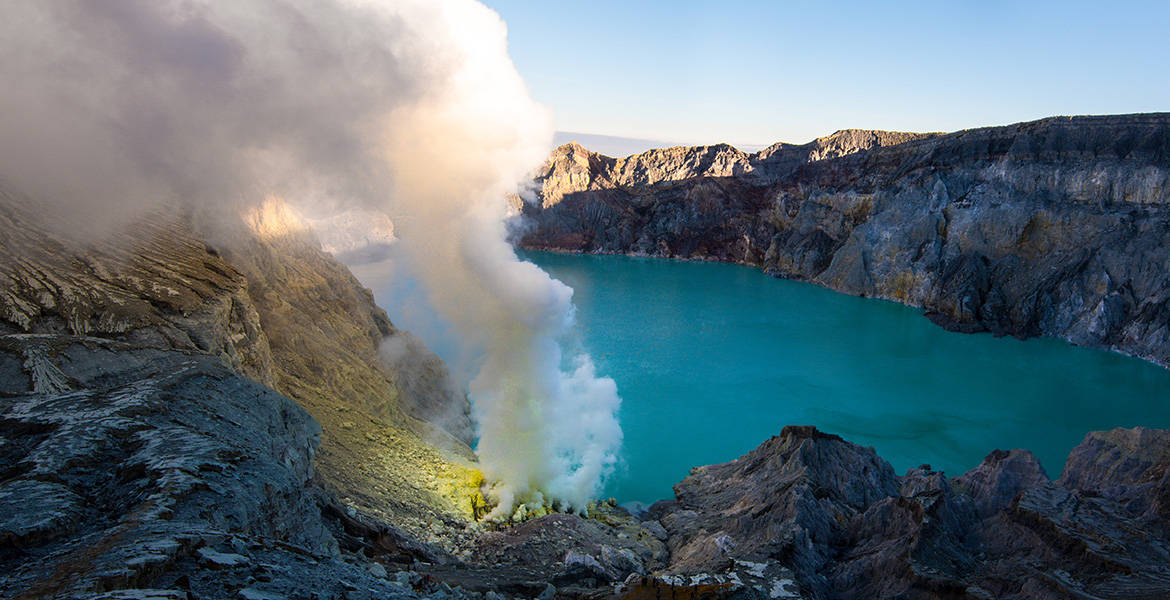 Indonesia is the world's largest island country, made up of over seventeen thousand islands. It surprised us to find out that it's the fourth most populous country in the world, with an estimated population of over 261 million! Over 5 weeks, our goal was to visit the best known of the islands including Java, Bali, Flores and Sumatra.
Nichole, our friend from California fancied an adventure, so we invited her to join us. She started back in Singapore and stayed with us until Bali.
Java
Java, the most populated island of Indonesia, is a less established travel destination than the likes of Bali. Transport links are still in their infancy and it's apparent that they're not yet sure how to deal with tourism. Many unscrupulous locals attempt to con travellers from their money and thus their enjoyment of the area. We weren't immune to this and with the chaos of arrival a delightful taxi driver, humorlessly quadrupled the cab fare. But we'd also heard that Java has some incredible sights and were keen to check them out.
We flew from Singapore into Jakarta which is on the western side of Java. Geographically it made sense for us to start west and travel east. We were keen to escape the cities so took a surprisingly pleasant train ride straight to Yogyakarta.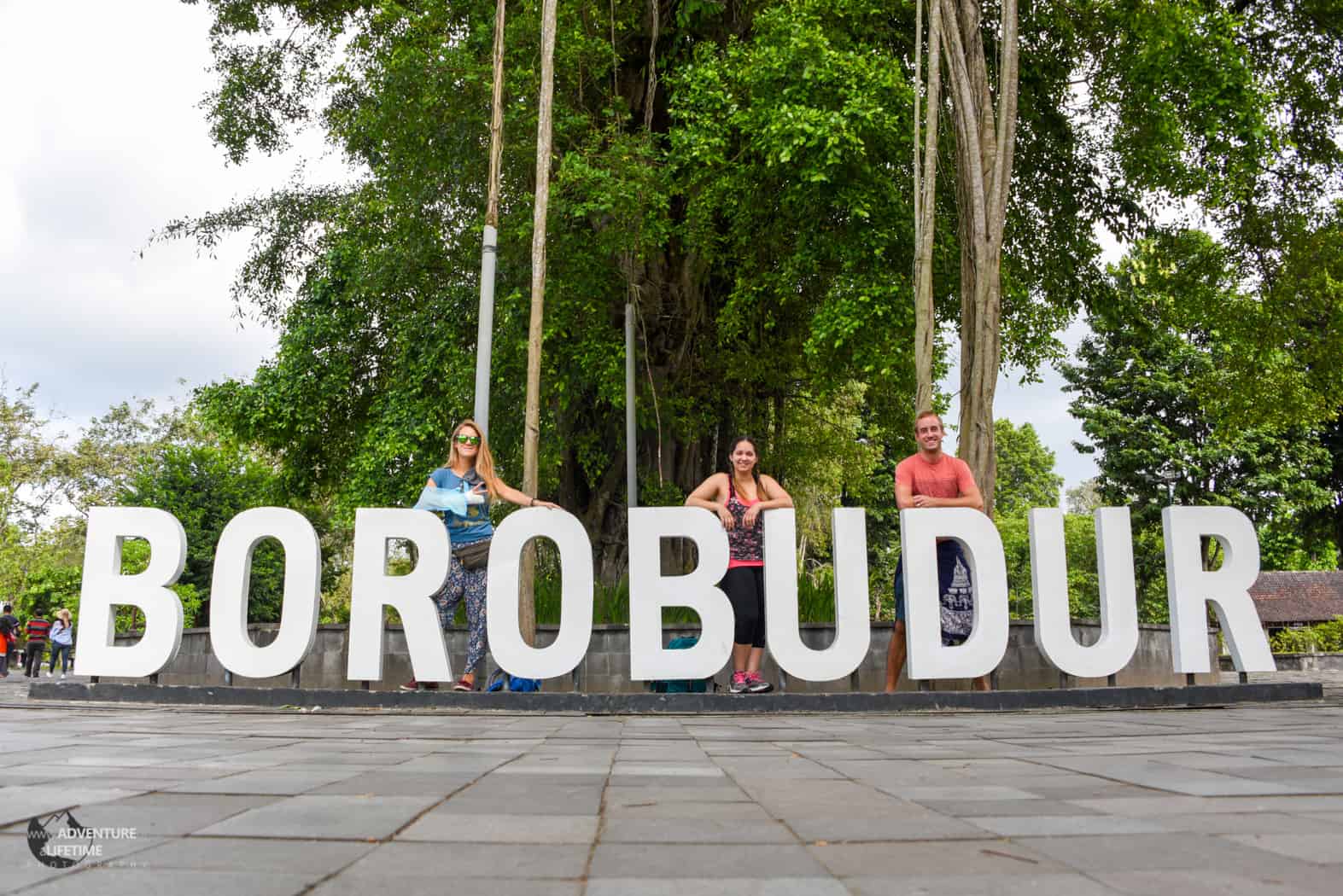 Yogyakarta Disaster!
We were in Yogya to visit the temples, Borobudur and Prambanan. We spent the first day exploring the little city, checking out the markets and found a really fantastic art exhibition where we negotiated a great deal on some local art. Then finished the day with our first proper Javanese dinner!
The next morning we were due to have an early start and hit Borobudur for sunrise. But, my insides had other plans. I was up all night long, back and forth to the bathroom. I get very angry when I know exactly who has poisoned me (don't worry, Tripadvisor heard all about it)! Needless to say, we didn't make the temples that day.
Plan B, try for sunrise tomorrow. But oh no, the driver who was due to take us was a no-show. Very unfortunate given sunrise is the primary reason to come so far to visit the temples. Instead we went after breakfast and joined the crowds for the day.
Borobudur, a UNESCO World Heritage Site, is the largest Buddhist temple in the world. Built in the 9th century, it consists of nine stacked platforms. The top platform features 72 Buddha statues each situated inside their own stupa. It really is beautiful sight to see.
Prambanan, another UNESCO site is a 9th century Hindu temple and the largest Hindu site in Indonesia. A complex site made up of individual temples, pointed in their architecture and ranging in size up to 47m tall. We stayed here until sunset which was lovely. Nichole and I felt like celebrities for the day as all the local school kids timidly and politely came up to us to ask for a photo!
Change of Plans…
We had intended to visit Mount Bromo, an active volcano in east Java. But, getting food poisoning has its consequences and we weren't really warming to Java. So, we decided to skip Bromo and keep heading east. Not sure if this was a mistake or not, but we have no regrets as the towns around Bromo have a poor reputation and somehow it just didn't seem Bromo would be good enough to justify the hardship of reaching it. We swapped our train tickets to the cheap seats on a local train and spent 14 not-so-blissful hours crammed three to a narrow bench heading to Bangywangi.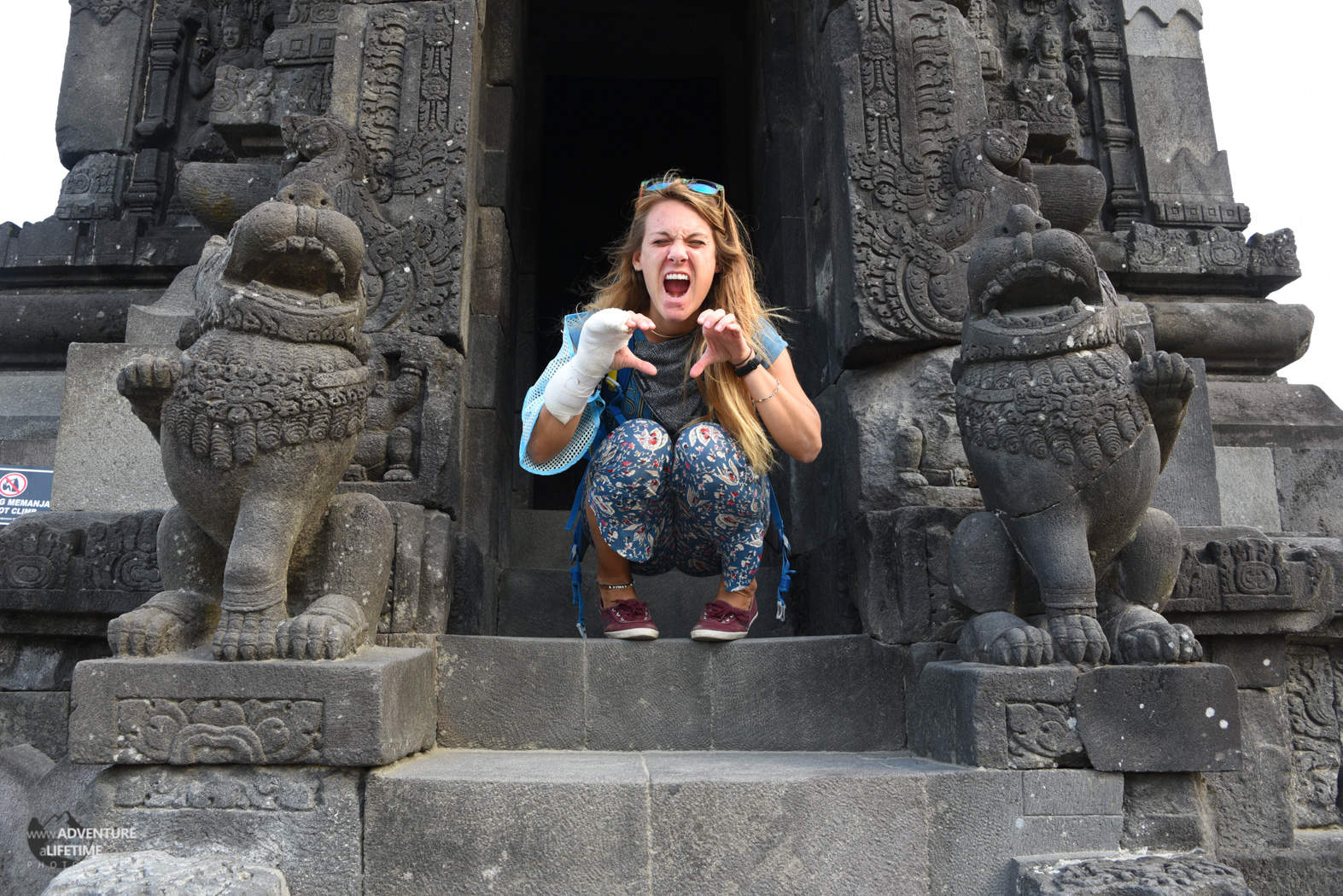 Majestic Mount Ijen
Mount Ijen is an active volcano on the east of Java. In the crater of the volcano are sulphur mines, which are mined by locals under treacherous conditions. The main attractions of Ijen is the blue flames in the crater that only can be seen at night, and the incredible blue crater lake seen during the day.
We had been looking forward to Ijen for some time; the incredible experience we had in Guatemala of watching a volcano erupt has made us big fans of volcanos. Plus, the amazing photography we've seen of this one really excited us.
Having done our research, we were eager to start a night-time trek up a secluded volcano with only a few other tourists and local miners for company. Unfortunately, it seems we were a few years too late and now tourism has hit Ijen with a vengeance. A bit of a shame, but oh well. It feels as though Ijen is now in a bit of a transitionary phase, where currently they are ill-equipped to cope with the influx of tourists (leading to much pushing and shouting). Although, in time, I'm sure they will adapt to cope. Long gone are those days of visiting this natural site in peace and tranquillity.
The trek started with a 00:30am wake up call, followed by a drive, followed by the hike starting at 2:00am. Bring it! Hiking in the dark is an odd experience. For me, it felt easier than a regular hike because you couldn't see the context around you! Nichole on the other hand, despite a valiant effort was struggling, and as a result we were running behind schedule.
Upon reaching the rim, we began the decent into the crater. We followed a very narrow and slow path wedged between the people in front and behind. The poor guides shout back and forth trying to organise the gaggle and clear a path for the miners who are carrying up to 80Kg of sulphur up the steep path. All the time clouds of sulphur threatened to suffocate us, even with our respirators. The guides were all fantastic and were all doing their best, but it was still chaos, there were just too many people for the path to cope. Having said this, it was actually fun fighting through the madness and it all added to the experience.
In the crater we see the blue flames, something we've never seen before, very interesting and hypnotic to watch. But after a short time, we had to race up to the craters edge in the hope of catching the sunrise.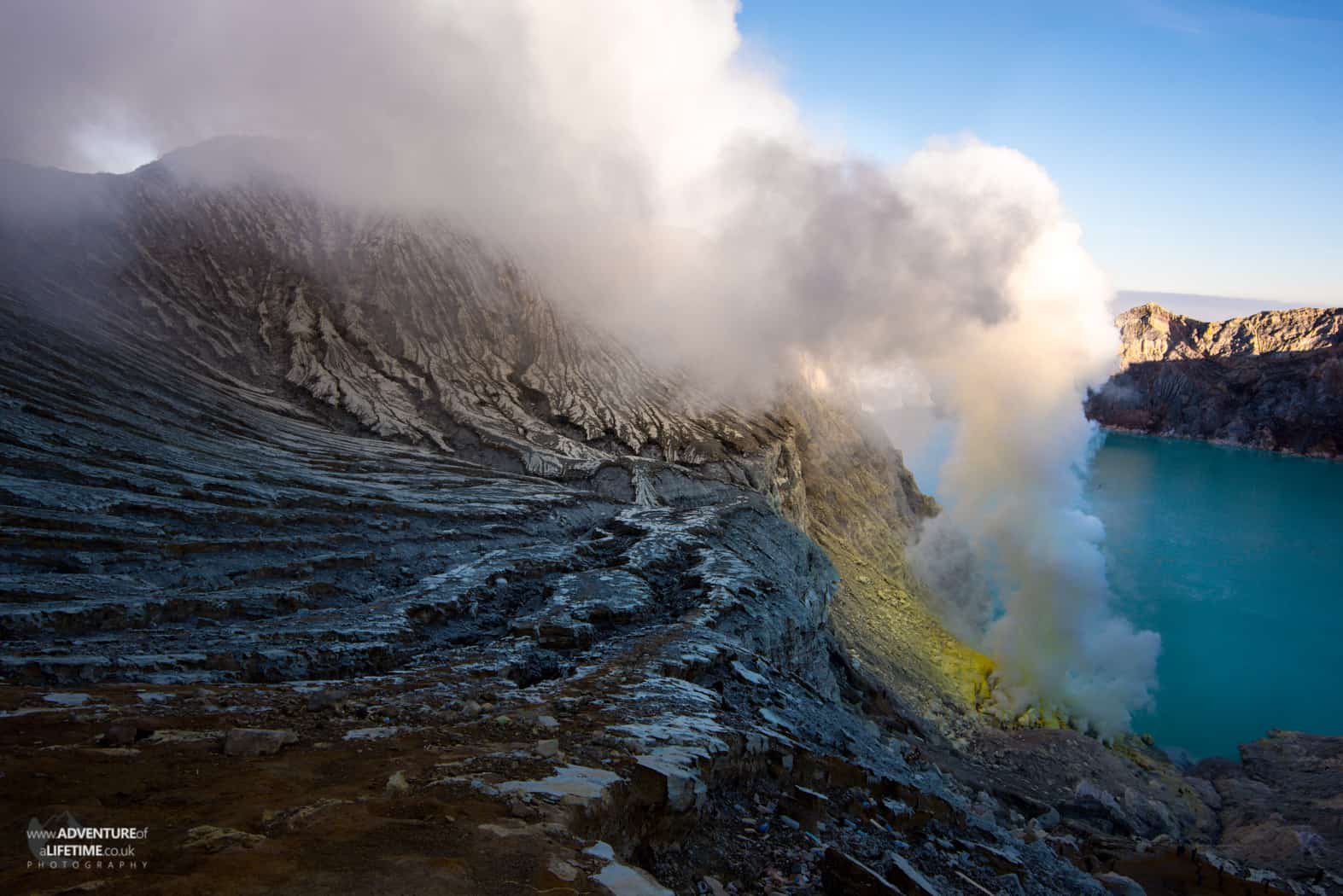 Time was getting away from us and we desperately wanted to catch the sunrise. So, we came to the decision to split up, Nichole would take a breather while myself, Michael and the guide would run around the edge to the viewpoint. We made it, literally without a second to spare. The view was out of this world. The crater which was black before, slowly revealed itself and an incredible blue lake emerged in front and the sunrise behind. An absolutely mind blowing sight!
Post hike we went back to the hotel to clean up and check out. Then straight onto a ferry to continue east to Bali… who needs sleep!
How to sum up Java?
Despite some amazing sights, we are sorry to say that we just didn't warm to Java. Throughout our travels we have found that people make a huge difference to our enjoyment of an area and unfortunately the people we encountered were generally unfriendly and many were only too happy to screw over travellers. The food wasn't great and that wore us down too. Also, there is a severe lack of greenery and wildlife throughout the island, which made it feel dirty and unpleasant. The best way to describe the island is feeling worn out and unloved. Despite this, Ijen is a must see sight and makes up for all our other grumbles.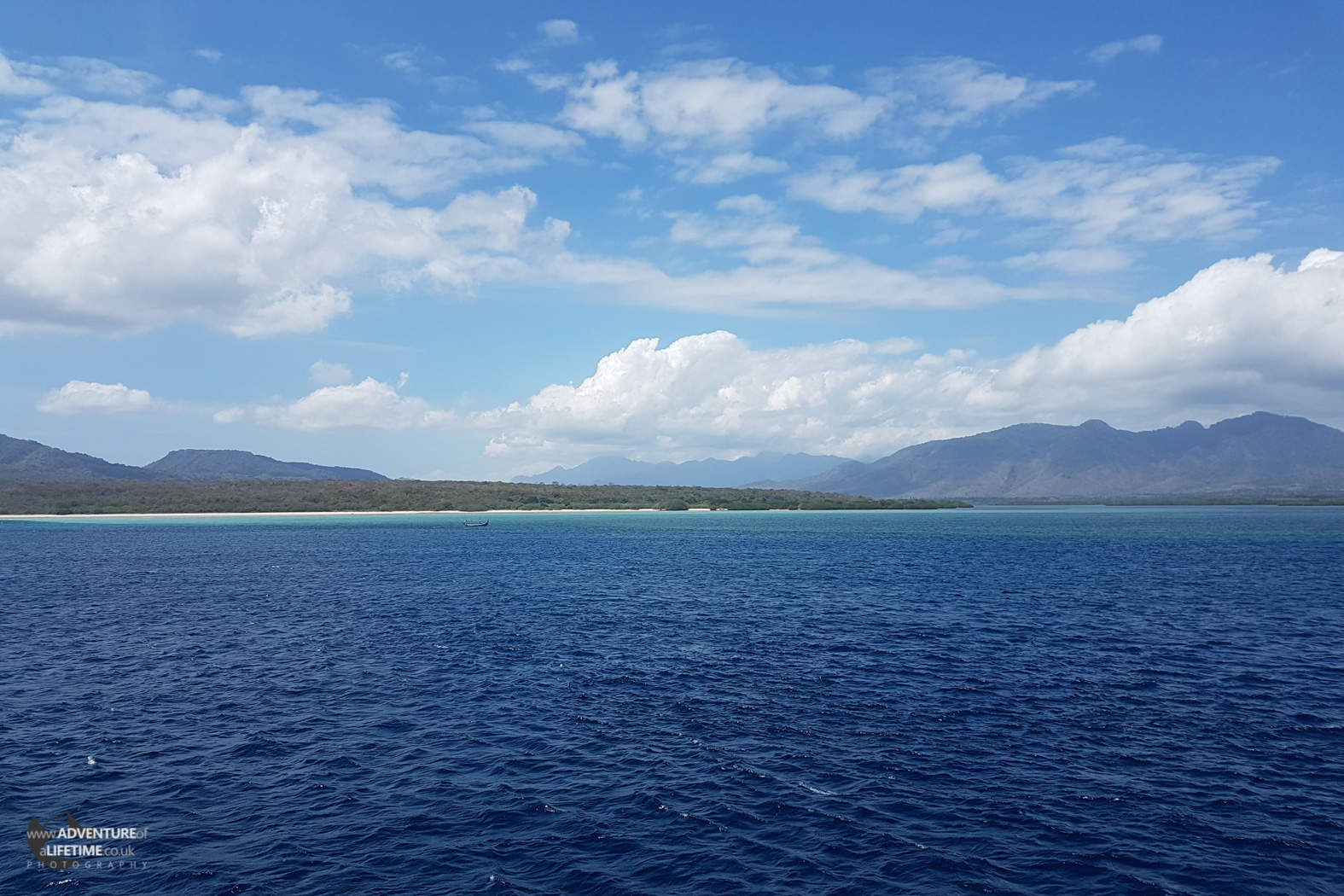 Bali
Bali is possibly the best known island in Indonesia. Coming from Java, the difference in the two islands was like changing from a black and white movie into the full colour version! The difference between the two islands was no less than the change from one country to another. Suddenly, we were surrounded by the lushest most beautiful island with greenery, animals (monkeys…), smiles and art.
Lovina
Lovina was a last-minute addition to our trip, following the recommendation of a local. It is a quaint little seaside town with black sand beaches and fantastic health food restaurants. We were all feeling tired from our exploits on Java, so used this as an opportunity to recharge. Michael and Nichole went snorkelling and we visited a waterfall, but yours truly still had a broken hand so had to stay dry…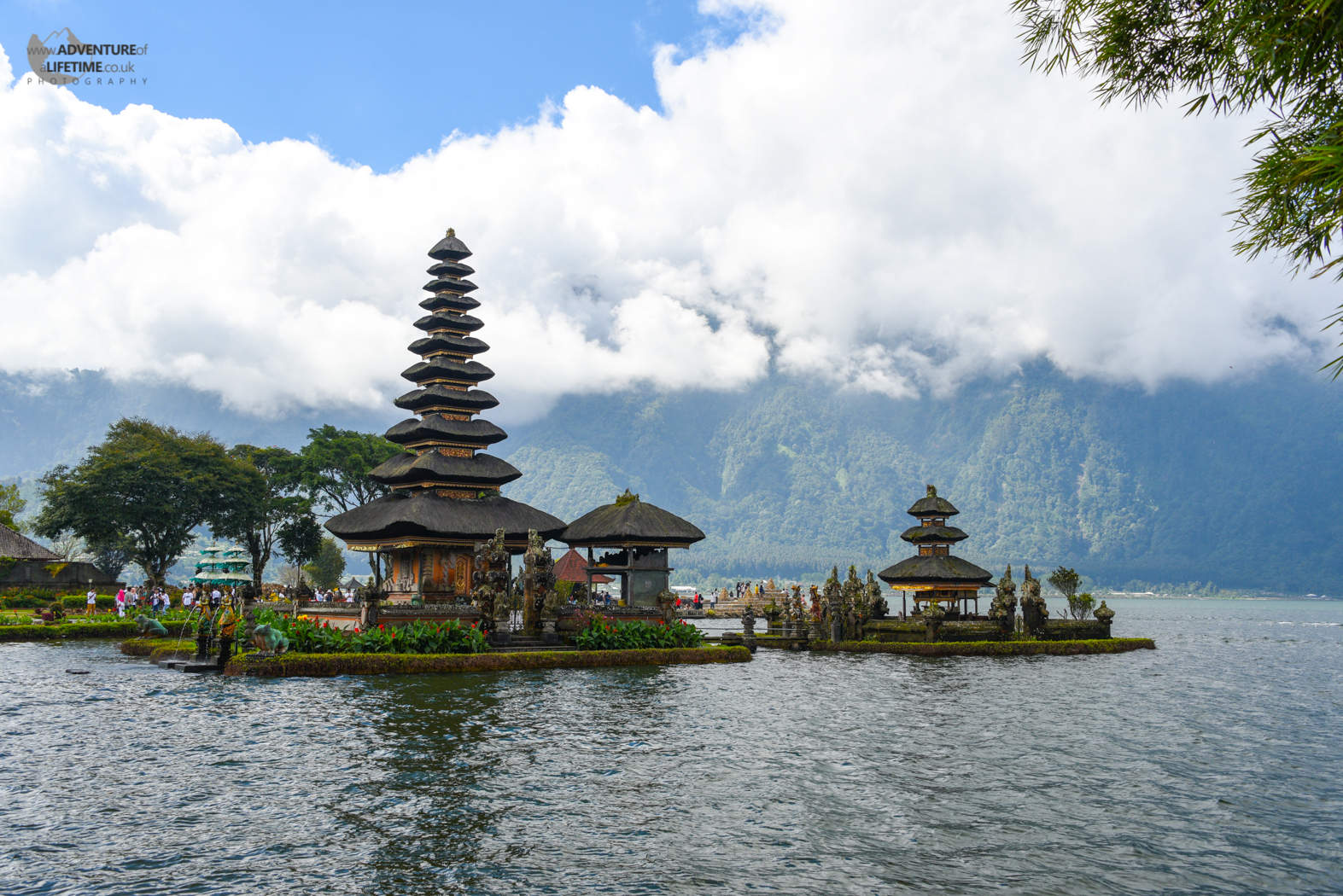 Ubud – Adios, Nichole
In the highlands of Bali you'll find Ubud, the culture capital, full of yoga retreats, health food and shops selling goods from local artisans. We stayed in beautiful accommodation just outside Ubud, on the hillside surrounded by rice paddies. Proper good for the soul!
Michael had picked up a cold in Singapore and it had finally got the better of him when we arrived in Ubud. So, Nichole and I left him to sleep it off and we went to check out the local markets. This place has everything and such good quality. It's funny that since we returned home, we keep seeing these items in UK stores, but at 100 times the price.
Whilst in Ubud we visited the Sacred Monkey Forest. Basically, a small temple and forest populated with hundreds of monkeys that have all come to expect food. Most were pleasant and suffered the endless photographs. But, the bolder monkeys would attempt to steal food from inside your zipped-up bag. Then have the audacity to threaten to attack you if you told them off. Others took offence at their own reflection in the camera lens and would get aggressive. Actually… reflecting on things, monkeys might be cute but they're utter bastards! Nichole found herself with a monkey on her shoulder at one point and almost one less finger when it thought she was hiding food inside her closed hand.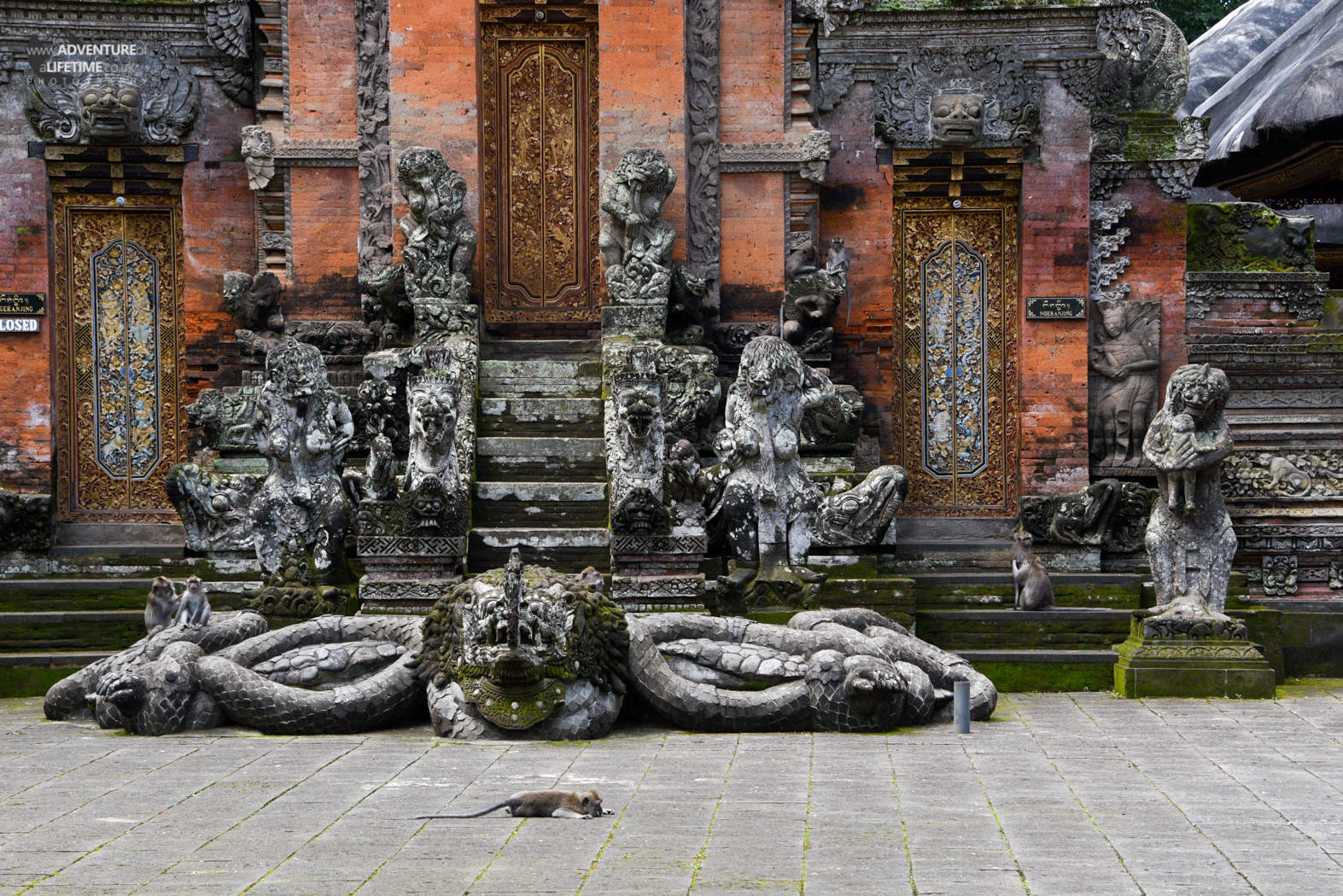 Nichole left us in Ubud and made her way to the airport. Lucky girl, she'd managed the whole trip with no issues, then on the day of leaving was struck down with food poisoning – that's my worst nightmare, having to travel with a dodgy tum. But good on Nichole, she's such a trooper!
Michael and I had the brainwave, we could do our Christmas shopping in the Ubud markets. After patting ourselves on the back for getting such great bargains in the market we sought out a post office. Pahaha! It cost a bloody fortune to send home (£122 and 3 months by sea). Now being home, the package has arrived and one third of it is broken! Bugger.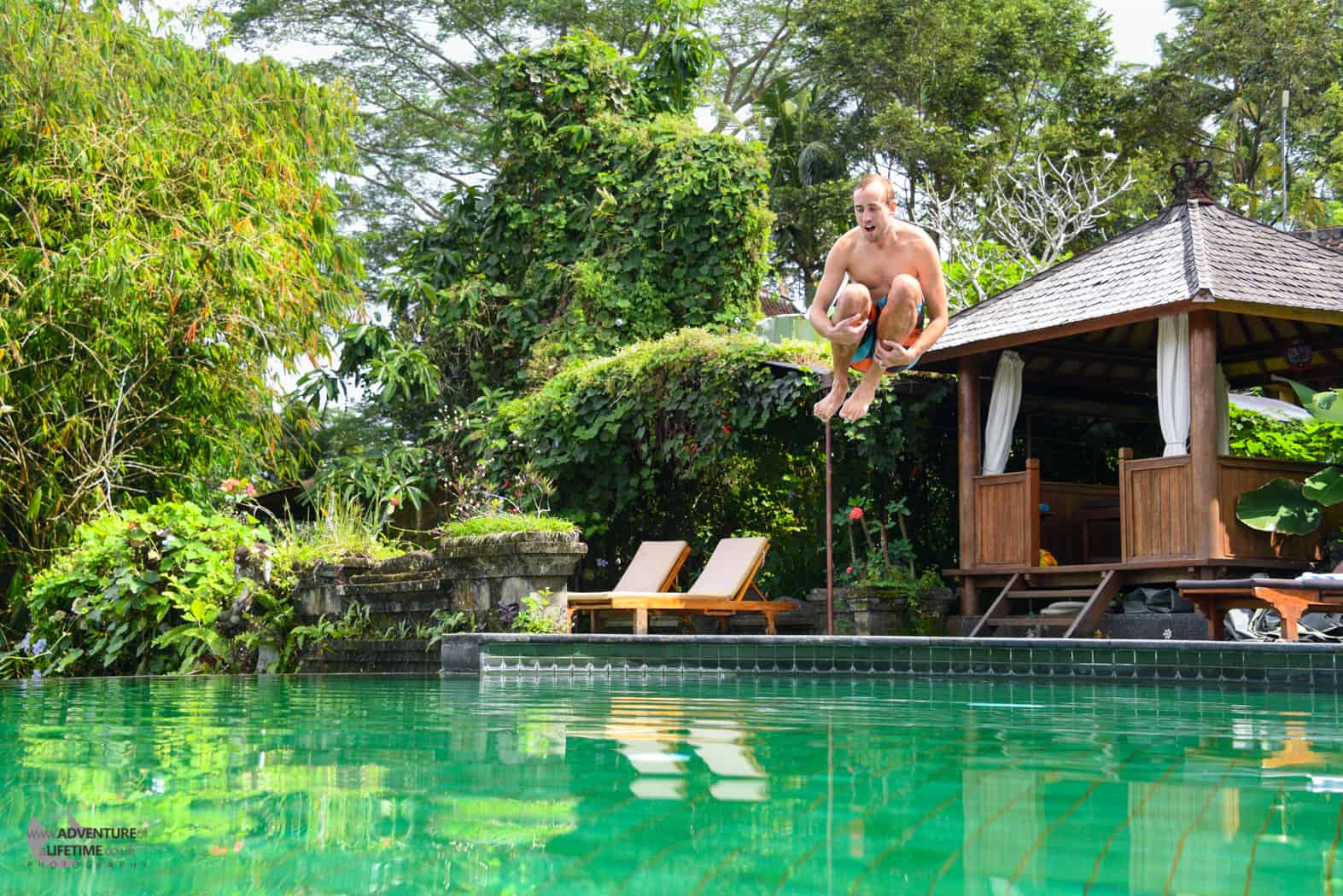 Jimbaran
Parts of Bali are known to be complete tourist hubs. We thought it was only right that we see as much variation on the island as possible! The tourist town of Jimbaran ticked that box. Saying that, we barely left our AirBnB! We stayed in our most beautiful and luxurious AirBnB to date, with its own pool and a view down the hill to the ocean. Bliss, but poor Michael was still ill and well, that forced me to stay with him and spend my days sunbathing! Too bad.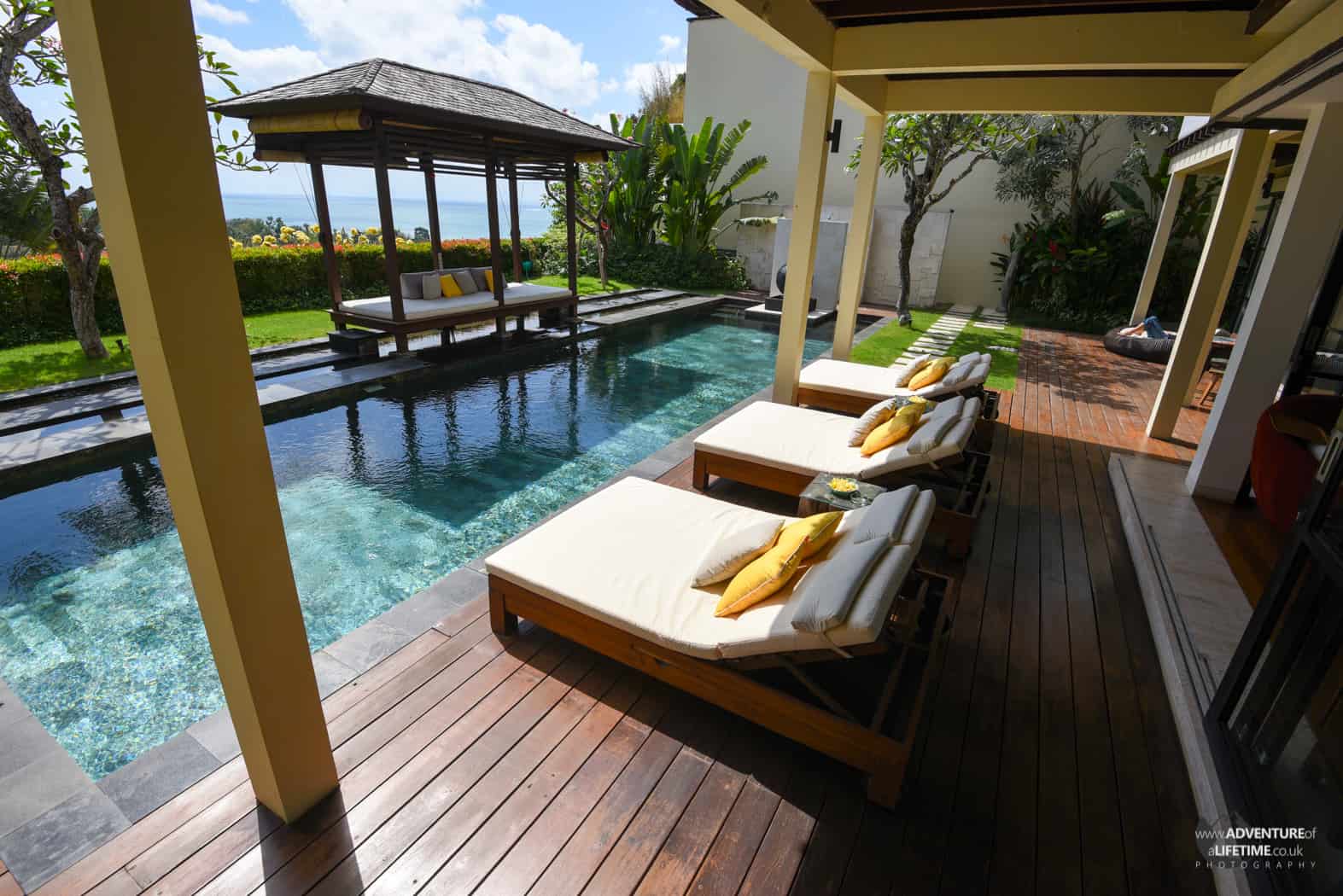 Nusa Lembongan
Our final stop in Bali and at long last, we'd found our island paradise. Situated just south east of Bali we were amazed how overlooked this little island is. It was beautiful and so quiet. We stayed in a charming little bungalow, tucked away just back from the ocean.
We spent our days on a hired scooter ($5 per day!) scooting around the island seeing the sights. Together we scoped out a delicious sushi bar, a seaweed farm and cliff jumping spot on the adjoining island. I was secretly pleased the tide was out and we didn't have to do the jump! Thankfully Michael did most of the scooter driving as I would have been far too wimpy for those rough roads!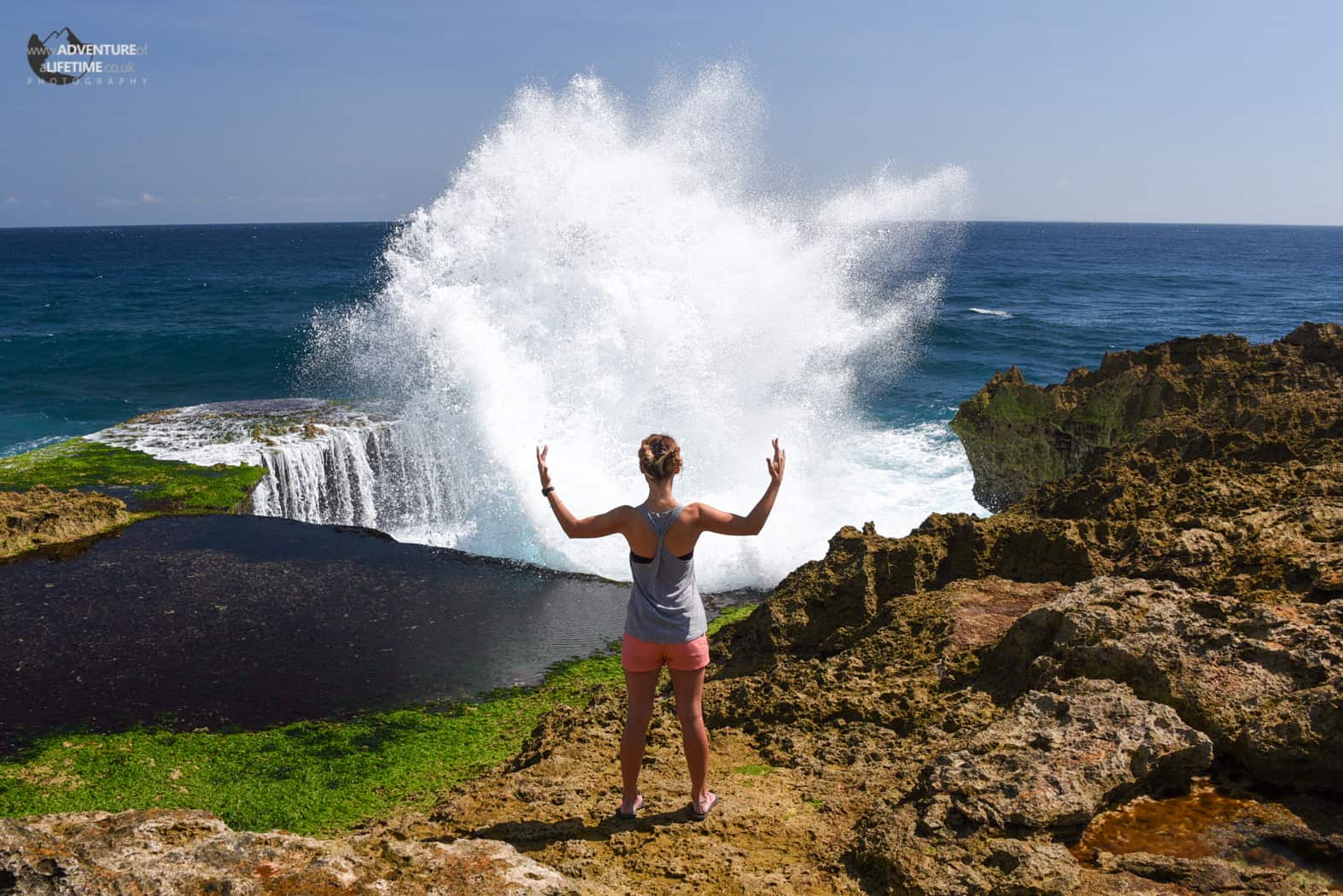 Michael and I have a list of animals we would like to encounter in our lifetimes. Manta Rays are high up there. It was a long shot as it was the wrong season, but the waters around Nusa Lembongan in Indonesia are popular for spotting Manta Ray's. We couldn't let this opportunity pass us by, wrong season or not! So, we hired a boat for the morning and snorkelled the area in search of the gentle giants. Eventually one gracefully swam by and we quickly turned to follow it. Those guys are fast! It was only in sight for a few special moments before graciously swimming into the blue abyss. This manta certainly didn't disappoint, but unfortunately we think he was only saw a baby and the waters were too cold to endure for long. So, Manta Rays remain on our list for now.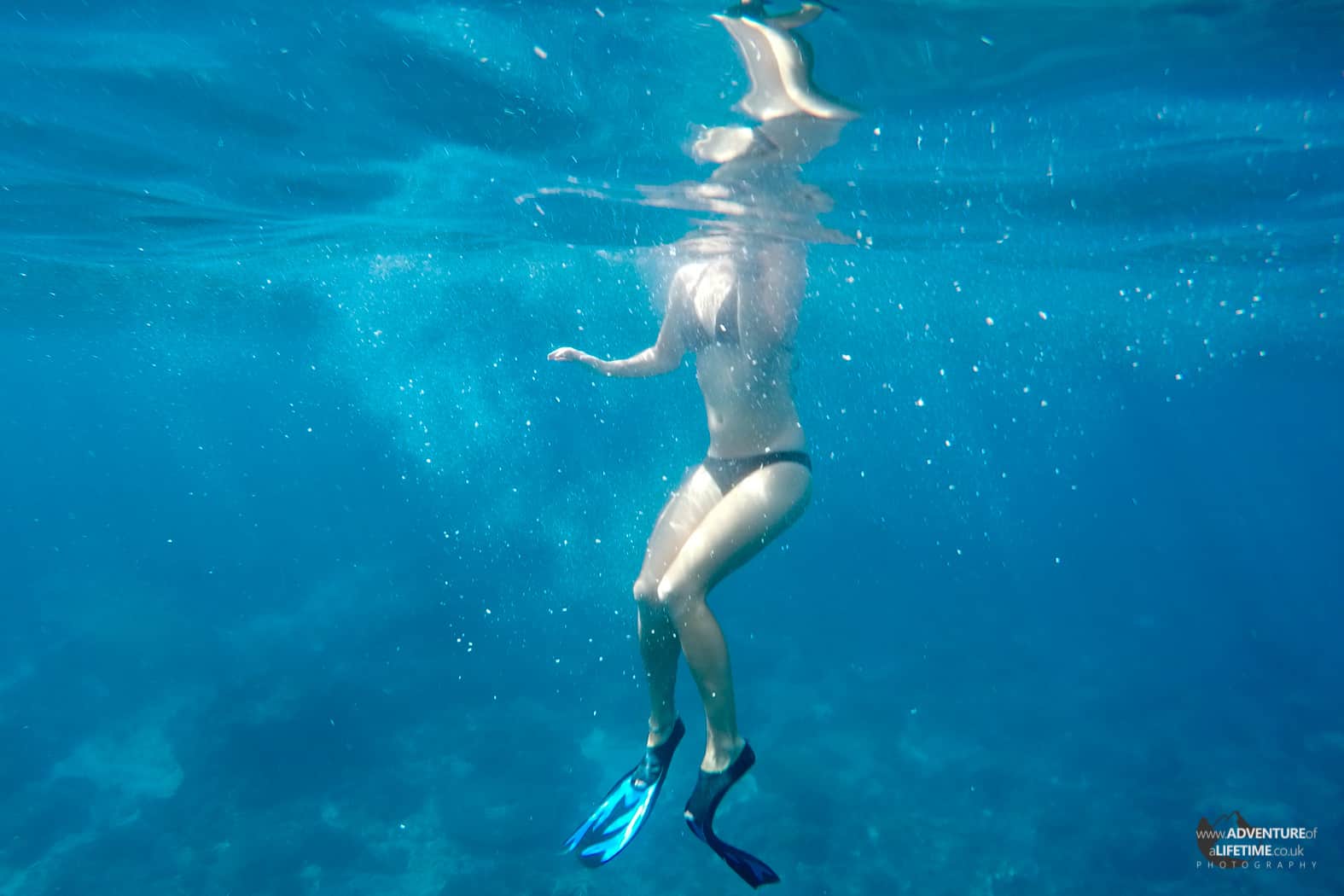 To Sum up Bali
We loved it. Bali was a joy – we're so pleased to have had this opportunity to travel the island and find our own little paradise island! The people were lovely, the food was delicious, and the sights were beautiful. It's incredibly easy to get around and there is something for every personality. Bali is thoroughly a wonderful place to sit back and relax. Best of all, the island is full of greenery and that's good for my soul.
Flores
Further east in Indonesia and onto the island of Flores. We were here for one reason, to see the Komodo Dragons in their natural habitat. We'd flown into the town of Labuan Bajo for 3 nights and booked ourselves onto TripAdvisor's best rated Komodo trip.
We'd also planned on doing a dive, but someone still has a chest infection (thanks Singapore) so another snorkel trip will have to do! It was rather good! We had an awesome day swimming with sea snakes, lionfish and lots of other little fishies!
Komodo Dragons – Was it worth it?
The animal check list I mentioned above also featured Komodo Dragons. We had travelled through Indonesia to Flores, specifically to see the real-life dragons in their natural habitat. Unsurprisingly, we had done our research on the matter. Ideally, we were intending a 3 day trip, but we were too late in booking. So, we settled for a one day whistle-stop tour of Rinca Island and the surrounds with 'Flores XP Adventure Tours'.
Unfortunately, we were extremely disappointed by the trip. Having spoken to others at the hostel who had done simpler, far less expensive trips, it was obvious we paid more for a worse experience…
We did see Dragons. Overfed, lethargic ones that hang out by the camp kitchen. The local guides on the island told us "the dragons aren't fed, they just like it here", how very convenient. This was certainly not the natural experience we had travelled around the world for.
We certainly weren't the only ones to complain and I would urge others looking for a premium tour option to look elsewhere. We feel so let down that after doing so much research and spending the extra money on this trip, that our once in a lifetime adventure to Komodo was such a flop! This is only the tip of the iceberg, but we don't want to grumble too much! At the end of the day, we travelled Indonesia and we saw Komodo Dragons – that's pretty darn cool.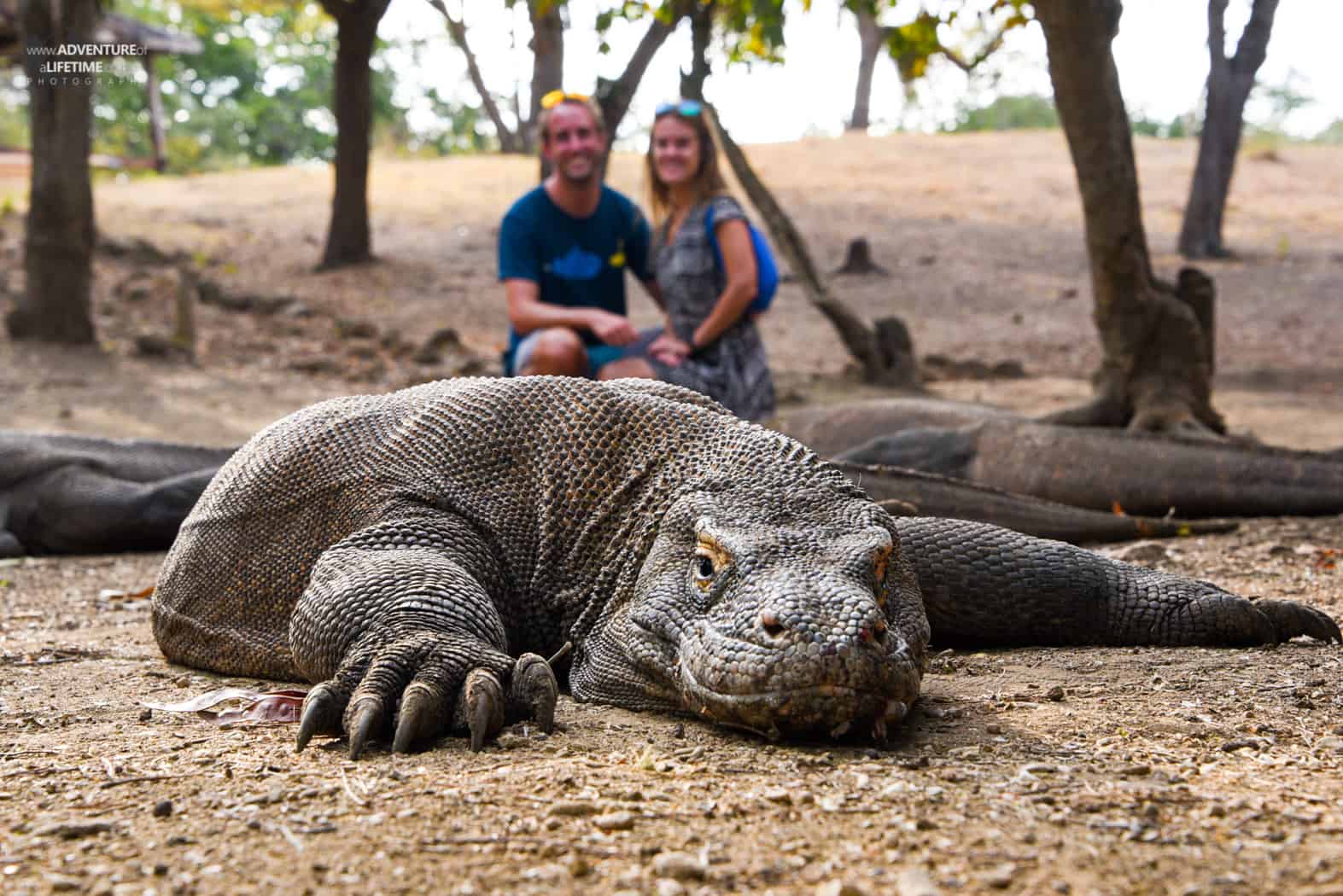 We booked our hostel based on its views looking out over the harbour. The sunsets were pretty spectacular!
The next and final stop of our Indonesia island tour was Sumatra. We went off trekking through the jungle in the hope of finding some Orangutans. It was such an awesome trip we needed to give it its own blog, so keep an eye out for it soon!