No matter how much time you spend creating the perfect trip, travel doesn't always go to plan… Some trips come with high expectations, which can be dangerous. For us, the Bolivian Salt Flats were definitely high up there on our list of things to see in South America. But, despite best efforts, we couldn't help but feel we were let down by our tour company and didn't get the full Salt Flats experience.
The Salt Flats in the Rainy Season
The Bolivian Salt Flats or Salar de Uyuni are the result of a prehistoric lake, which dried up thousands of years ago and left behind an expanse of bright-white salt flat the size of Belgium. The Salt Flats are a must see destination for any South American traveller worth their salt.
We visited the salt flats during rainy season, which despite being a slightly different trip from the norm, provided the opportunity to see the flawless reflections in the salty water. We had seen some incredible photos prior to the trip and had pretty high expectations!
Having done our research in choosing from the 120-odd official companies operating out of Uyuni, we came up with Red Planet. They rated the highest on TripAdvisor and so we thought we had chosen well.
Unfortunately our trip didn't pan out as we had hoped and after 3 days touring, we feel we still haven't seen the Salt Flats in all their glory… ughhh.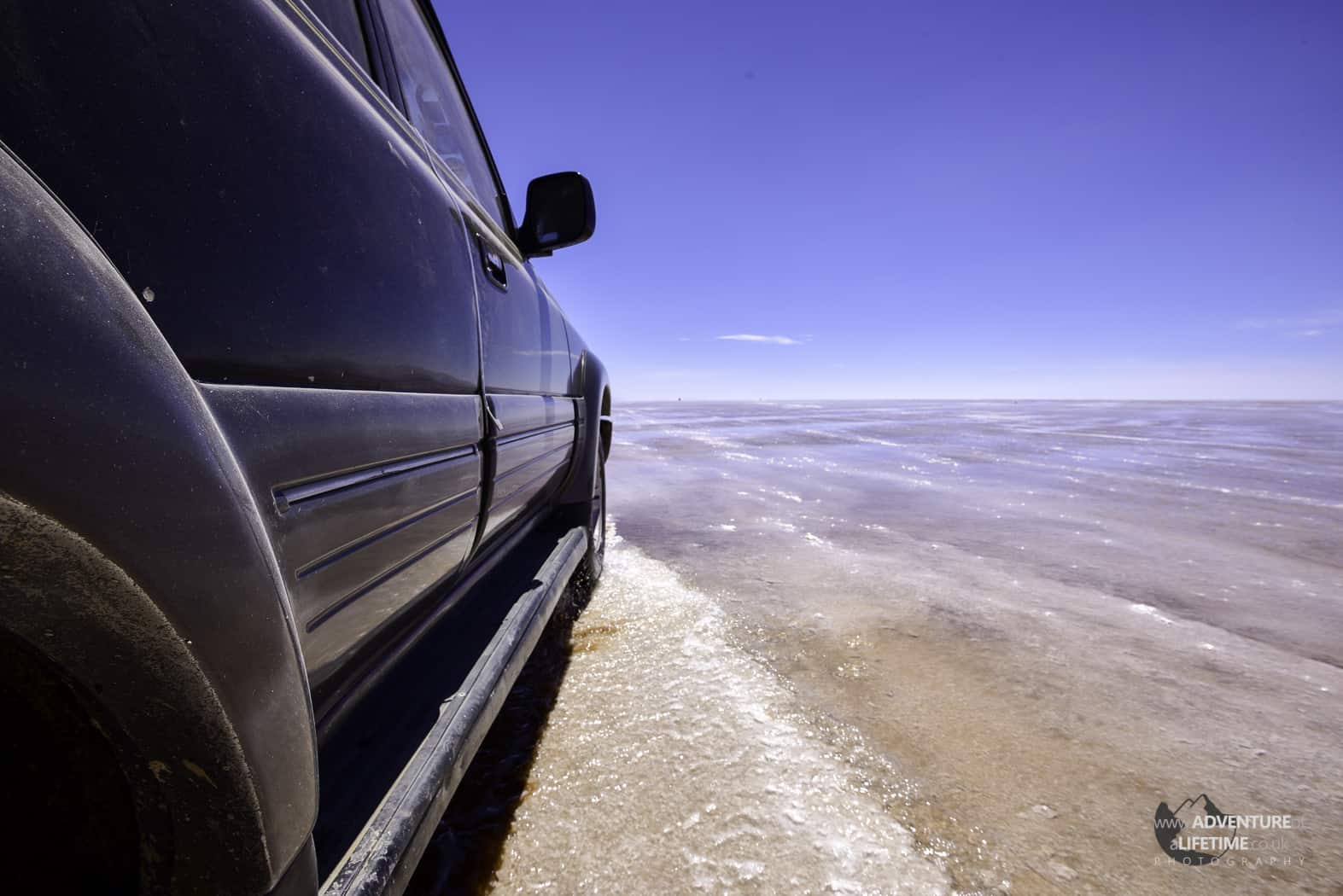 The Disappointing
Universally speaking, the best time to visit the salt flats are during sunrise and sunset when everything is still and the reflections are at their clearest. NOT at mid-day when it's windy – like we did! Every single other person we've spoken to about their salt flat tour went either morning or evening and got great views; I can't understand why we went mid-day!
It also surprised me that considering that the salt flats are the size of Belgium, all the tour groups seemed to congregate in the same grungy area. This meant the ground was churned up from the tyres and we struggled to get a picture without being photobombed by another vehicle!
This is what we should have seen…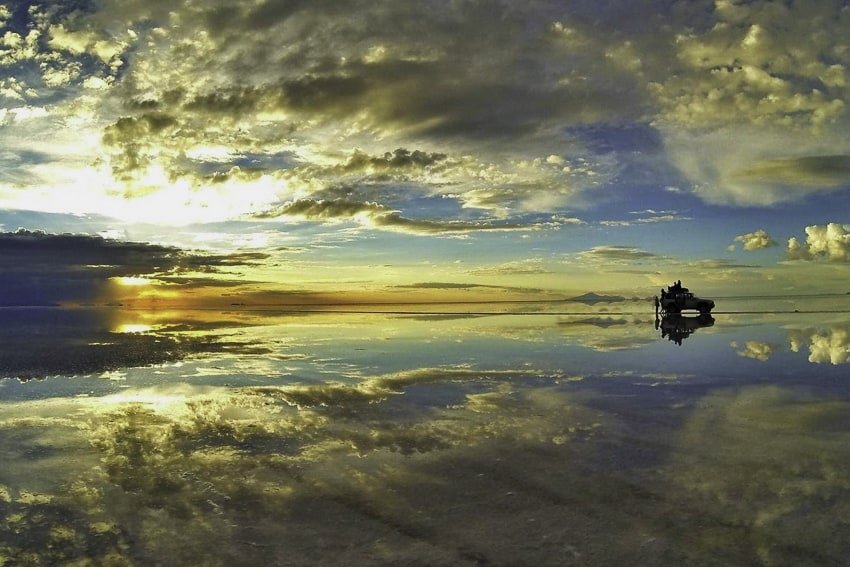 This is what we saw. Not too shabby really, but equally not what we had in mind. Red Planet's excuse was they 'can't drive at night'. Which was nonsense, we drove in the dark later on in the trip! It seems to me that the drivers dictate much of the trip, rather than the guide or customers and as a result, we got screwed over.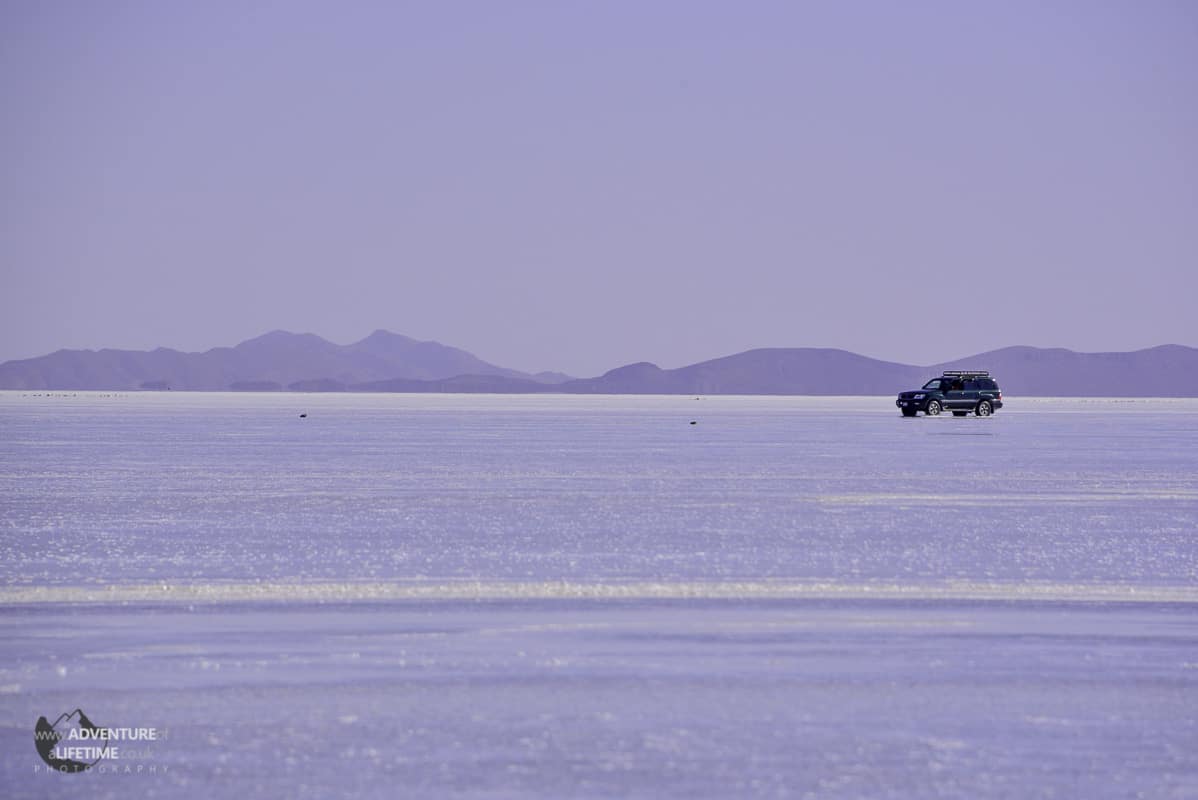 The trip we chose was classed as 'mid-range'. Ha, I hate to think what they think budget is! Now, Michael and I have been travelling for 6+ months, so I'm confident in saying we know budget!
Our accommodation on day 1 was poor, but acceptable. Although sleeping under a broken ceiling beam was disconcerting. The accommodation on day 2 was abysmal! There was no running water, flushing toilets, we only had electricity for a few hours and after a few hours in the building the whole place stank of sewage. We have literally slept on construction sites that are cleaner, more complete and more comfortable!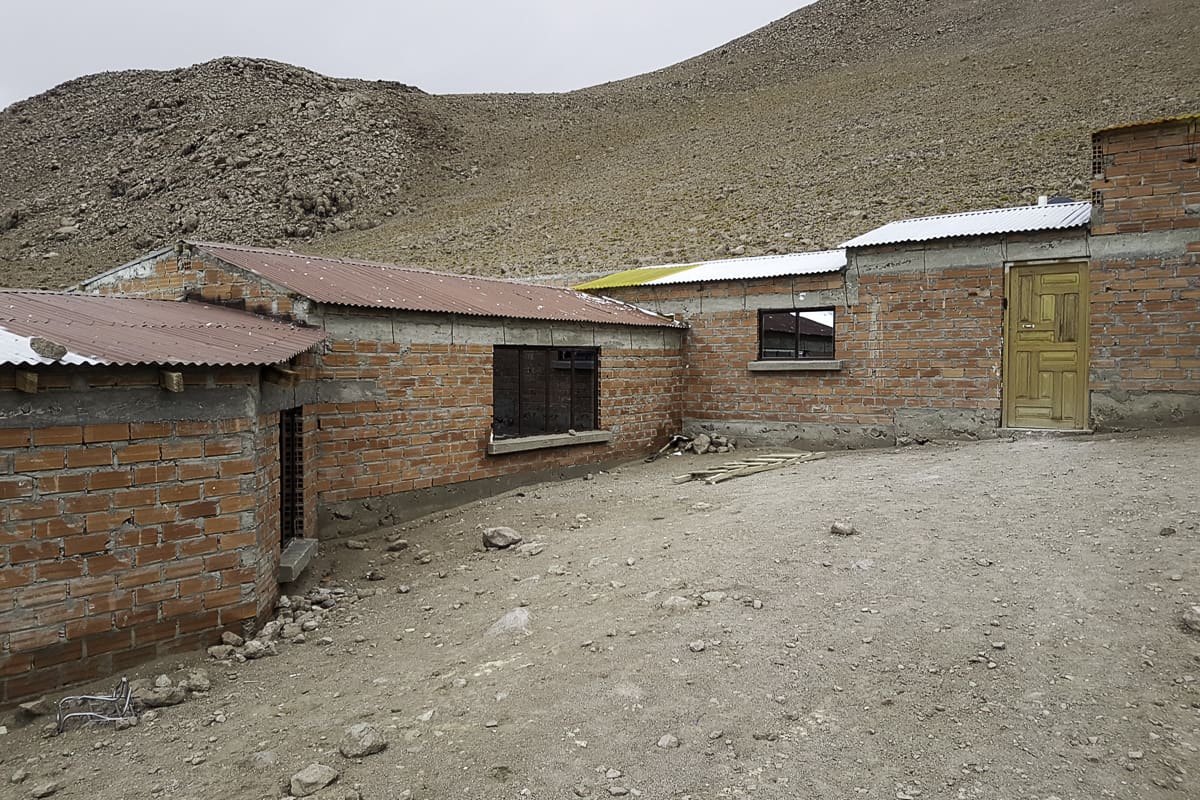 To cap it off, the bathroom doors were hobbit height and framed with sharpened edges. Poor Michael scalped himself early on and 1 month later still has the scab to remember it… not such a lovely reminder.
The 3rd day was more of a transit day for those in the group going to Chile (20mins) or us going back to Uyuni (7 relentless hours on a bumpy road). It was also my birthday, not the best as it was then followed by a 12 hour night bus! Michael made it his mission to make up for this and celebrate my birthday a couple of days later, bombing it down Death Road.
Our guide Marcus was the exception to a shoddy tour company; informative and chatty, we felt very fortunate to have him. The second guide on the other hand, only became animated when asking for a tip… PAH… and didn't even bother to give a briefing to the second car he was guiding.
The Awesome
If this trip had been pitched as a tour of Southern Bolivia (not including the salt flats), it would have been amazing! We saw some incredible sights over the 3 day tour and met some awesome people, who, despite the challenging circumstances, made the trip really fun.
The Train Graveyard was really cool, a little crowded for my liking but it was so much fun to use the trains as an adult playground and climb all over them!
Getting a selfie with a Llama is still on my to-do list… Wild llamas aren't as friendly as we'd hoped, but still we managed to get pretty close. A certain group member made it her mission to hug a llama, running up to them with arms waving manically! Amusing to watch really.
Flamingos, oh so many flamingos! Virtually every lake we came across had a huge flock of flamingos. I don't think I'd ever seen them in the wild before but they are so tranquil, just happy standing in the naturally heated volcanic waters, munching away. I could have watched them for hours. Or until a certain someone ran in for a hug…
By the end of day 2 we had reached the highest point of the trip, close to 5,000m and we were greeted with a spectacular sight of spluttering and steaming geysers.
We stopped off at the Dali Mountains on my birthday which was a nice treat, the colours were beautiful and it beat sitting in the car for 7 hours!
Summing up our Salt Flats Tour
Overall we greatly enjoyed our 'Salt Flats' tour. Seeing this vast area of Southern Bolivia has been a beautiful experience and we have seen some wonderful natural sights.
I hate to be negative, especially when we've travelled so far to see something so iconic. But the truth is we felt significantly let down by our tour company, and didn't get the Salt Flat experience that was possible. For a while I thought our expectations were too high, but speaking to others and realising they saw the Salt Flats in ideal conditions. I feel that we got the shitty end of the stick! In the end it felt as though the tour company didn't care about our experience, just so long as they got our money.