Torres del Paine is a National Park in the south of Chile, it has long been a place sought out by hikers for its beautiful and rugged landscape. Located in Patagonia, the weather is typically unpredictable and it's common to experience all 4 seasons in 1 day. In recent years the park has become an increasingly popular destination to visit.
Hikers can choose either a day trip to visit the iconic towers (pictured above), trek the 'W' route over 5 days or trek the 'O' in around 8/9 days. We were hoping to do the 'O', but due to demand for the campsites we were only able to do the 'W'. Although this wasn't our first choice, upon reflection we're chuffed it turned out this way.
We opted to hike the 'W' from West to East over 5 days and 4 nights, here is how we did it…
Day One | Paine Grande > Grey Camping
Trying to figure out how the park operated had proved to be a huge headache in the leadup to arriving in Puerto Natales, the closest town to Torres. But, as seems to be so often the case when travelling, once in the local area everything began to make sense.
After an early start, we got ourselves onto the first bus into Torres del Paine. The anxiety we had regarding the specifics of getting into the park all dissipated as soon as we boarded that first bus and it all turned out to be very straight forward.
Off the bus, we boarded a catamaran across Pehoe Lake and onto Paine Grande; this was us in the park and where our hike began. First impression; bloody hell it's windy! I mean blow you over, off your feet windy! The truth is, with the cloud covering the peaks of the mountains and the wind forcing you to look only a few feet in front of you, this part of the trek was pretty grim.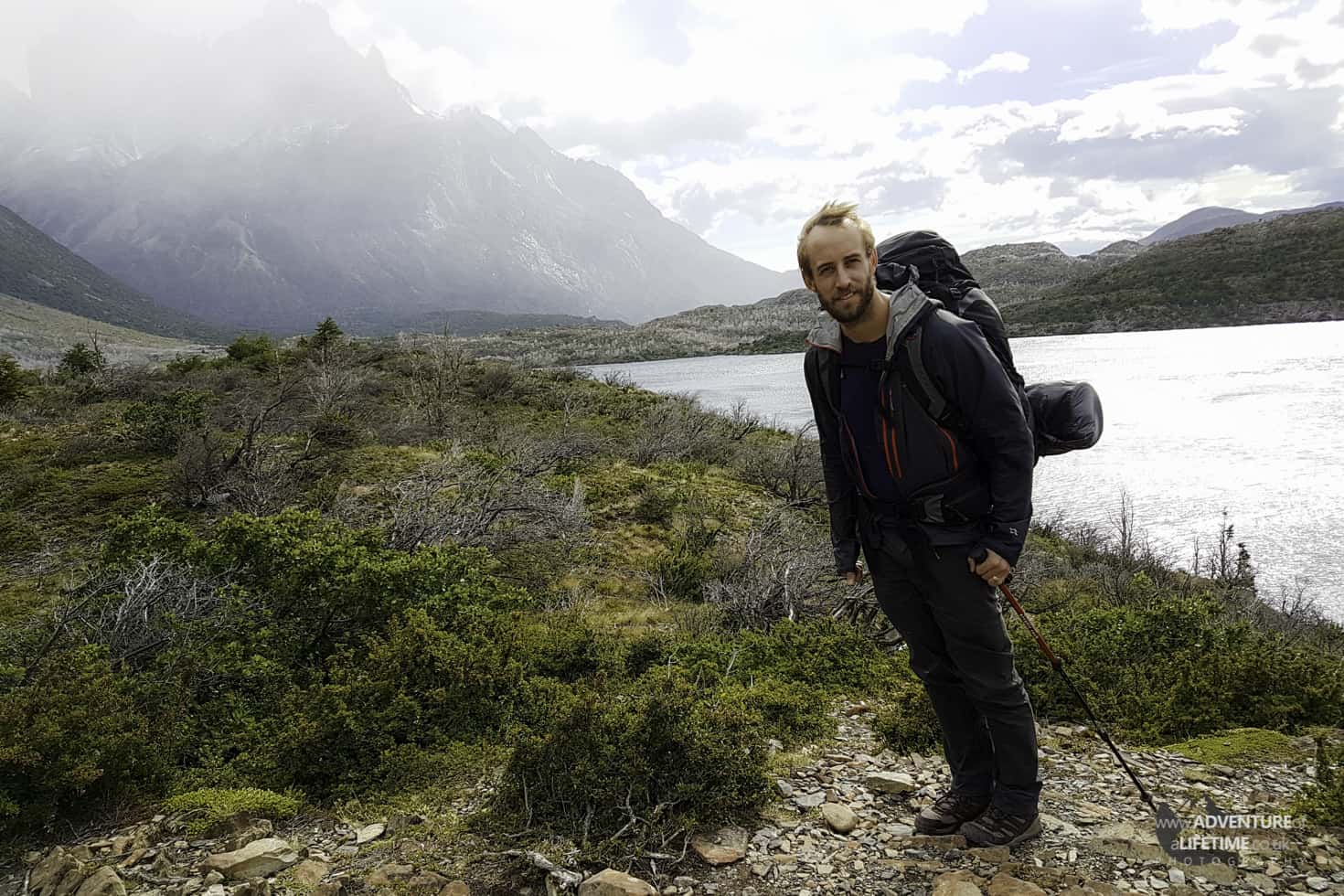 That was until we reached the aqua blue waters of Grey Lake and Grey Glacier comes into view. Having just come from Antarctica, we had seen our fair share of glaciers recently, but there is something different about seeing one in these surroundings.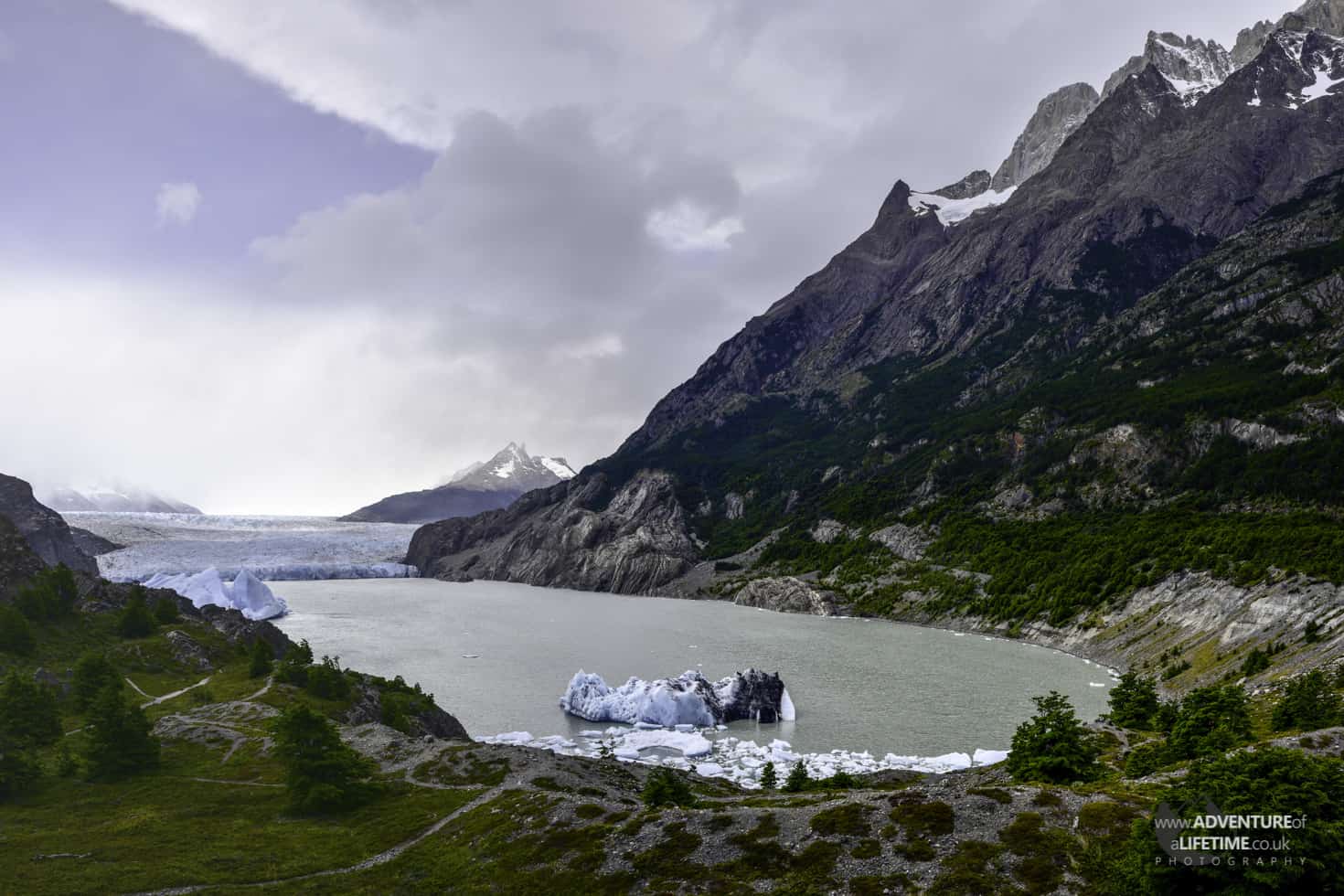 Once we reached the Grey Campsite, we pitched our tent in the forests, made some tasty pasta and went to bed around 8pm. Rock'n'roll!
Day Two | Grey Camping > Paine Grande
This morning we were all dressed and set to adventure out onto Grey Lake in kayaks for a closer view of Grey Glacier. We kayaked out for about 10 minutes to a nearby cove, this was tough going against the winds and with the icy waters whipping into our faces. Once in the cove our guide went ahead to check out the conditions. He returned very quickly, completely soaked from the wind – safe to say the kayaking trip was cancelled due to the weather. Instead we took a more leisurely trip out on a power boat to look at the icebergs and glacier.
Close to the glacier wall, we were able to get out onto a small patch of land and watch the glacier. As we stood with our cups of tea and chocolate bars looking at the glacier, there would be the odd crack which sounded like a gunshot, then shortly after a small chuck of glacier would crash into the water. As we watched though, it became clear that a big piece was going to fall in shortly.
The guides gave us a quick 'what to do' if a big bit broke off, then 'BANG' and we all watched in awe as a huge chunk fell off from the front of the glacier and crashed into the waters below. We didn't see that in Antarctica, although we were always willing for it to happen! The new iceberg caused a huge slow moving wave headed right for us. We all had to race back to avoid being washed into the lake. A good bit of drama to wake us up before our walk of the day!
Our walk back to Paine Grande was another wet and windy one. Thankfully the wind was behind us pushing us along so it only took 3 hours this time round. We had to put the tent up in the rain which is never a fun activity! Dinner cooked and off to bed for another early night listening to the gale outside!
Day Three | Paine Grande > Los Cuernos
Through the night there was rain and a howling gale that threatened to blow away the tent, although inside we were surprisingly warm and comfortable. When it was time to wake up things had settled a little, we took the tent down in the wind, but at least it was semi dry!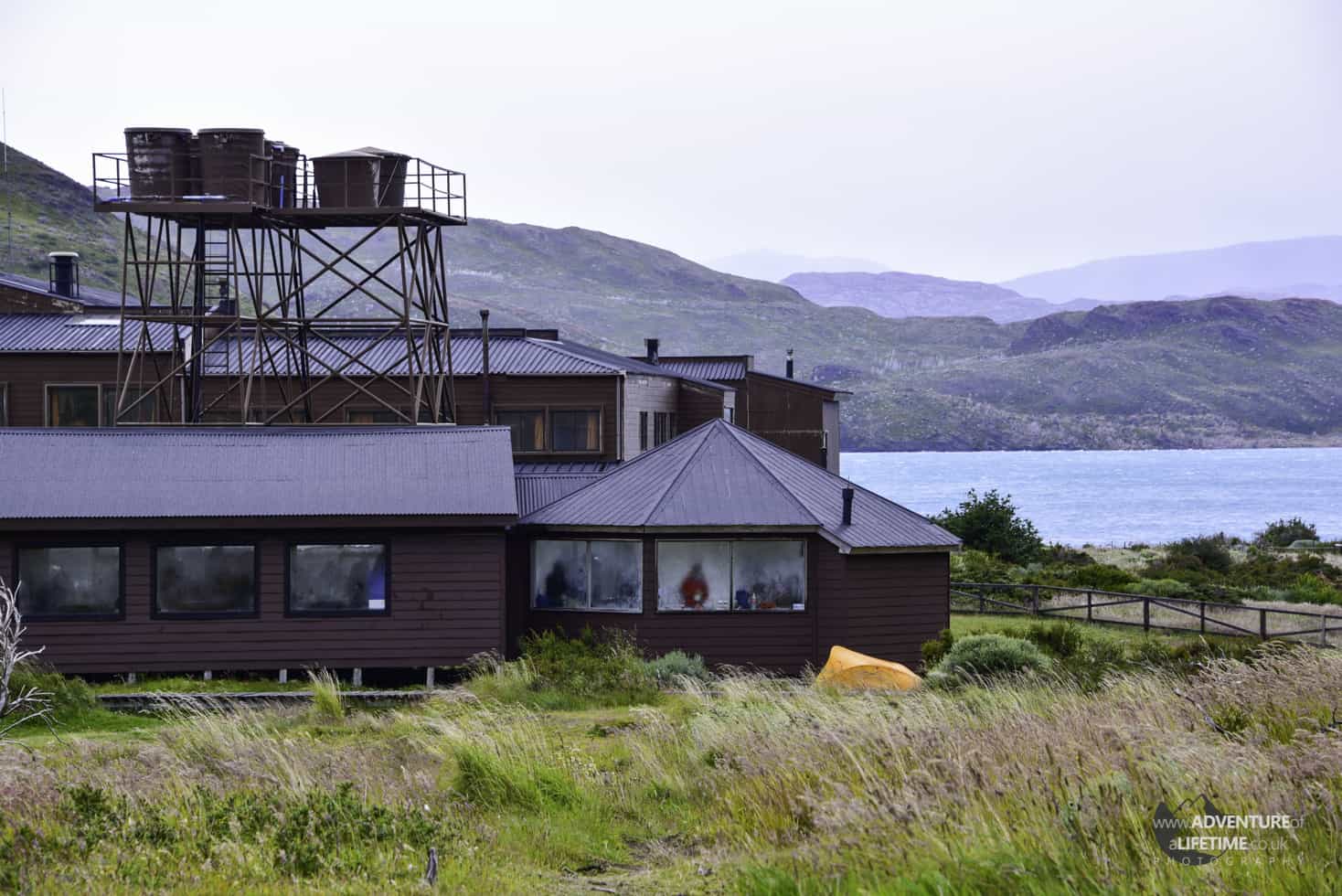 The walk from Paine Grande to Los Cuernos was a pleasant one, there were considerably less people on the trail which was awesome! Starting the walk early in the morning was nice, as it meant we got the majority of the distance done by lunch. Had a nice lunch break at Italiano campsite and caught up with a new friend who we'd met on the bus. He was doing the 'W' East to West. We then walked (without backpacks, ahhh) up to the viewpoint to get a closer look at the Glacier del Frances. We couldn't go far because the wind had caused the route to be closed, but what a view!
Then back down, backpacks on again (boo) and a 2 hour walk to Los Cuernos campsite. Here we had a cute spot to camp on the hillside overlooking the lake. All our meals were fully catered for and we just got to sit back and relax in the sunshine!

Day Four | Los Cuernos > Chileno
Today was a biggie, 25km of pure bum-busting uphill to get to Chileno and then if we could manage it, onto the mighty Torres del Paine towers! The day started with a very disappointing breakfast (I expect more than a meagre amount of scrambled eggs and stale toast with this full board malarkey). After about 2 hours of walking through some very pretty scenery in blissful sunshine, we got to a fork in the road. Ok great, but we thought we wouldn't reach this point for another 2 hours. All a bit confusing, turns out the map is a little misleading here. But, bonus, we save 2 hours trekking today and we should be able to make it up to the towers today.
So much uphill, everything is uphill! We reached Chileno at about 1pm, ate our crappy packed lunch and set up our tent in the woodland! The weather had turned a bit miserable, moderate wind but blanket cloud and occasional rain. Not ideal for the towers, but what can you do? Onwards and upwards, lots and lots of up.
We could see the peaks of the towers all the way from Chileno, but curling around the last rock field at the top; we got our first sight of the full towers and of the lagoon below, which completed the postcard picture. Sadly, the tops of the towers were in the clouds but still a beautiful sight to see. Definitely worth all the effort of the hike!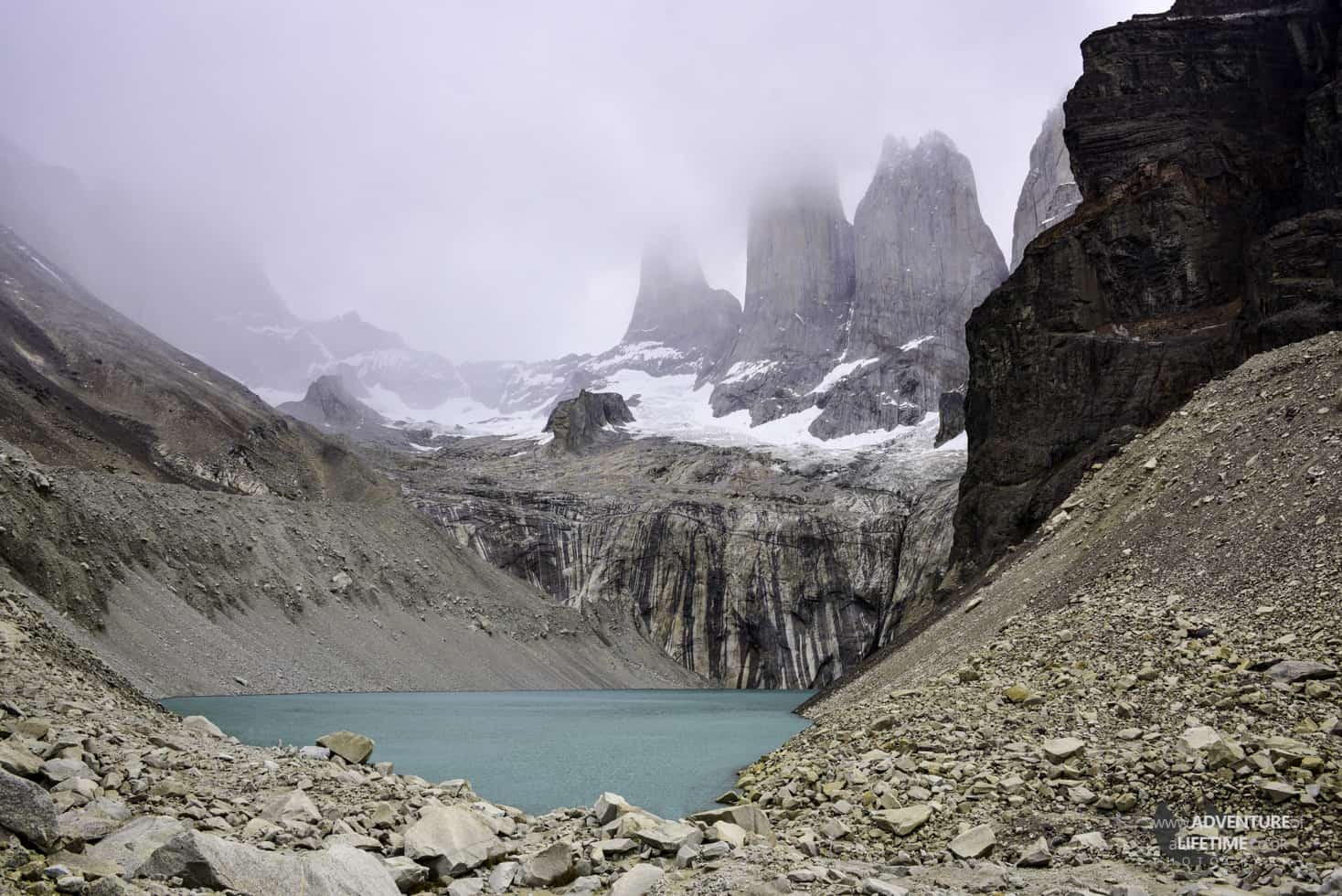 While we were freezing our bums off, admiring the view and taking lots of photos; we saw a fox! This was very exciting because walking around for the past few days all we'd seen are a couple of hares and lots of birds. I really wanted to get a better view, so ran through the boulder field and over the wet rocks. Not a good idea, I fell over bruising and cutting up my hand, elbow and knee. Sad times, I hobbled my way back down to camp feeling sorry for myself! But, at least Michael managed to get a photo while I was flat on my face on the cold hard stone.
Day Five | Chileno > Back to Reality
We didn't wake for the sunrise hike up to the towers, slept right through it! Instead we woke up leisurely at 8am, just in time for another crappy breakfast! Feed me properly dammit! As we were sat eating breakfast we looked up at the towers, in blissful sunshine. BUGGER! It was too late to go up now, we have a bus to catch (and I'm sore from yesterday, which is a great excuse I think)! The notion of taking a horse down the hill looked mighty tempting at this point!
As we left the safety of the Chileno campsite and ventured into the valley, we were faced with HUGE gusts of wind while walking skinny paths and a steep cliff on one side. There were a few occasions we had to crouch low to avoid being blown off! We took it easy walking back down the steep hillside to the Las Torres Hotel. Seeing some familiar smiling faces on the walk down was a lovely excuse for both parties to stop walking and have a wee break! I really felt for the people walking up, it was so steep and went on and on. I was just very pleased we weren't having to do it!
The Las Torres Hotel to The Towers is clearly a very popular day hike for many. There were SO MANY people on the trail, it didn't feel much like being in the wilds!
Summing up Torres del Paine
Truth is, and I hate to say it after all the planning that goes into these trips, but for us the park didn't meet expectations. Maybe we are just spoilt in Scotland for beautiful, tranquil and secluded landscapes to explore. Maybe we got unlucky with the weather, or maybe our expectations were too high. Either way, while we are very pleased we did it, it isn't one we'd redo.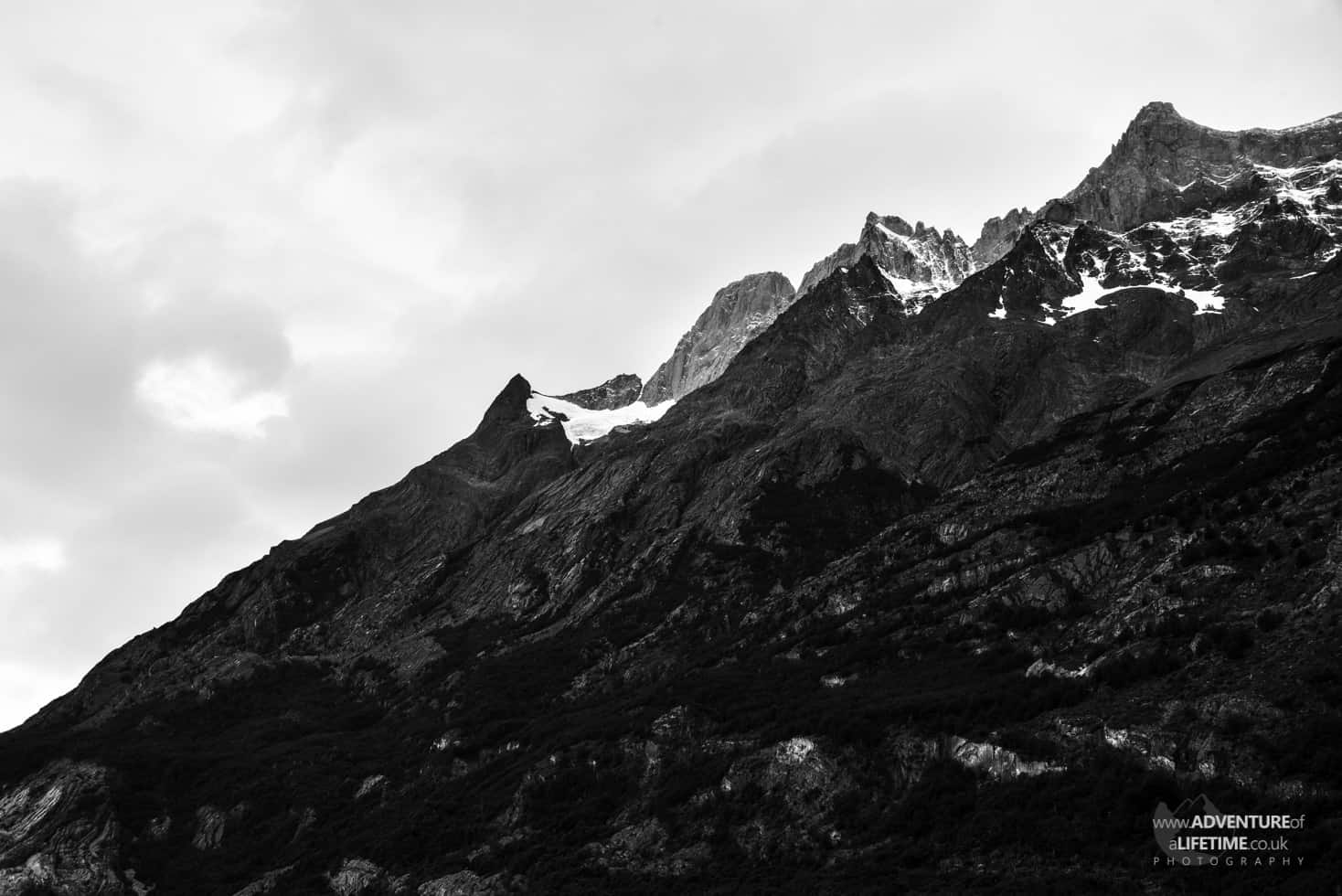 The main downer was the sheer amount of people in the park! It's busy to say the least. I suppose this wasn't something that either of us were expecting. During day 5 walking down the hillside, it really felt like a conveyor belt of people coming up. It just didn't feel like what we had signed up for. To bitch a little bit more, trail etiquette is wasted on some people. Remember downhill traffic gives way to uphill traffic! Morons.
Having said this, I don't think there is anything I would change about the way we did the hike. The route we took was great, the gear we took was ideal, the campsites were as good as they get and we gave ourselves every opportunity to appreciate the park. I would recommend the same route to anyone, provided you can get the campsites!
Guide to Hiking Torres del Paine?
Torres del Paine is the most overly complicated, simple adventure to plan! We got very confused when we were trying to plan our trip. We read loads of conflicting information and getting lost in all the different websites was a nightmare! I'd like to sum up the information for you in case you're in the same boat and getting overwhelmed!
This information is correct as of January 2017.
For doing the 'O' or 'Full Circuit' we had heard you need to book onto the back of the trail… this is nonsense. You don't need to prebook onto any of the trails, what you need to do is prebook the campsites. Prebooking the campsites is essentially you booking your place on the trail.
Depending on what time of year you do the trail, will depend how far in advance you need to book. For peak season try to leave 6 months, although you will get away with 2 if you are willing to compromise.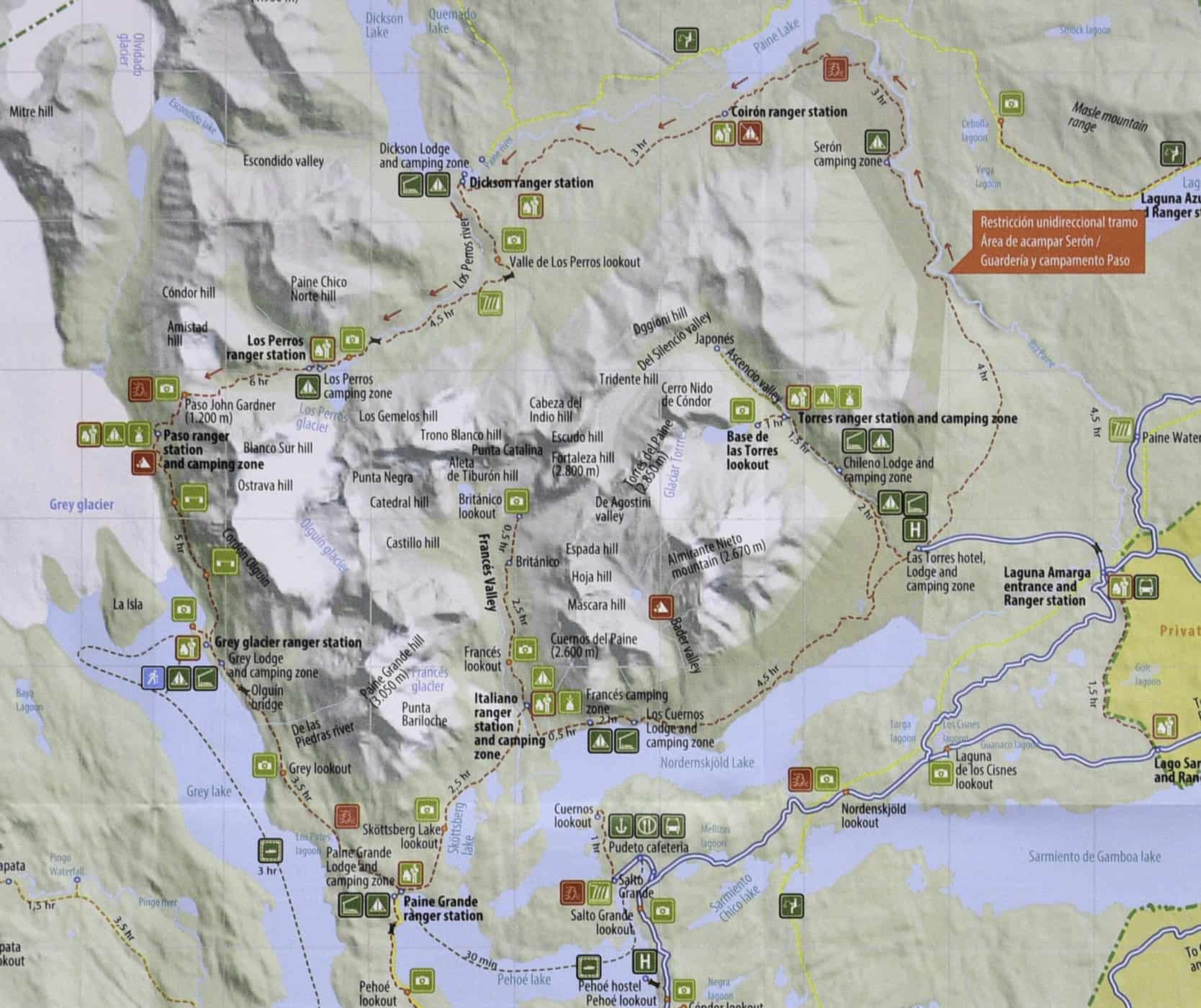 The map above is provided to you for when you pay your entrance fee to the park. It has all the campsites and is actually really good.
You can't book all your campsites in one place, instead there are three companies the operate in the park. The three main websites you'll need to book the campsites are:
CONAF (free basic campsites; Paso, Italiano, Torres)
Fantastico Sur (Seron, Frances, Los Cuernos, Chileno, Las Torres)
Vertice (Dickson, Perros, Grey, Paine Grande)
They're not the greatest of websites and there's a lot of trial and error in making sure your dates suit between all the different companies, but that's the way it's done.
Some of the maps show times rather than distances, these are fairly accurate as they take into account terrain rather than simply the distance. Although if you are a seasoned walker you may scoff at this, it actually works really well. Use your first walk as a benchmark for times for all other trails.
Cash, take a minimum of at least $50,000 CLP per person to cover the costs in the park.
Bus ticket from Puerto Natales to Torres (return) $CLP 15,000
Park Entrance Fee $CLP 21,000
Catamaran $CLP 18,000
Mini Shuttle (Las Torres Hotel to Park Entrance) $CLP 3,000
You'll want extra for snacks or that celebratory beer at the end!
Water from the rivers in the park is safe to drink and plentiful! Just use common sense in picking where to fill your bottle (ie not downstream of a campsite).
There can be mice at the campsites who will eat through your tents to reach food inside. Best advice is hang your food outside from a branch, although we stored all our food in a garbage bag, in a sleeping bag cover, in another garbage bag, in a backpack and had no troubles!
We stored all of our gear in garbage bags in our backpacks for peace of mind, just in case it rained and everything got soaked. The rucksack rain covers aren't great in Torres, due to the wind. We saw a few being blown off.
Hiking Torres del Paine will make a lot more sense when you reach Puerto Natales, everything is made clearer. I know a lot of the hostels offer talks on hiking Torres del Paine, we visited Erratic Rock at Base Camp for their daily 3pm information talk and it was invaluable. Would highly recommend it, no matter your hiking experience.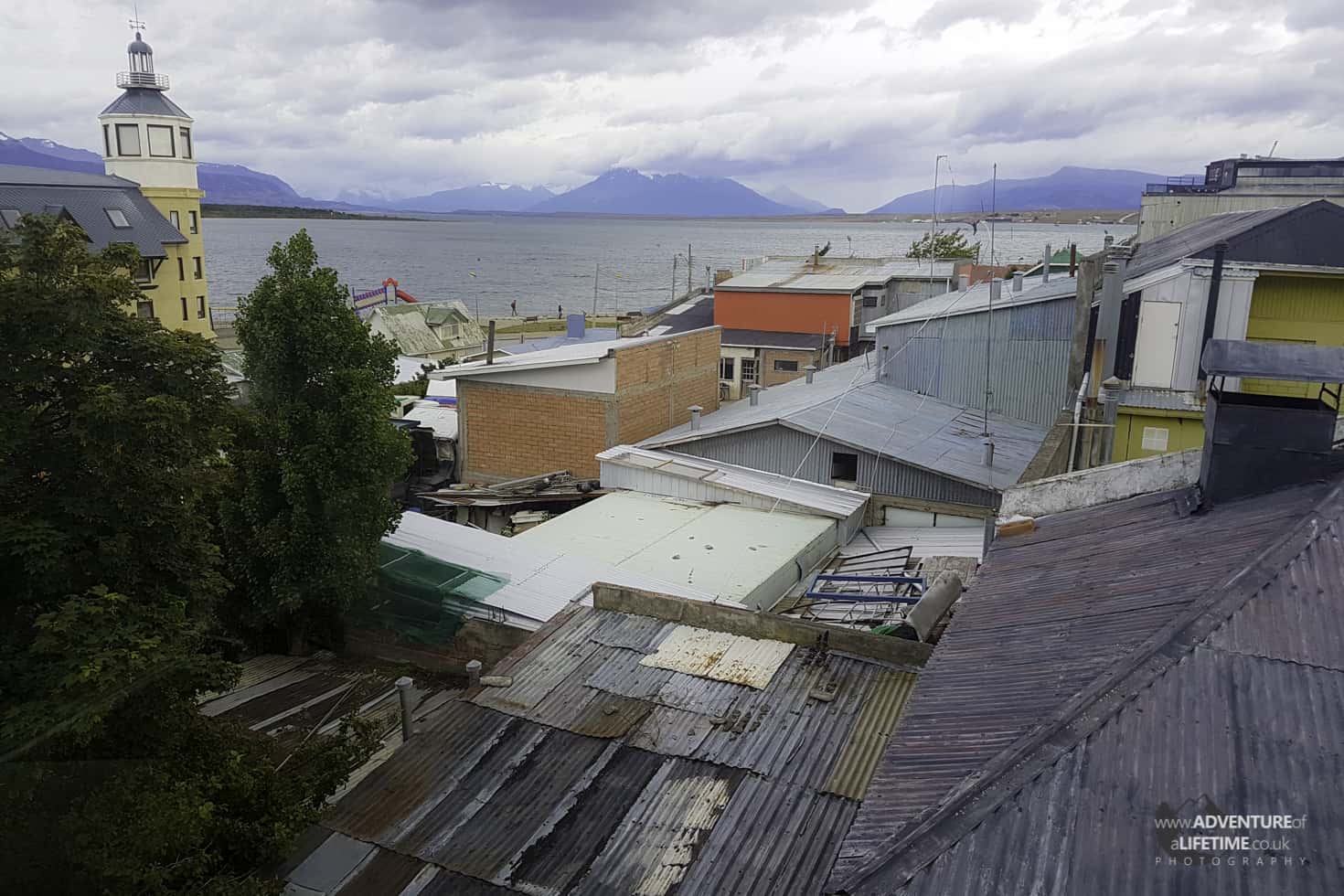 Gear Guide
Rented from the good folks at Erratic Rock.
Sleeping Bag
Roll Matt
2 Person Tent
Trekking Poles (one set between us)
Backpack
Cooking Kit

Cooking Pot
Stove
Plates (didn't use)
Cups (didn't use)
Spoons
Water Bottles
Our Own Gear
Waterproof Jacket
Puffer Jacket
Walking Boots (trail running shoes are also appropriate!)
2x Walking Socks
Woolly Hat
2x Base Layer (one set for walking, one for camp)
2x Trousers (one set for walking, one for camp)
Underwear
Buff
Travel Towel
Sunglasses
Lighter
Sunscreen (there's a hole in the ozone above Torres, so sunburn is common)
Camera
First Aid Kit
Toilet Paper
Garbage Bags
Zip Lock Bags
Mobile Screenshots of Passport and Camp Reservations
Snacks (pack lots!)

6x Carrots, 2x big bags of Trail Mix, 4x Chocolate Bars, 6x Cereal Bars, Jelly Sweets

2x Breakfasts

Porridge Oats and Raisins

2x Dinners

Pasta, Sauce, Carrot and Sausage

3x Lunches