What's this Machu Picchu all about then?
History Lesson: Machu Picchu is an ancient 15th century Inca site situated high on a mountain ridge at 2,430m, located in the Sacred Valley near Cusco, Peru. Machu Picchu, meaning "old-mountain", was built for the Inca emperor Pachacuti around 1450AD. Abandoned a short century later as the Spanish came to invade, but remained unknown to the world. That was until 1911 when a chap called Hiram Bingham brought it to international attention.
Being in Peru, Machu Picchu was not a sight we were going to miss. The trip also happened to coincide with a couple of Aldridge birthdays! Michael and his dad both share a birthday and with Malcolm visiting us for his 60th, the day had to be a memorable one! What's more memorable than checking off another 'Wonder of the World' eh?!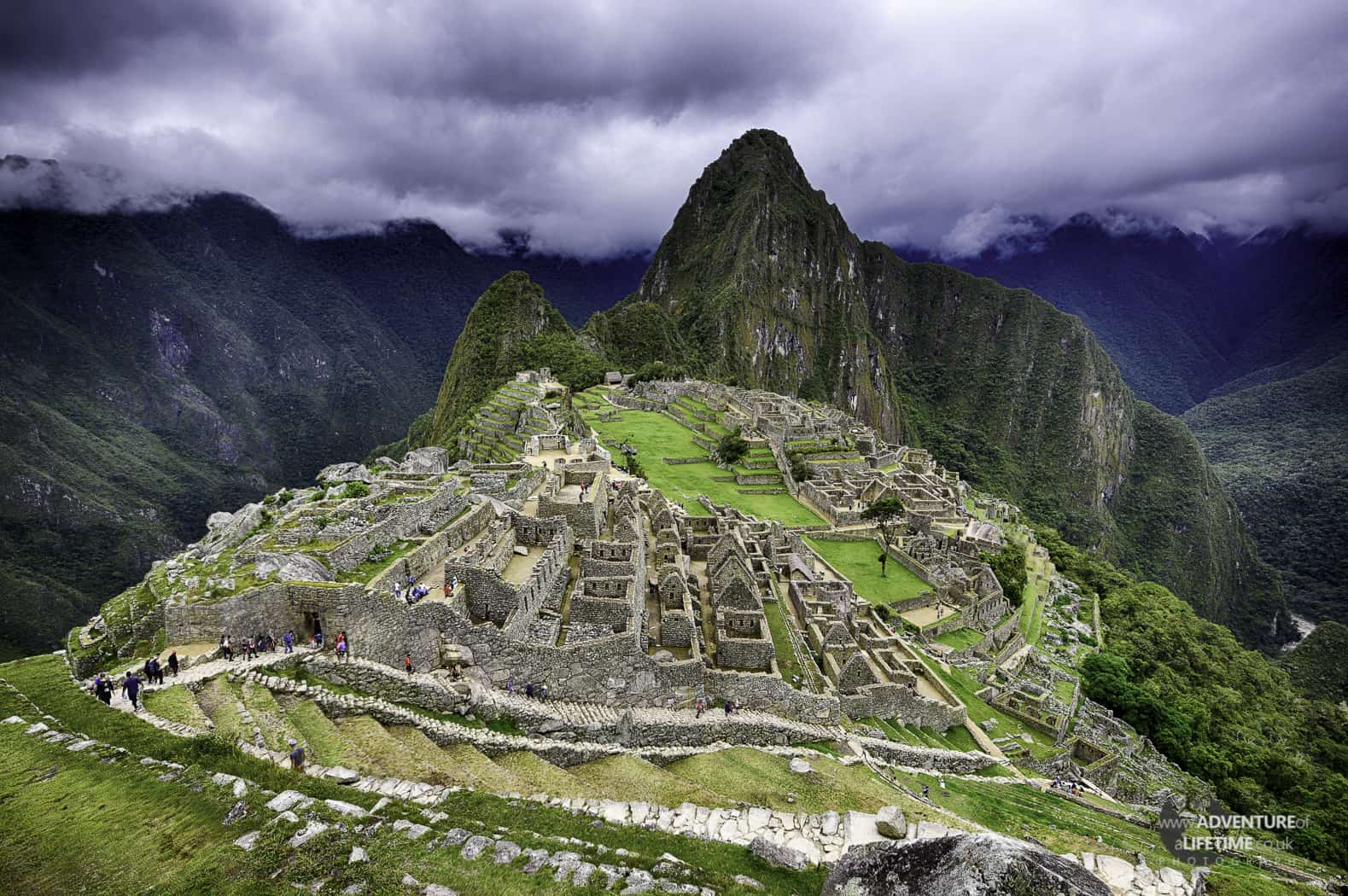 Getting To Machu Picchu
Planning the trip was more of a pain in the bum than I had envisaged. You'd think a tourist destination that attracts 2,500 people daily would be easy to work out, but no, that is not the Peruvian way! In the end we gave up and did it via a tour company.
And so we began our journey from Cusco to Ollantaytambo, in a fine little shuttle bus. Not so surprisingly, we had a rather sketchy driver, who very much liked cutting it fine as he overtook and was heavy on the brake! From Ollantaytambo we took the fanciest train to Aguas Caliente (the closest town to Machu Picchu). I'm talking really fancy here! Glass ceilings, perfect train bathroom, complementary drinks and snacks. We haven't experienced this level of service for a good long while! To top it all off we were slowly making our way through the beautiful Andean scenery, I can understand why they put in the glass ceiling! Happy Birthday boys…
Early Morning Step Class
The next day we woke up far too early, 3:50am to be precise in order to climb up to Machu Picchu. We weren't quite sure how long it would take us to climb up, depending who we asked we got different estimates. Either way we had to be at the gates of Machu Picchu at 6:30am to meet our guide for the official tour! 2 hours to reach the top should be plenty, or so we thought…
Holy smokes we cut it close! The steps were relentless and they kept on going. My legs felt okay but the older the Aldridge, the tougher it was. At times, to save our legs we took the road which was considerably gentler, but about 10 times as long! We made the mistake of missing the last set of stairs in favour of the road, which took us WAY off course and added on so much time! Alas, we made it to the top at 6:31am, just in time for Michael's morning poo, to sign in and meet the guide! Phew.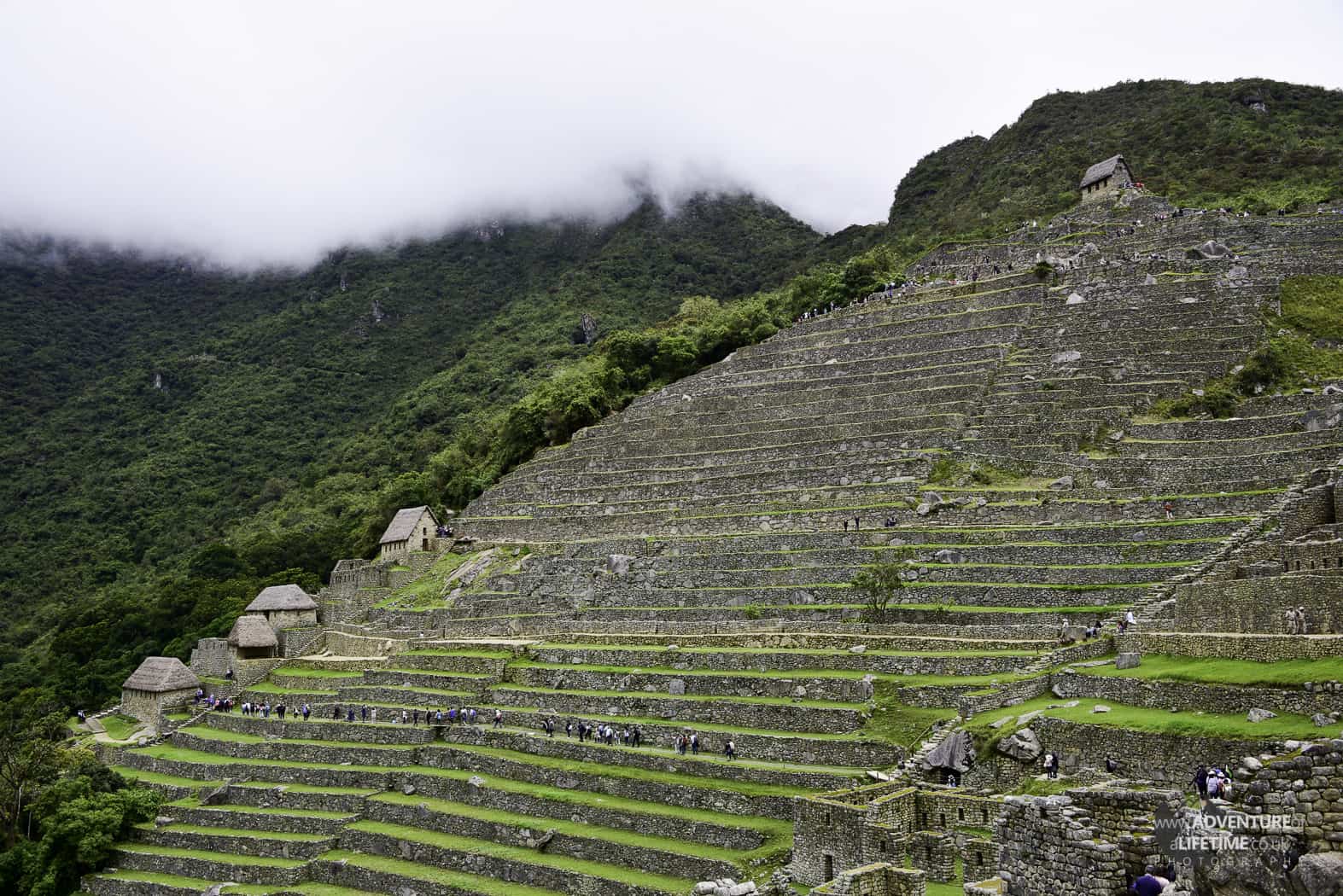 The Crowded Tour
The tour of Machu Picchu was… alright. It was a chaotic start, with hundreds of people getting to the gate at the same time and each group fighting for a space to start their tours. Once we were all organised and separated into our English or Spanish groups of about 20, the tour finally started.
The tour itself was very GO-GO-GO for the whole 2 hours! We'd stop at a viewpoint, try to listen to some facts and take a quick photo, then "Vamos", next stop… It was very difficult listening to the guide, we were such a large group and his voice didn't carry very well. It was a shame, but we walked the whole site, clocking areas to go back to after the tour!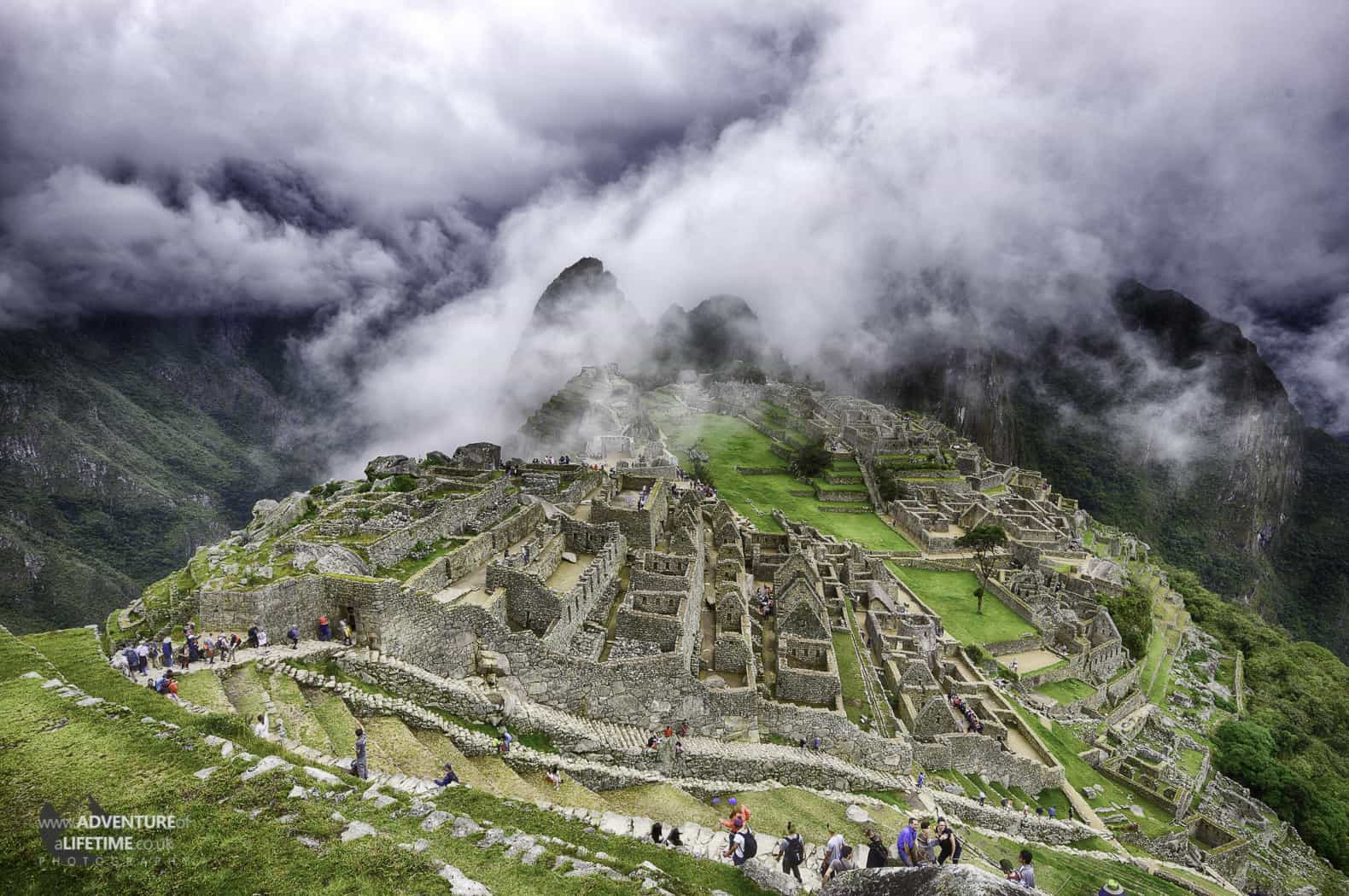 Machu Picchu is an incredibly impressive and unique site! The Incas certainly valued attention to detail in their craftsmanship, with the flawless building blocks and windows in optimal places to let sunlight in, only on certain days of the year. The details of the site aren't a coincidence. For example, the Temple of the Sun and the Room of the Three Windows, these were built specifically to be dedicated to their sun god and greatest deity. The attention to detail is flawless. I'm sure I've read that it took them 70-80 years to complete the entire site which is simply astounding!!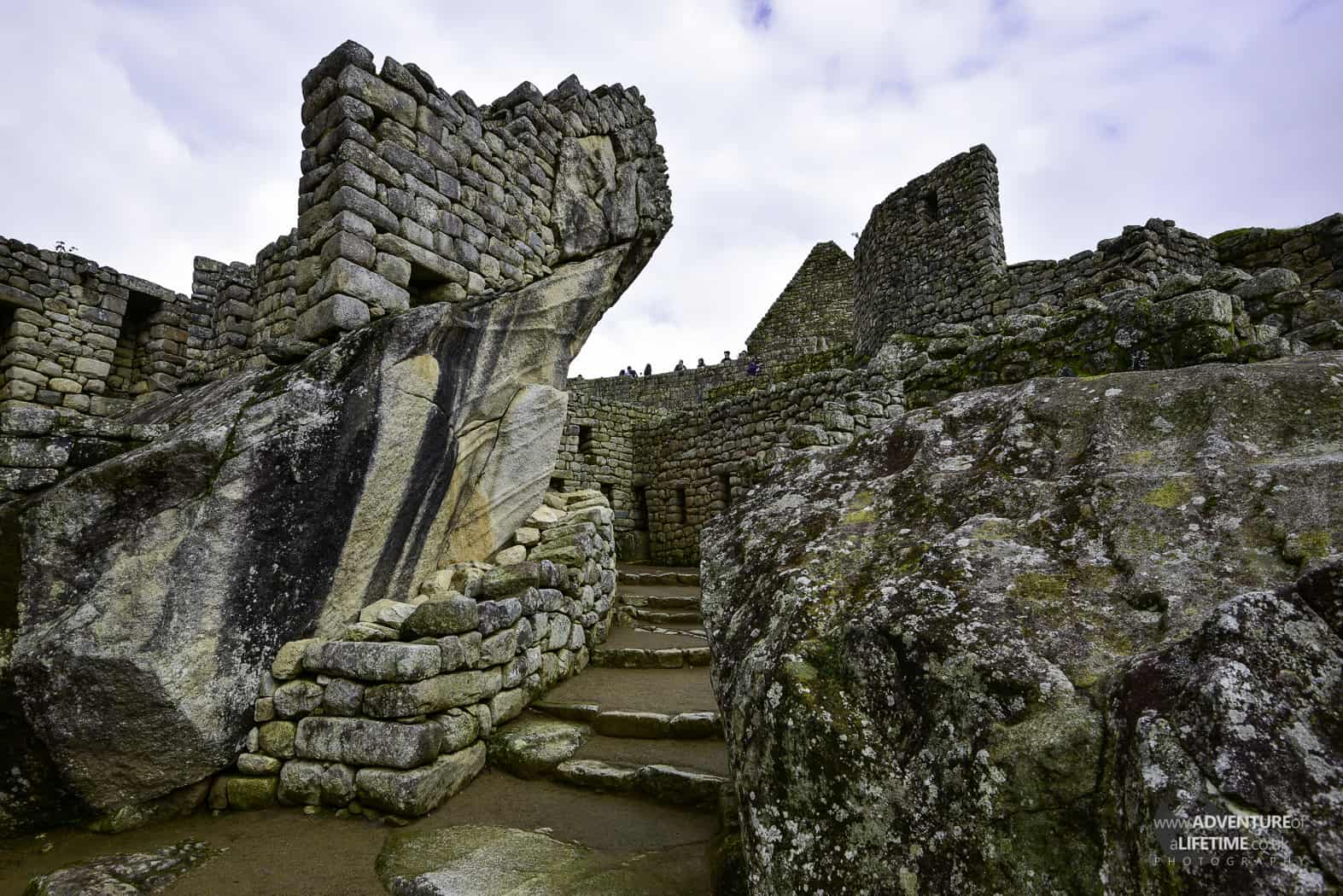 One thing I naively didn't realise about Machu Picchu… I didn't realise low season would be SO CROWDED! Getting that postcard perfect picture is near impossible! I hate to think what it's like at peak season. The guide told us they can have to up to 9,000 people on site at the peak. That sounds awful (but I'm not too sure how true it is either!)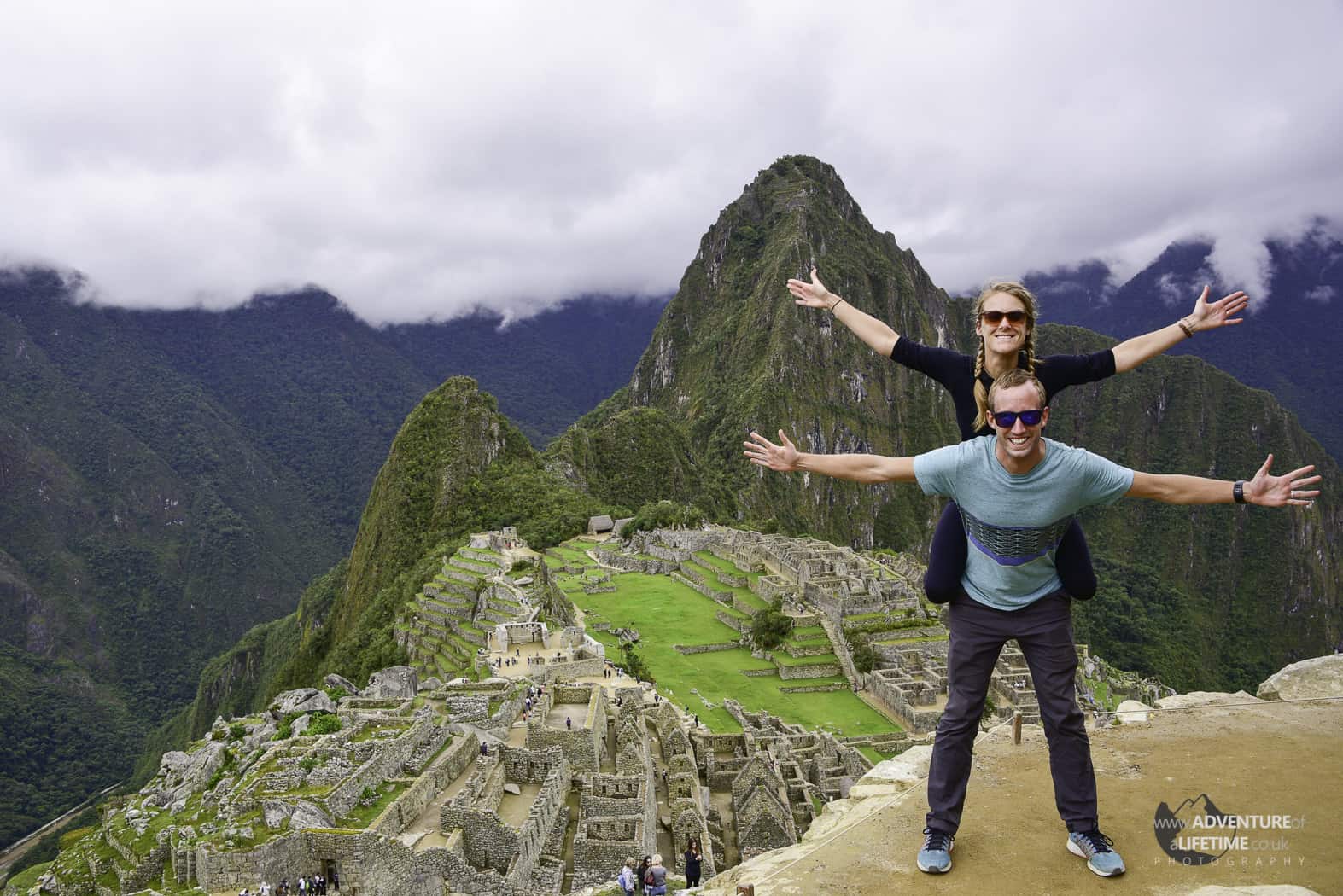 Huayna Picchu Climb
The climb up to Machu Picchu wasn't satisfying enough for me, I needed more pain! There's a mountain behind Machu Picchu called Huayna Picchu that looks down over the Inca site with incredible views. Only 400 people per day can climb it – and I had a ticket! We all had tickets, but the initial climb tired out the two older Aldridge's!
Off I went on my solo adventure… Steps, so many flipping steps! The whole damn way up! On paper the climb was due to take well over an hour, I made it up in 31 mins. First lady, 3rd overall! I was chuffed beyond words. Having not done any dedicated exercise since leaving the UK, I was so happy I still had it in me! Anyway, the view from the top was cloudy. Very cloudy. I stayed up there for half an hour hoping the clouds would part, but it wasn't meant to be.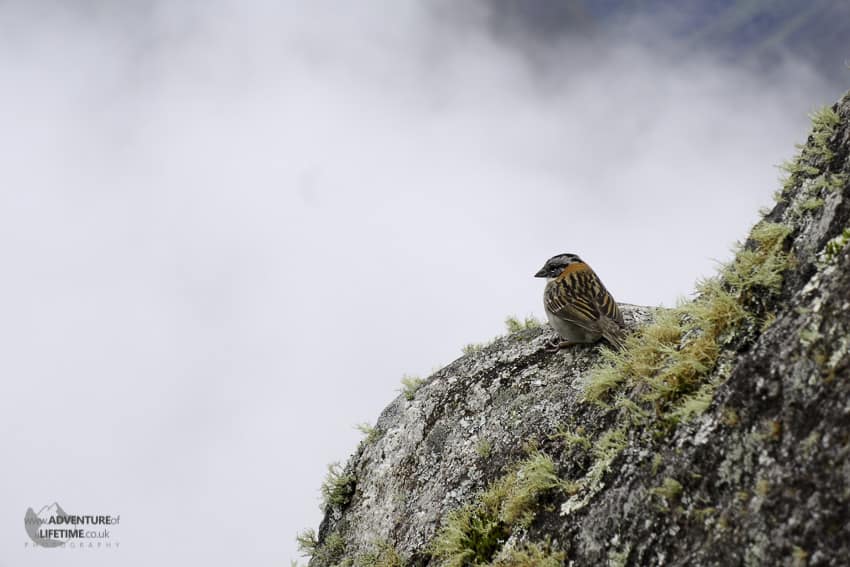 I wanted to hike the full loop of the mountain which meant I would had to leave by 11am (before the gate closes). So off I went again, this time down hundreds and hundreds of steps! Down way more steps than I'd climbed up, dammit. I'm a glutton for punishment. Down the back of the mountain is an Inca cave with some carvings, it's alright. When you've just come from Machu Picchu it's pretty underwhelming! From there it was back up hundreds of bloody steps again, to meet up the birthday boys once more.
Michael Insert: You want to make Dora happy? Give her some ridiculously punishing physical challenge and then say you'll time her. She will come back red faced and elated!
What Did We Think Of Machu Picchu?
Well, Machu Picchu is damn impressive and I'm so pleased we visited the sacred site. In truth it was much bigger and a whole lot more impressive than I was imagining. I'd only ever really seen the one iconic image and didn't realise the site was so much larger. Considering the Incas commitment to perfection, it makes me sad to think it was abandoned so abruptly. But it's so interesting to think of what is still to be discovered lying under the jungle on that hillside. It was a truly captivating and memorable experience, certainly appropriate of a joint birthday venture.
My ONLY true disappointment, was not getting a selfie with a llama, again… I'm now questioning whether it'll ever happen.