Packing our backpacks to travel the world was a tricky affair. We knew we could be away for over a year, would be travelling across many borders and exploring climates from the Tropics to the Antarctic. Each item we packed required careful consideration. We're rather pleased with our choices so decided to write this 'How-to Guide' to answer the question we get asked the most. "What did you pack to travel the world?" We intend to refer to this list ourselves for future adventures.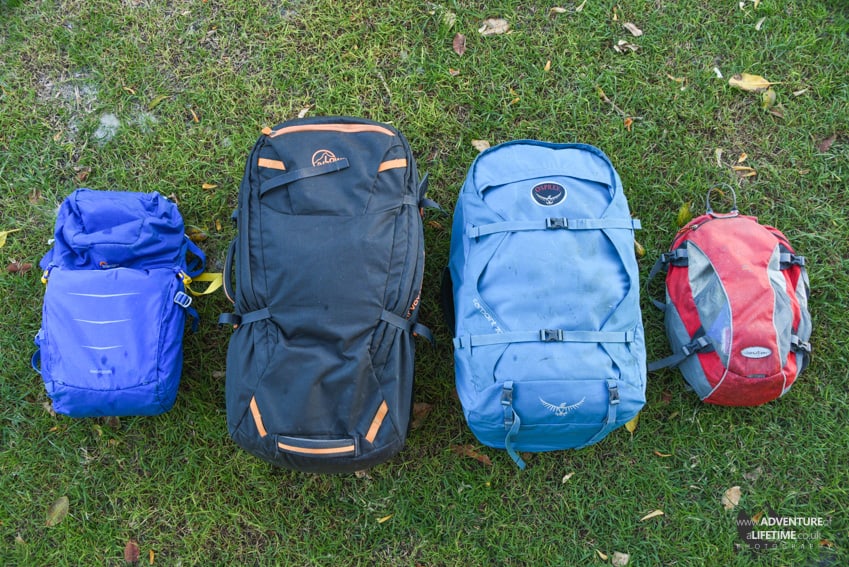 We each chose to take a big backpack for the bulk of our belongings, and a smaller rucksack for the more day-to-day and valuable items we needed to keep an eye on. Travelling as a couple is great because we can divvy up some items. Lucky for me, Michael's a strapping chap and carried some of the heavier stuff. Leaving me with the lighter items, aka the many anti-malarials and medications we needed!
The backpacks we chose are described as 'travel system' bags. We found them to be incredibly useful because they're essentially one large, zip accessed space. These paired with travel cubes make for a very organized and easily accessible backpack. Not to mention, the straps on the back zip away nicely making them perfect for hold luggage.
I didn't have much criteria for my rucksack, just something simple and versatile. Michael's on the other hand had to accommodate a DSLR camera. Thankfully he found a bag which is both comfortable and protective, whilst not advertising there's a fancy camera inside (more geeky camera chat below).
Dora's Packing List
Laptop and Charger
Mobile Phone and Charger

Kindle

Compact Camera

Purse
Passport

Guidebook

Diary
Notepad and Pens
Sunglasses
Prescription Sunnies and Glasses
Buff
Headphones

Antibacterial Gel

Wet Wipes

Inhaler
Combination Bag Lock
Length of Para Chord
Michael's Packing List
DSLR Camera

28-300mm Lens

16-35mm Lens

360 Camera

Camera Accessories (spare battery, filters, lens cloth, etc)

Mini Travel Tripod

Selfie Stick for Phone & GoPro

Laptop and Charger
Mobile Phone and Charger
Wallet
Passport
Headphones
Buff
Small Dry Bag
Pen
(Shared items in green.)
(70lt minus the 15lt day pack = 55ltr)
Packing Cube Large – Outer Layers
Thin Waterproof Jacket
Softshell
Puffer Jacket
Fleece Base Layer
Wooly Hat
Baseball Cap
Spare Buff
Packing Cube Large – Misc.
Medical: Anti-Malarial, Anti-Biotics and all sorts

Travel Towel

First Aid Kit

Sun Screen

Bug Spray

LifeStraw

Perfume
Dry Shampoo
Scuba Dive Log Book
Packing Cube Large – Clothes
1 Hoodie
1 Dress
1 Playsuit
1 Jeans
1 Long Running Bottoms
1 ¾ Running Bottoms
4 Shorts
5 Vest Tops
2 T-Shirts
1 Nice Top
1 Casual Shirt
2 Base Layers
Packing Cube Small – Underwear & Swimwear
3 Bikinis
2 Bras
2 Sports Bras
10 Pants
3 Pairs of Socks
2 Belts
Small Wash Bag
Tooth brush and Tooth Paste
Deodorant
Razor
Tweezers
Hairdressing Scissors
Small Make Up Bag
All the Essentials and a few sneaky luxury items!
Electronics Bag
Head Torch

Spare Batteries

Extra USB Mini Charge Cable
Worldwide Travel Adaptor
Gerber Multi Tool
Combination Extendable Cable Lock
Miscellaneous Items in Bag Pocket
Spare Purse
Shoelaces
Money Belt
2 Inhalers
Miscellaneous Loose Items
1 Large, 1 Medium and 1 Small Dry Bag

Guide Books

Another Notebook!
Flip Flops
Trail Running Shoes
Plimsolls
Shampoo and Conditioner
Face Wash
Shower Gel
Moisturiser
(70ltr)
Packing Cube Large – Outer Layers
Thin Waterproof Layer
Softshell
Puffer Jacket
Hoodie
Packing Cube Large – Trousers
Jeans
Walking Trousers
2 Pairs of Shorts
Packing Cube Large – Base Layers
6 T-shirts
2 Base Layers
1 Smart Shirt
Packing Cube Small – Underwear
Packing Cube Small – Underwear
Packing Cube Small – Swim Gear
3 Board Shorts
1 Rash Guard
Small Wash Bag
Tooth brush and Tooth Paste
Deodorant
Razor
Shower Gel
Nail Clippers
Ear Plugs
Electronics Bag
External Hard Drive

Charger Pack

Travel Speaker

Camera Charger (charge unit only, use cable from laptop)

Worldwide Travel Adaptor

USB Memory Stick

Extra USB Mini Charge Cable
GoPro Transport Case with Accessories
Miscellaneous Items in Bag Pocket
Pen Knife
Length of Para Chord

Pack of Cards

Head Torch
Money Belt
Small Wallet

GoPro Larger Accessories

Small Net Bag
Large Net Bag – for dirty washing
2 Carabiners
Scuba Dive Log Book
Small Dry Bag
Miscellaneous Loose Items
Belt
Travel Towel

Guide Books

Sunglasses
Notebook
Combination Bag Lock
Combination Extendable Cable Lock
Flip Flops
Running Shoes (will wear either these of flip flops)
Region Specific Extras
We found that in certain areas we needed a few extra bits and pieces. Some items we knew we would need early on so we brought them from the UK, but most extra items we bought on route. Once used and we knew we wouldn't need them again, we sent them home. We have very limited space in our backpacks and find extra items more of a hindrance than a help.
Items Included:
Waterproof Over-Trousers (for proper hiking or colder climates)
Walking Boots and Socks
Gloves
Wooly Hat
Scuba Mask and Snorkel
Full Size Camera Tripod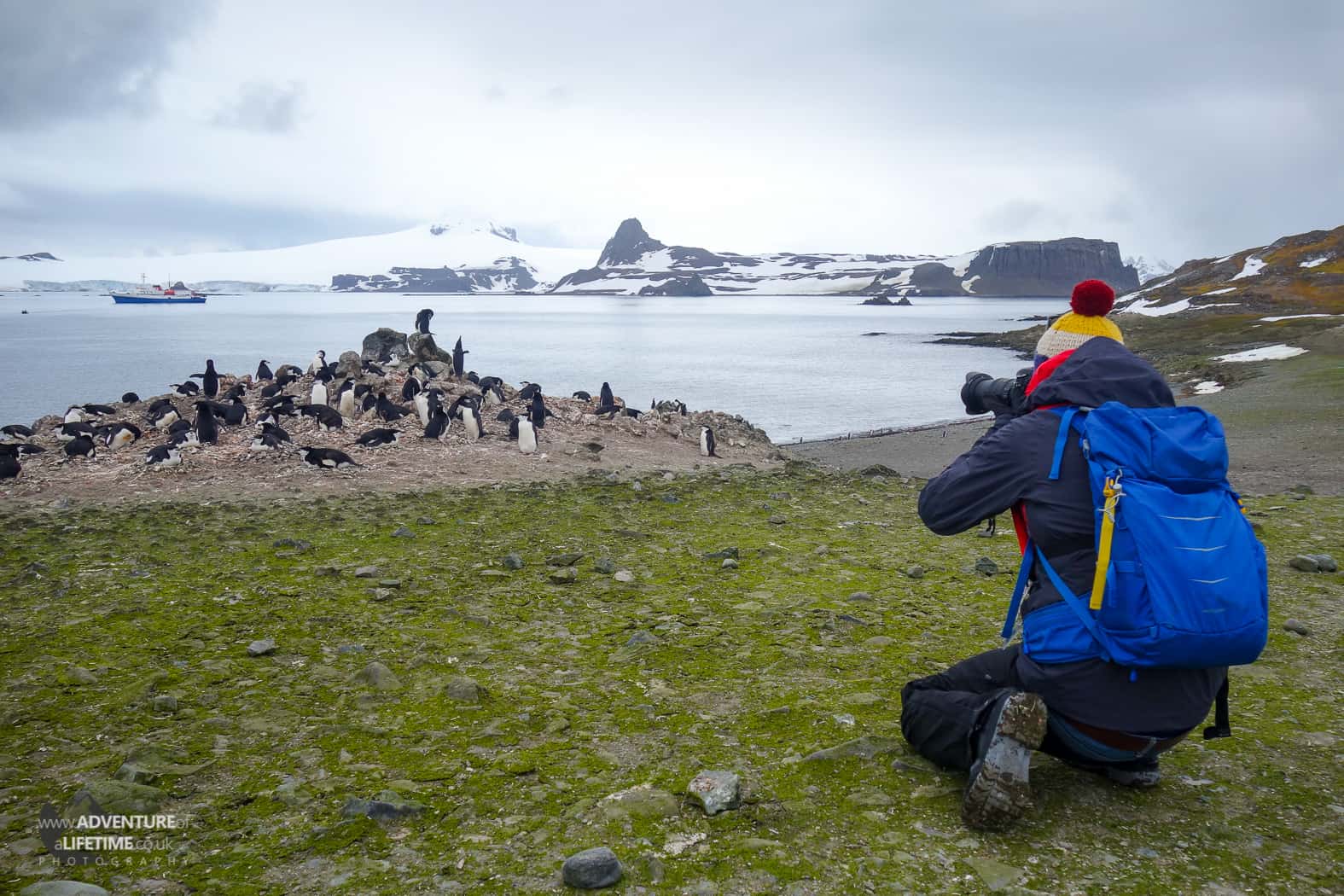 Camera Gear
This list is a duplicate of the above items, but with an explanation of choice.
Michael did his research on the matter…
It was tough to decide what camera gear to take on our trip, I knew I wanted professional photos, so needed my DSLR camera, but what lenses and what supporting gear was the really tricky part. After consulting many blogs I found my requirements most in common with vloggers and sports photographers, so I decided less is best. I couldn't be bothered changing lenses constantly, therefore, I had to make compromises. On the whole I am very happy with my choices. Here it is, explained:
Nikon D750 Full Frame DSLR Camera
In theory a great camera, but I had many issues with it on route and really struggled to get it serviced. Due to several recall issues, I found myself to be heavily compromised at times on the trip, not what I expect from a professional grade camera. I very much doubt my next camera will be Nikon, based on my troubles with this model. Issues were lens flare problems (which persisted even after servicing), shutter timing issue, dust inside the body (standard issue but seemed worse with this camera than any I've have before) and auto exposure inconsistent.

Nikon 28-300mm Lens
Many camera snobs will dismiss you for carrying a 'super zoom' lens like this, but for travel it is fantastic and still a very capable lens. Better that your photo isn't 100% sharp than to miss the opportunity altogether. I highly recommend this lens for travelling.
Nikon 16-35mm Lens
Great for those wide angle shots.
Ricoh Theta 360 Camera
Really fun photos that are a little bit different…
Camera Accessories
Spare Battery and Charger
Neutral Density Filter, Polarizing Filter
Lens cloth
Mini Travel Tripod (hand size)
Lens Hood (one hood for both lenses)
Selfie Stick for Phone & GoPro
Laptop with Photoshop and Lightroom Software
Compact Camera
Sometimes it isn't safe or smart to carry your expensive and bulky DSLR camera about. We started with a Sony RX100, but after someone dropped it in some salt water we replaced it with a cheap Sony Compact. Photo quality isn't wonderful, but it is better than nothing.