It has long been a dream of ours to glimpse an erupting volcano, so when we heard of hiking Acatenango Volcano; just outside Antigua, Guatemala we knew had to go! There is no better place to watch the majestic Volcán de Fuego (Volcano of Fire) erupt! Volcán de Fuego is one of the world's most consistently erupting volcanoes. However, we were completely unprepared for how utterly epic it was going to be. Hand on heart, this really was one of the most incredible spectacles either of us have ever seen.
We considered the nearby trip to Pacaya Volcano, but from speaking with the locals, we learnt that Pacaya is no longer as active as the tour operators would have you believe. Once upon a time Pacaya had a lava river that you could walk right up to, but this is long gone. The Acatenango hike is where the action is!
Hiking Acatenango Volcano
Our trip began at 7:30am on a lovely sunny day, we were picked up from the hotel and taken to Gilmer, our guide's house at the base of the volcano. Here we were kitted out with a sleeping bag, roll mat and tent. This along with 3 litres of water, lots of warm clothes and snacks made for a surprisingly heavy backpack (see our suggest kit list below)! I'd never done a multi-day hike so despite only packing the bare essentials the weight was certainly a shock to the system.
We were then driven to the bottom of a track (approx. 2000m) to begin our Acatenango trek at 9:30am. We were able to hire gloves at the bottom of the hill from a group of children (Q10 per item, also on offer were hats and wooden poles). We were a nice size group of 6, plus our wonderful guide Katalina Soy (Gilmer's older brother).
Up, up and away we went! Holy cow it's steep. In the first 30 minutes both Michael and I really struggled. Me with my asthma (que the inhaler I thought I'd take, just in case) and then Michael with the altitude and thin air making it difficult for him to get enough oxygen. I really can't emphasis just how steep this trek is, our legs weren't given a break the entire hike. The terrain is tough going, we started on dirt paths through the cornfields and forested areas. Further up we hit loose volcanic gravel, the kind that you really need to kick your toes into to get any grip!
As we gained altitude and began to curl our way around the hillside, we began to hear the deep grumbles of volcanic eruptions. From this point we knew we were going to be in for an incredible night! Four and a half hours of gruelling climbing from start to finish, we reached camp and settled at 3,776m. Just leaving 200m to summit in the morning!
It is a strange thing how people respond to high altitudes, it seems irrelevant how fit and healthy you are. But you are likely to be more tolerant to altitude if you are female and/or older. People will be affected at different heights, but above 2500m the effects become more evident. Michael struggled to reach camp, and once the tent was set up it took him nearly an hour become comfortable again.

But what a campsite, the views were out of this world! We'd hiked above the cloud line and along with the altitude it seemed like we were aeroplane level. The sight from Acatenango was magnificent. Volcán de Fuego put on a mighty display. BOOM, a huge plume of smoke and a loud grumble. It's hard to see the vibrancy of the lava during the daylight, but by darkness the red glow of erupting lava was intense. Watching a volcano erupt is like nothing else in the world. A totally unique experience. As the daylight subsided we huddled around the fire, captivated by Fuego erupting time and time again.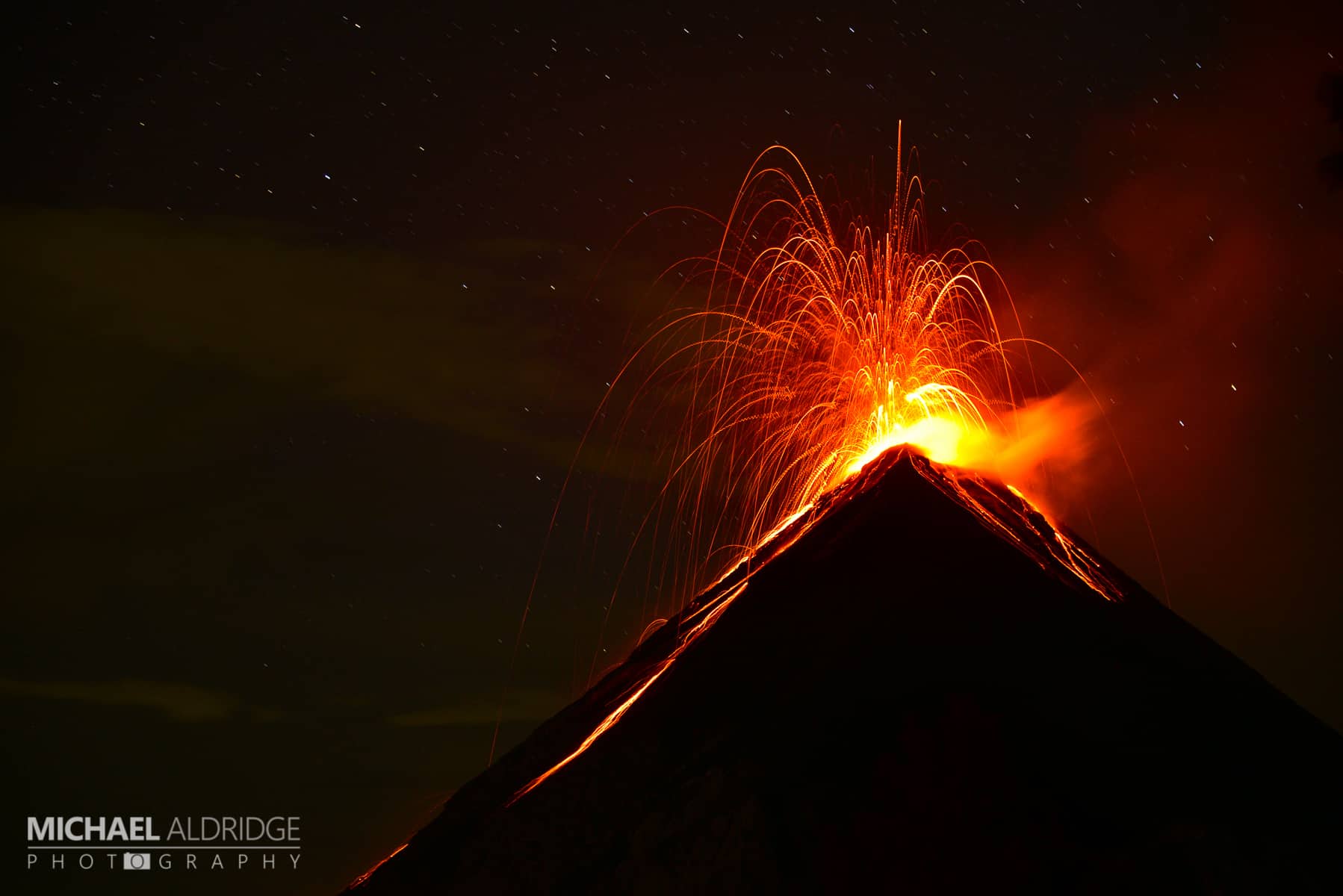 In the early morning, around 3:45am we woke up, and begun our hike to the summit to see the sunrise. Thankfully this time it was only a mere 200m and without backpacks! Hurrah!… Disaster, Michael was immediately hit by the altitude. After feeling all the text book signs of altitude sickness (it's definitely worth looking these up before you go) and still trying to persevere, his vision started closing in at around 3,920m. Katalina was great at giving encouragement, but this was Michael's limit.
Stopping where we did wasn't such a bad thing though, we got a beautiful and sheltered little spot for just the two of us. There are honestly no words to describe how stunning this sunrise was.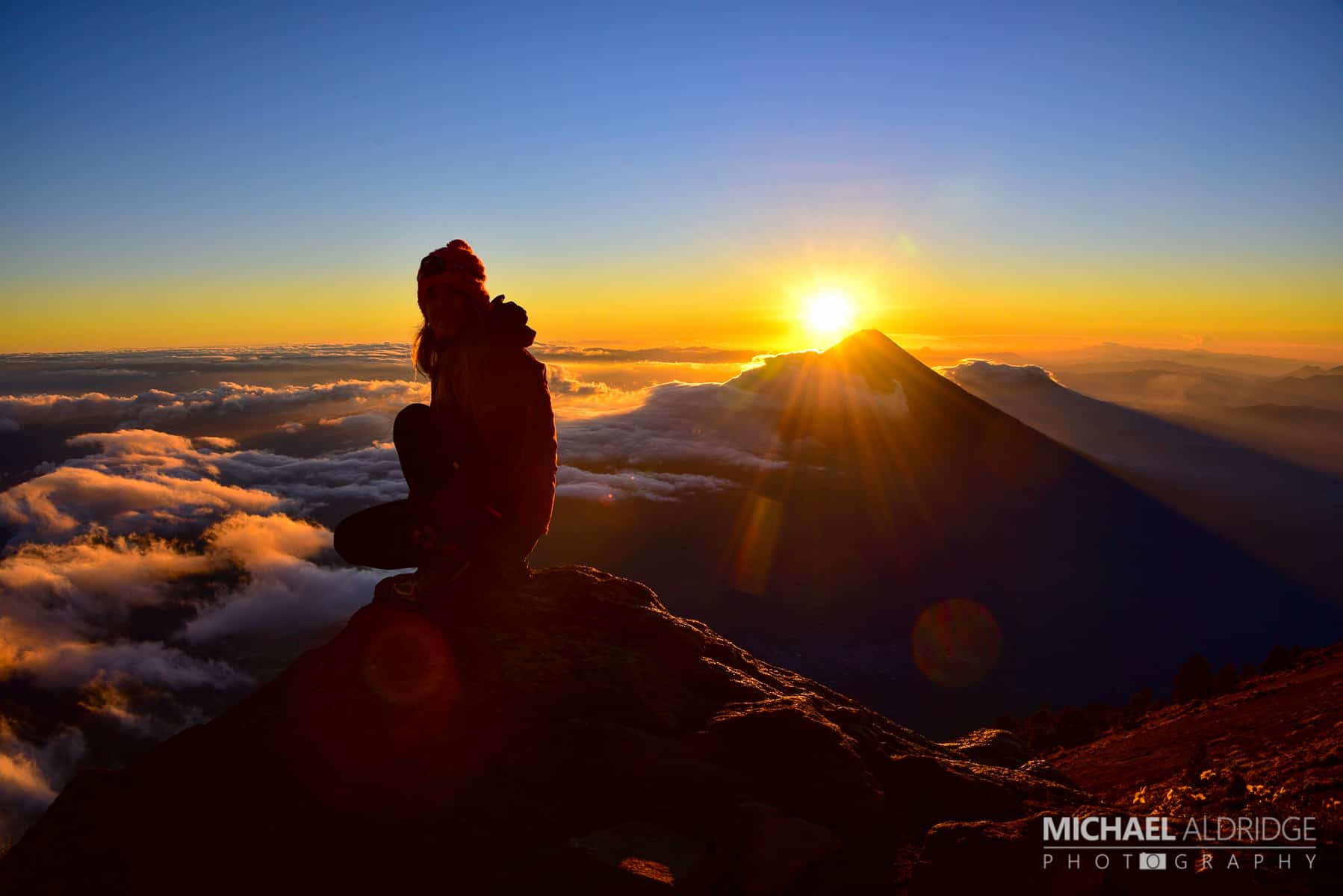 As we began to descend, Michael immediately began to recover. Thank goodness. It was so much fun as we raced/skied down the volcanic slopes back to the camp.  Breakfast done, it was now 8am and time to hike down the mountain! Thankfully this was much easier, only 2.5 hours of leg burn this time.
Our time on Acatenango was truly one of our most memorable moments to date. Between the sunrise and watching Volcán de Fuego erupt over and over simply has no words. The whole experience has been such a privilege. Just so incredibly epic and special.
We'd love to hear your thoughts on hiking Acatenango, have your say in our comments section below.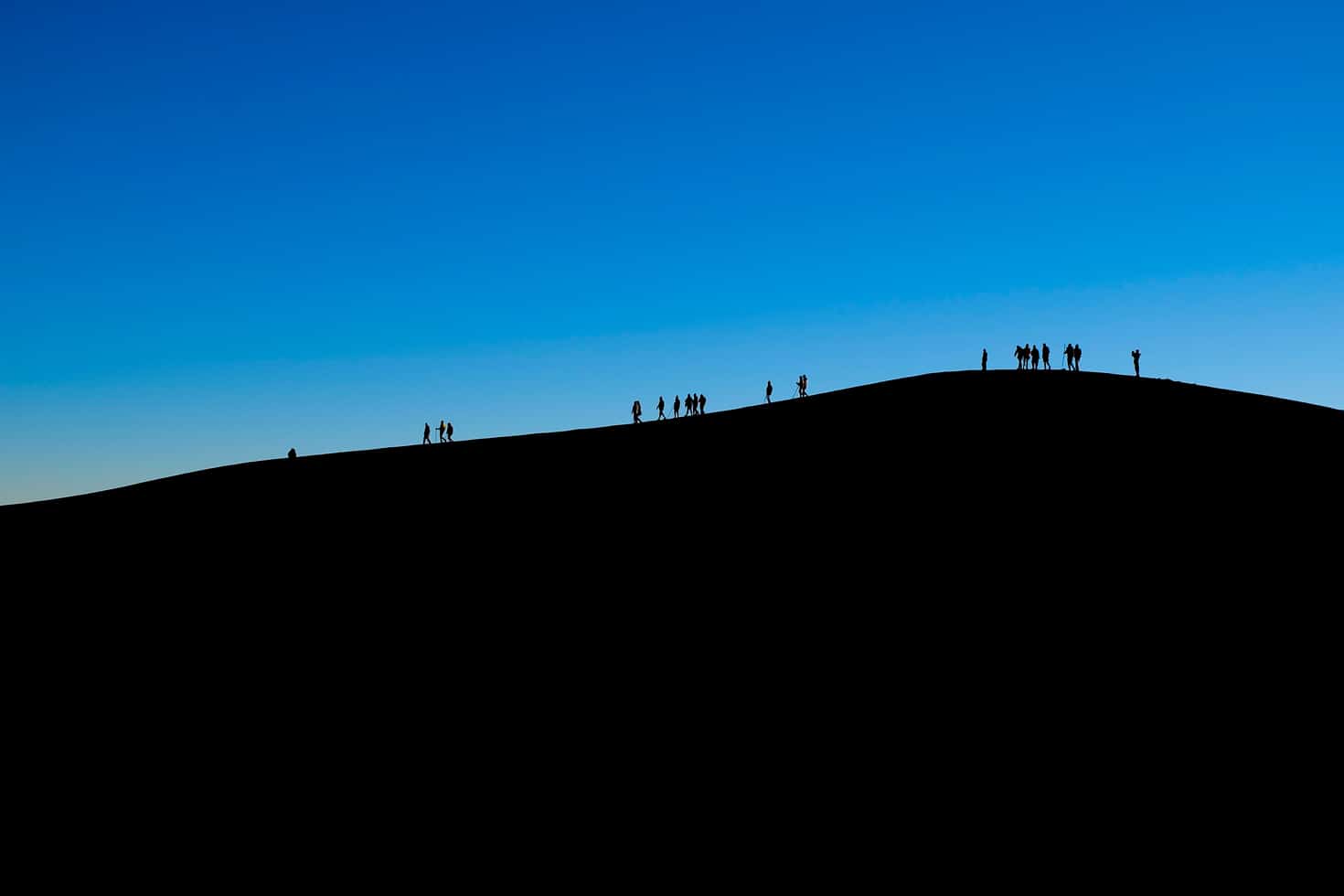 Volcan de Fuego eruption seen from nearby Acatenango Volcano with a lightening storm above the cities below. #volcano #acatenango #fuego #lightening #night #stars #eruption #travel #guatemala #centralamerica #wondersoftheworld #theta360 - Spherical Image - RICOH THETA
Hike Tour & Guide Information
Do not underestimate this trek, it is a serious endeavour. I would consider both of us very fit individuals – but this nearly broke us! Everyone struggles, so don't feel bad if you need to take a break. The trek is perfectly safe with the correct guide, however we have heard that some of the bigger companies cut corners by increasing the number of tourists but not the number of guides. Be very wary of this, there are horror stories of lost tourists, frost bite and even death!
We chose to hike Acatenango with a lovely chap named Gilmer Soy, and his brothers. This started as a recommendation from a couple who did the trek a couple of weeks before. Googling the trip on TripAdvisor I knew we had chosen well, treks with Gilmer rate incredibly highly and he's personally named. I also liked the idea of hiking with a smaller group, as I felt we would be better looked after. Included in the price (Q300pp) were 3 meals, a reputable guide, sleeping bag, tent and roll mat. Gilmer, along with his brothers, rate safety incredibly highly and have so much exceptional knowledgeable and care for the area.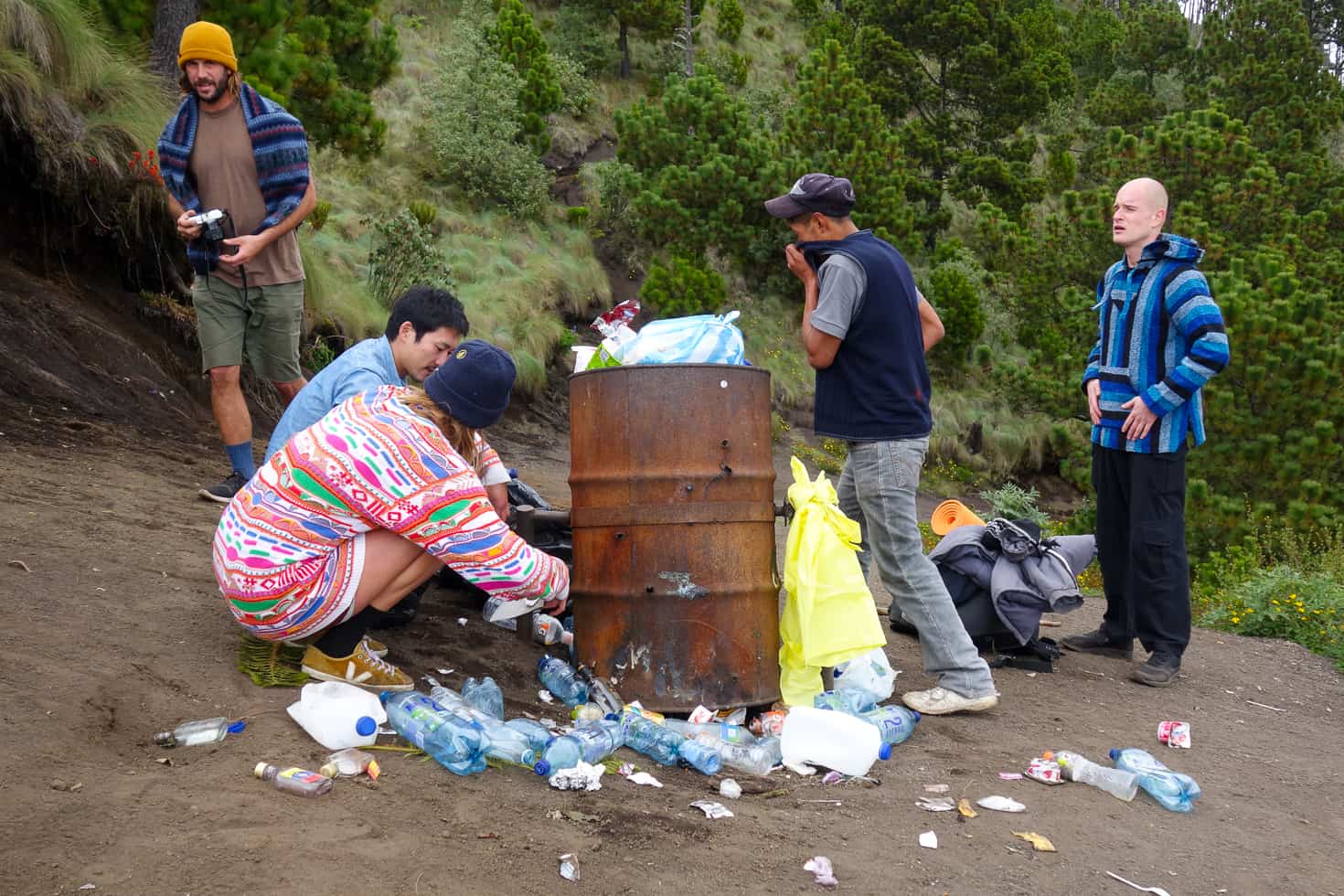 With Gilmer's company, the money you pay for the trip goes directly into the community. It may cost a little more than some of the other tour companies, but we were more than happy to spend our money here knowing that it goes to such a good cause. Gilmer has big plans for the town he lives in, he has already worked with the government to install electricity, running water and a sewage system. The community are currently saving money to pay for a new school, and at present all the money collected from the treks are going to this cause.
Also, if you need another excuse to use Gilmer, he has also been selected to be the guide for a certain famous survivalist (sounds like Bare Grills) for an upcoming episode.
We cannot recommend Gilmer enough, you will get the best experience on the mountain and all for a great cause.
GILMER SOY
Tel: +502 4169 2292
Email: [email protected]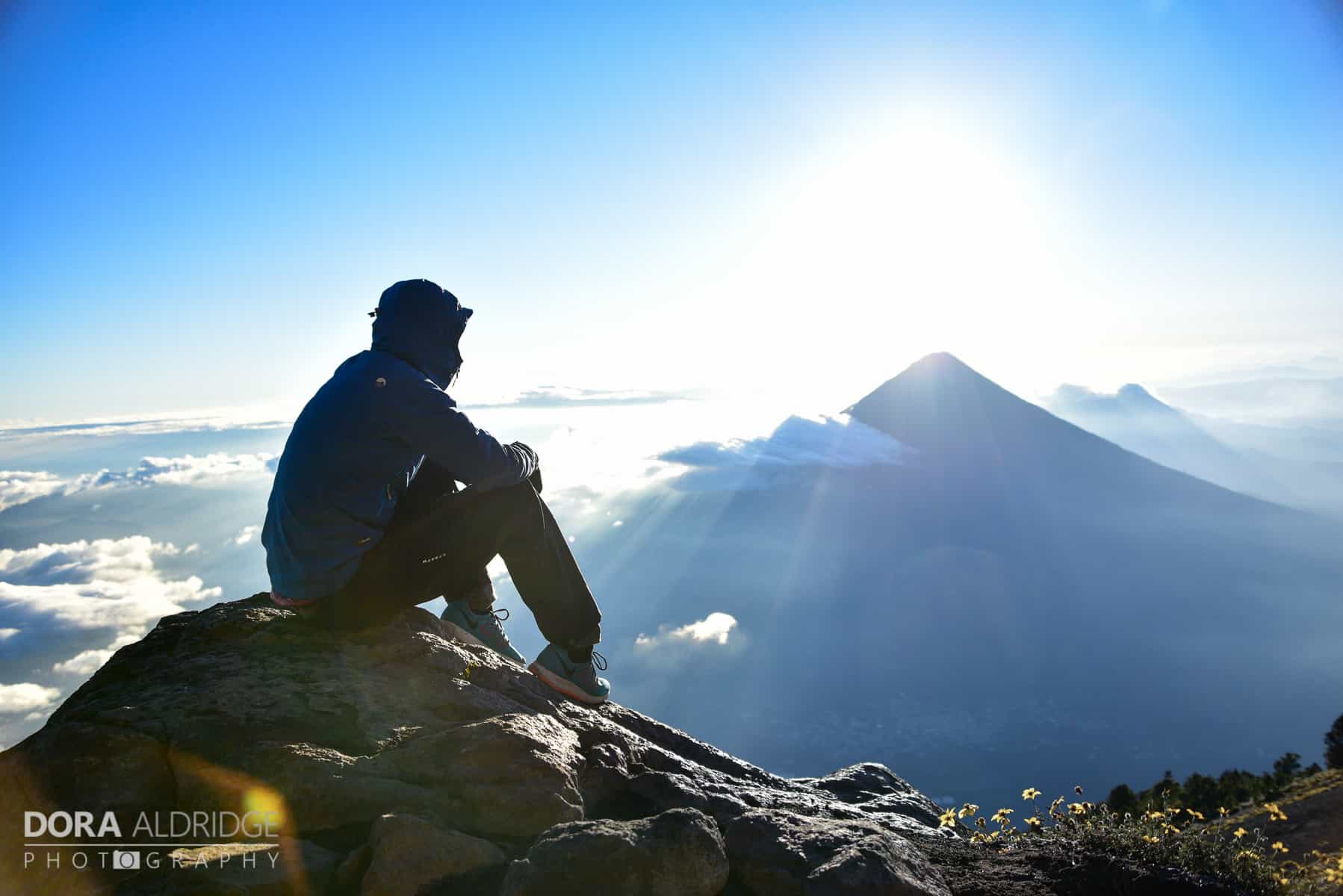 Recommended Kit List
It is a tough hike and you will curse any unnecessary equipment you bring along, but likewise it can be cold/wet/windy up the mountain so make sure you are prepared. This is what we would recommend if decent weather is forecast.
Waterproof jacket
Puffer jacket
Long trousers (Pants if you're American)
Base layers
Underwear and sensible socks
2x Buff (so many uses!)
Sturdy shoes (we had trail running shoes with a decent tread)
Woolly hat
Gloves
Head torch (very useful for the early morning hike!)
Sunscreen
Walking pole (can be rented at start of hike)
Snacks; bananas, trail mix, jelly sweets, biscuits etc.
3 litres of water per person
Camera
Common sense
Useful Links From Fellow Travellers